Notre Dame has history of finishing strong in 3 years under Kelly with overall record of 10-1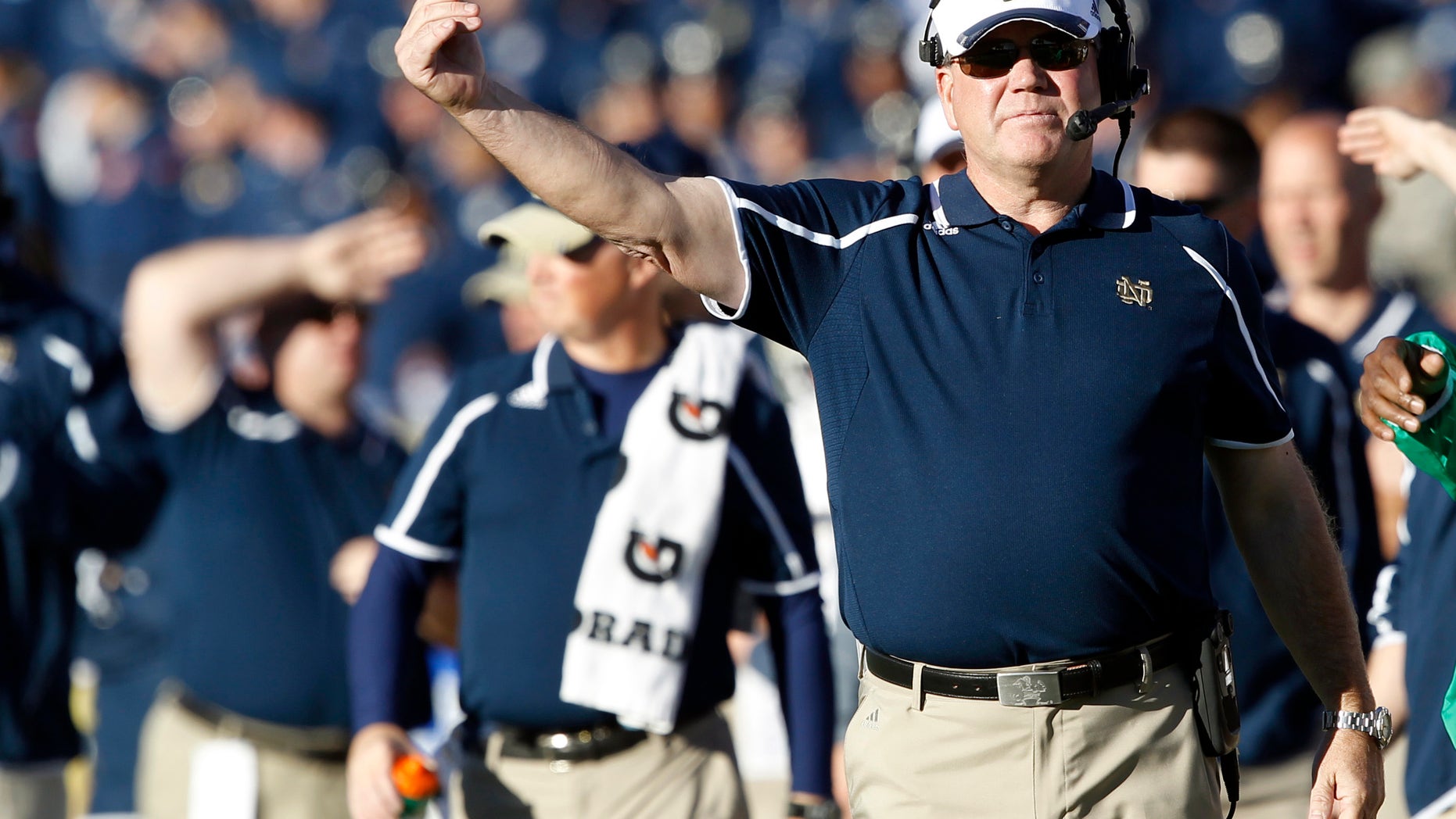 SOUTH BEND, Ind. – The list of teams that have beaten Notre Dame in the month of November under coach Brian Kelly is short: Stanford in 2011.
The Fighting Irish have won their other 10 games in November during that span, a 90.9 winning percentage. That's not only far better than any of Kelly's recent predecessors — it's a better winning percentage for the month than Lou Holtz, Ara Parseghian, Frank Leahy and even Knute Rockne. The only Notre Dame coach who comes close is Jesse Harper, who went 18-2 from 1913 to 1917, with both losses coming to Army.
Kelly said Tuesday as the Irish prepare to play Navy (4-3) that he stresses the importance of finishing seasons strong.
"October is for pretenders and November is for contenders," Kelly said. "We try to ingrain that within our players', coaches' minds that this is now the time to kick it into gear because this is where you get the opportunity to play for championships."
Playing for a national championship this year is out the window for Notre Dame (6-2), with losses already to No. 13 Oklahoma (7-1) and No. 23 Michigan (6-1), and there is no league championship for the independent Irish. But the Irish are still aiming for a BCS bowl berth and likely will need to go undefeated in November to accomplish that goal.
Notre Dame receives an automatic BCS berth if it finishes in the top eight of the final BCS standings and is eligible for an at-large selection if it finishes in the top 14. It currently stands 25th in the BCS standings with a lot of football yet to play.
Kelly said there's a lot of factors that go into being successful in November, including staying healthy and being fortunate. He credits strength coach and conditioning coach Paul Longo with making sure players are in shape for the long haul. He also points to a training table he started when he arrived on campus. But he also believes taking the right approach to the season is essential, making sure players are physically and mentally fresh.
"They have to feel as though when they come in in November that there's an energy to them. They enjoy coming; that it's not a chore," he said.
Winning in November is no passing fad for Kelly. He was 10-1 in November in three seasons at Cincinnati as well, with the lone loss a 28-23 defeat against fifth-ranked West Virginia in 2007, his first season as coach of the Bearcats. Before Kelly's arrival, the Irish went 1-8 the previous two seasons in November, while Cincinnati was 2-4.
The last Notre Dame coach to put up a better stretch in November over three seasons or more was under Parseghian, whose teams went 14-0-2 in November during a four-season span from 1966-69, when the Irish won a national championship the first season and finished the other three seasons ranked fifth.
Parseghian laughed Tuesday when asked the secret of winning in November.
"We had good football teams," said Parseghian, whose teams had a 33-5-3 record in November over 11 seasons.
Parseghian said the key for good teams is to improve throughout the season, even when they don't play as well as hoped earlier in the season. Like Kelly, he believes injuries and luck play a certain role in what happens, but said the biggest factor on how a team does at the end of the season is how much it improves.
"I think good teams will improve during the course of the year," he said.
Parseghian said he thinks the Irish have played much better, especially on defense, starting with the 37-34 victory over No. 25 Arizona State.
"I saw a vast improvement in the defense and I figured they were over the hump from that standpoint and they would be very difficult to defeat," Parseghian said. "I saw in that game that they were jelling and coming together as a team and playing with a chemistry that you have to have to be successful."