No. 6 Georgia-No. 24 South Carolina, UCLA-Texas, Tennessee-Oklahoma top college football games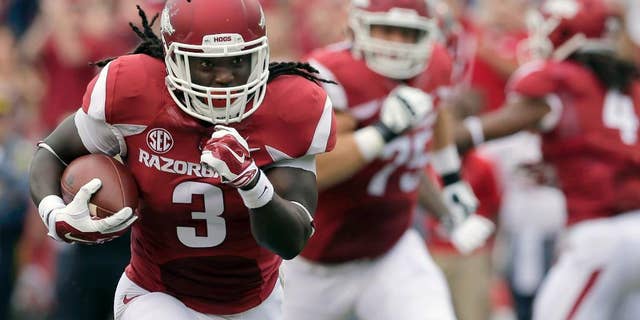 Sixth-ranked Georgia can stamp itself the favorite in the SEC East when it visits No. 24 South Carolina on Saturday in this week's only Top 25 matchup.
Meanwhile, UCLA fans want to know if the real Bruins will stand up. Oklahoma will try for another win against the SEC, the conference Bob Stoops loves to poke. And Arkansas visits Texas Tech for the first time since 1991, when they were members of the old Southwest Conference.
Here are some things to know before college football's third weekend kicks off.
BEAST OF SEC EAST: Georgia (2-0) is getting a lot of love lately. South Carolina (1-1), not so much.
The Bulldogs throttled Clemson in their opener and zoomed from No. 12 to No. 6 in the rankings. They had last week off to prepare for their SEC opener against a South Carolina team that's been one of the season's early disappointments.
The Gamecocks came into 2014 as East favorites. That was before they were humiliated at home by Texas A&M and survived a close game against East Carolina last week.
Georgia has lost three of the last four times it visited Columbia. A win is in store this time if Heisman Trophy candidate Todd Gurley and first-year starting QB Hutson Mason do what they're capable of against the Gamecocks' new 3-4 defense that ranks 123rd out of 127 FBS teams.
SEEKING AN IDENTITY: Before the season UCLA-Texas was regarded as one of the red-letter non-conference matchups. The No. 12 Bruins are 2-0 but are yet to play a complete game and look vulnerable. Between suspensions and an injury to quarterback David Ash, Texas is 1-1 and trending downward after a second straight embarrassing loss to BYU.
UCLA goes into the game in Arlington, Texas, looking for its offense and defense to play well on the same day.
For the Longhorns, a second straight blowout loss would be devastating. Things in Austin were so bad after the 41-7 loss to BYU that some wisecracker made a YouTube video (http://bit.ly/1rI2GNz ) with Sesame Street character Grover narrating all the ways QB Taysom Hill went around, over, under and through the Texas defense.
ANOTHER BIG GAME FOR BOB: Oklahoma coach Bob Stoops is 12-0 at home against current teams from the SEC, not to mention 23-7 overall after his Sooners beat Alabama in the Sugar Bowl.
Never mind that No. 4 OU (2-0) will be a three-touchdown favorite when Tennessee (2-0) shows up in Norman. This might not be a vintage Volunteers team, but it's still one of the weekend's intriguing games. These two big-name programs haven't met since 1968. And don't forget Stoops' penchant for taking shots at the SEC's sense of superiority whenever he can.
SWC FLASHBACK: Arkansas (1-1) built some confidence with its record-smashing offensive production against FCS Nicholls State. Now it's back to reality against Texas Tech (2-0).
The Razorbacks, who have lost seven straight road games since 2012, must limit possession time for Davis Webb and Texas Tech's fast-moving offense. They have the running backs to do it, with Jonathan Williams and Alex Collins among the top six SEC rushers.
The Red Raiders are 59-6 at home against unranked opponents since 2000, and they haven't lost a nonconference game at home since 2002.
ODDS AND ENDS: ESPN's "College Game Day" is visiting Fargo, North Dakota, for the second straight year this week. With no obvious marquee matchup in the FBS ranks, ESPN decided to re-visit the Bison, the three-time FCS defending champions and winners of 26 straight. The opponent is Division I newcomer Incarnate Word. ... The Big 12, for the first time, will face seven teams from the four other power five conferences in the same week. Those seven opponents have a combined 13-1 record. ... The Pac-12 is 15-0 in nonconference games. ... Virginia Tech's win at Ohio State highlighted a day that saw the ACC go 11-0 in nonconference games.