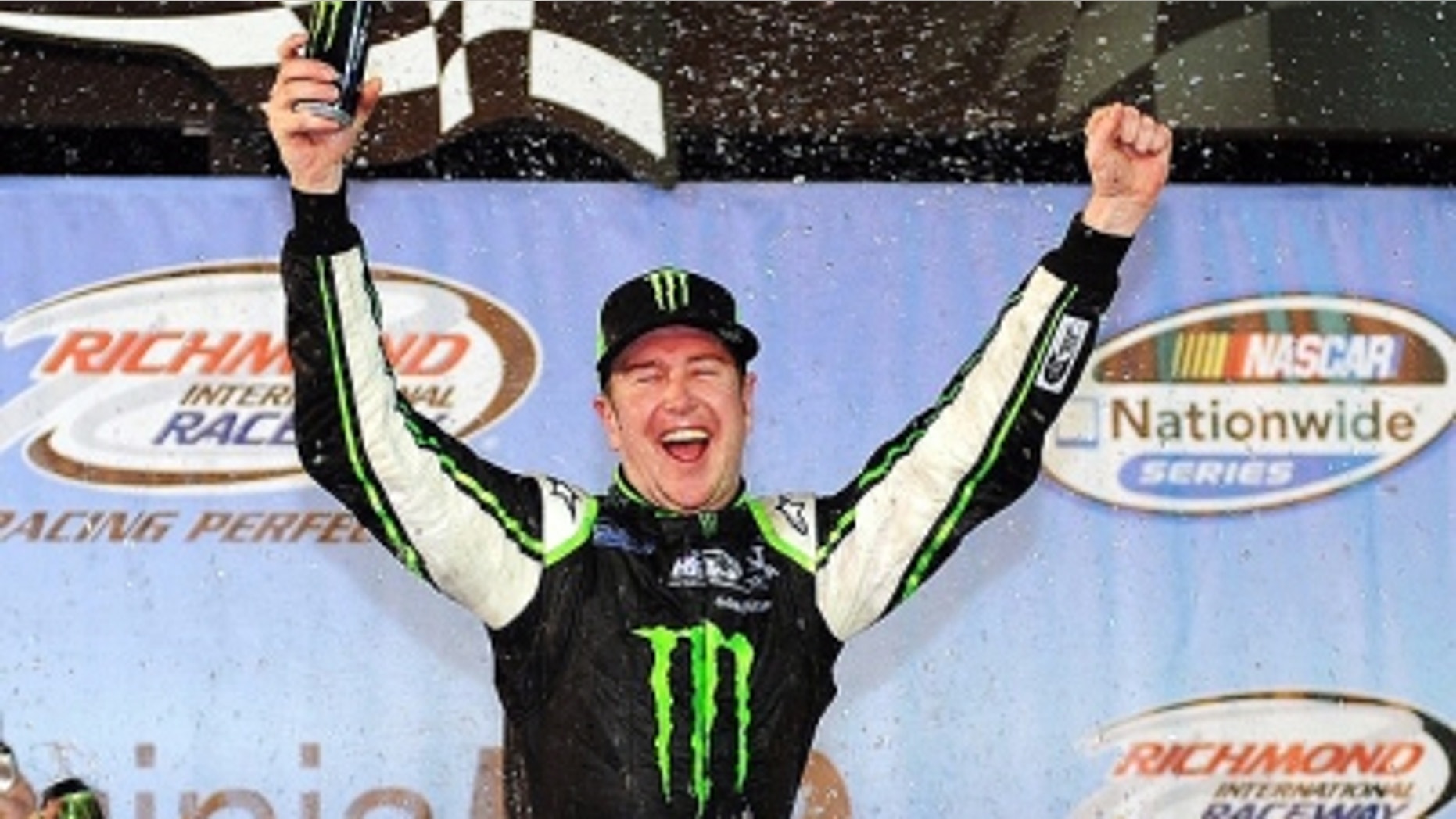 Kurt Busch scored an emotional victory in the Virginia 529 College Savings NASCAR Nationwide Series race at Richmond International Raceway.
It was Busch's fourth career NNS victory in 15 series starts and the first series triumph for his younger brother's team, Kyle Busch Motorsports. The elder Busch's last Nationwide victory came at Watkins Glen International last year.
Busch dominated the second half of the race to win over Denny Hamlin, his brother's NASCAR Sprint Cup teammate at Joe Gibbs Racing. Kevin Harvick was third in a Chevrolet out of the Richard Childress Racing stables, followed by reigning series champ Ricky Stenhouse Jr.'s Roush Fenway Racing Ford. Sam Hornish Jr. completed the top five in a Roger Penske-owned Dodge.
"This is cool, this is really cool," said team owner Kyle Busch. "... This is the most emotional I've ever been after a victory."
Polesitter Harvick opened a lead from the drop of the green flag, with Hamlin in close pursuit. Harvick led 68 of the first 69 laps, and then J.J. Yeley blew a right-front tire and went hard into the wall to bring out a caution and send the leaders to the pits.
Harvick easily won the subsequent race off pit road over Busch, Hamlin and Hornish. Busch briefly took the lead on the restart, but within three laps, the No. 33 Chevy of Harvick was back out front.
Jason Bowles got turned at the exit of Turn 2 to bring out a caution on Lap 116. This time, Hamlin missed his pit, with Harvick, Busch and Hornish up front.
On the restart at the halfway point, Harvick quickly pulled clear of Busch, leading 117 of the first 125 laps.
But by Lap 160, Busch was on Harvick's bumper, pressuring him for the lead. Five laps later, it was Busch in the lead, his Toyota clearly better on long runs than Harvick's car.
Once in front, Busch took off like a shot, opening up a lead of 1.820 seconds by Lap 175.
Harvick pitted for tires and went a lap down on Lap 194, but leader Busch pitted 10 laps later, allowing Harvick to get back on the lead lap.
Hamlin, who had restarted 24th on Lap 125, was now in the lead, although he didn't have enough fuel to go the distance and had to pit on Lap 207.
Joey Logano and Brad Keselowski stayed out, and at Lap 212 they led, with Harvick third and Busch fourth. Harvick was about 1.2 seconds ahead of Busch at this point.
Busch passed Harvick for third on Lap 220, and set off after Logano and Keselowski. It took just two laps for Busch to get the lead, and from there on he was untouchable.
Hamlin gave it a terrific fight, taking it to Busch on the last lap and briefly taking the lead underneath him, but Busch prevailed on the high line to win.
Tom Jensen is the Editor in Chief of SPEED.com, Senior NASCAR Editor at RACER and a contributing Editor for TruckSeries.com. You can follow him online at twitter.com/tomjensen100.