NFL players react to Trump's comments on national anthem policy
NEWYou can now listen to Fox News articles!
NFL players blasted President Trump on Thursday over his reaction to the league enacting its new policy regarding protests during the national anthem.
Trump told Fox News' Brian Kilmeade that he supported the NFL's new policy and blasted the players who have decided to take a knee during the anthem to protest racial injustices.
"I don't think people should be staying in the locker rooms, but still I think it's good. You have to stand proudly for the national anthem. You shouldn't be playing, you shouldn't be there. Maybe they shouldn't be in the country," Trump said.
Seattle Seahawks wide receiver Doug Baldwin and Denver Broncos linebacker Brandon Marshall were two of the most outspoken players when they addressed the media about Trump's comments.
"He's an idiot. Plain and simple," Baldwin said. "Listen, I respect the man because he's a human being, first and foremost. But he's just being more divisive, which is not surprising. It is what it is.
"For him to say that anybody who doesn't follow his viewpoints or his constituents' viewpoints should be kicked out of the country, it's not very empathetic, it's not very American-like, actually, to me. It's not very patriotic," Baldwin added. "It's not what this country was founded upon. It's kind of ironic to me that the president of the United States is contradicting what our country is really built on."
Marshall, who played with former San Francisco 49ers quarterback Colin Kaepernick at the University of Nevada, described Trump's comments as "disgusting."
"I say 'disgusting' because of our First Amendment rights," Marshall said. "We have freedom of speech, right? Freedom to protest? Because somebody decides to protest something, now they have to be kicked out of the country? That's not how things should work, in my opinion."
NFL announced Wednesday that it would fine teams whose players or personnel decided not to take part in standing for the national anthem. Players could opt to stay in the locker room during renditions of the "Star-Spangled Banner," but teams would have to face the penalties.
Some NFL players were reportedly thinking of new protests "just to spite the NFL," though it wasn't clear what kind of gestures those players would make. Players last season were seen raising fists or locking arms and kneeling during the national anthem.
Seahawks linebacker K.J. Wright said Wednesday that entire teams could just stay in the locker room, according to the Tacoma News Tribune.
"If they want to make such a big deal out of it, maybe guys as a team should just stay in the locker room," Wright said. "Do it how they did, I believe, like 10 years ago, 15 years ago, [when] players didn't even come out for the anthem."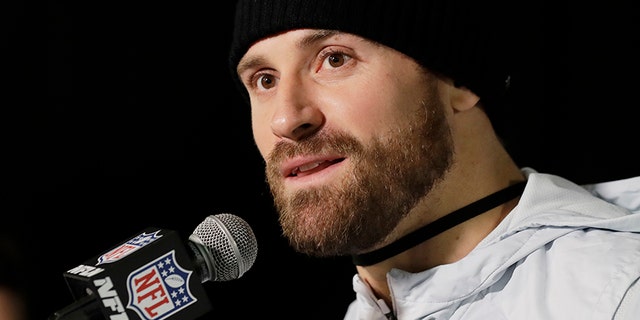 Philadelphia Eagles defense end Chris Long, who donated his base salary last year to charity, was the first person to react to the anthem policy Wednesday.
"This is not patriotism," Long said. "Don't get it confused. These owners don't love America more than the players demonstrating and taking real action to improve it."
Long's teammate Malcolm Jenkins also slammed the decision, but said it wouldn't stop him from fighting.
"What NFL owners did today was thwart players' constitutional rights to express themselves and use our platform to draw attention to social injustices like racial in equality in our country," he said.
Top NFL executives appeared to support the new policy, with some telling Sports Illustrated that it was because of the fans that the new anthem policy was established.
"You know how many letters I got last fall?" Pittsburgh Steelers owner Art Rooney said. "Yeah, the fans' point of view on this was definitely a factor. We heard from a lot of fans over the last six months. No question that was part of the decision-making. [Those] people expect the players to be respectful during the anthem. Pretty simple."
New York Jets co-owner Chris Johnson was one of the 31 owners who voted in favor of the policy – there was one abstention. Johnson told Newsday that he would pay the fines should any Jets players.
"[Y]ou have to understand that the plan we ended up with ... was vastly less onerous than the one that was presented to me late last week," said Johnson, who added that the team would not fine or suspend any players who choose to stay in the locker room while the anthem is played.
"I never want to put restrictions on the speech of our players," he said. "Do I prefer that they stand? Of course. But I understand if they felt the need to protest. There are some big, complicated issues that we're all struggling with, and our players are on the front lines. I don't want to come down on them like a ton of bricks, and I won't.
"If the team gets fined, that's just something I'll have to bear."