NAU tops Big Sky preseason football polls for first time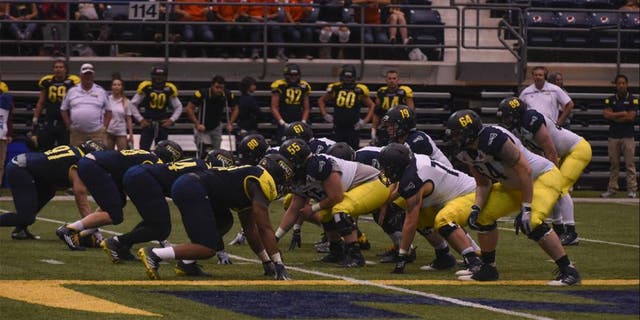 NEWYou can now listen to Fox News articles!
For the first time in school history, Northern Arizona is the preseason favorite to win the Big Sky Conference football championship.
The Lumberjacks, coming off a 7-4 season (5-3 in conference play), came out atop in both the preseason coaches and media polls that were announced Tuesday.
In the tightly bunched media poll, five different teams received first-place votes, but none of those was defending champion Southern Utah. NAU got 8 of the 25 first-place votes and finished four points ahead of Montana.
NAU was a stronger choice in the coaches poll, getting 8 of 13 first-place votes and finishing 11 points ahead of Portland State and Montana, which tied for second. Four different schools got first-place votes from the coaches.
The Lumberjacks had four offensive players selected to the preseason all-conference team, announced on Monday, led by quarterback Case Cookus, who was the FCS Freshman Player of the year in 2015 while throwing 37 touchdown passes. He was joined on the team by wide receiver Emmanuel Butler, tackle Jacob Julian and center Blake Porter.
They have no all-conference selections on defense, but there are five returning starters, led by safety LeAndre Vaughn, linebacker Jake Thomas, defensive linemen Lorenzo Melvin and John Herrero. Linemen Siupeli Anau returns from a redshirt season.
"It's execute -- that's the bottom line," Cookus said when asked about the key to the season. "We watched the film, we watched all those games where we lost. It comes down to a few plays each game.
"I made a few mistakes in each of those games where it could have swayed the game each way. If we can cut down on those mistakes, we're right there in playoff contention."
The Lumberjacks last tied for the Big Sky title in 2003, and although they've had four consecutive winning seasons under 19-year veteran coach Jerome Souers, only their 2013 squad has advanced to the playoffs in the last 12 years.
A note of caution: Southern Utah emerged as last season's Big Sky champs despite being picked eighth in the preseason polls. The Thunderbirds are seventh in this year's voting.