Mike Evans is using Pro Bowl perks to satisfy his Harry Potter obsession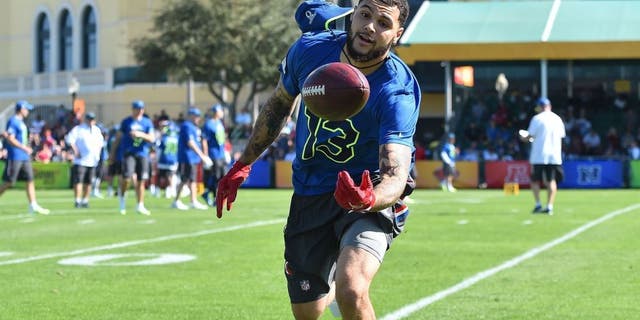 Mike Evans is a big man. At 6-5, 231 pounds, he's one of the more athletically inclined and physically imposing receivers in the NFL. Yet, as large as he is, Evans is an even bigger kid at heart.
That was on full display at the Pro Bowl in Orlando where he was a favorite among young fans. That's not the only reason he's a kid on the inside, though. Evans is a huge fan of Harry Potter.
While many players probably weren't thrilled with the Pro Bowl leaving Hawaii for Orlando, Evans wasn't among them.
"I'm a big Harry Potter guy," Evans said, via ESPN. "My second-grade teacher, Ms. Jones, read us the book, and then the movie came out like a month after she read it to us, and after that, I just fell in love with it."
Evans has clearly been a Harry Potter fan for a long time and he doesn't like to hide that fact about himself. He broadcasted it to the world in the form of his wedding cake, which was spectacularly done.
He plans on taking full advantage of the NFL giving players passes to Universal Studios for earning a Pro Bowl bid, even if his daughter isn't completely into Harry Potter just yet.
"She likes 'Frozen' and 'Sofia the First,' but I'm gonna get her into Harry Potter," Evans said. "The NFL is hooking us up with VIP tours and everything. I'm gonna take full advantage."
Evans explained what it is about the book series that hooked him and made him enjoy it so much.
"I grew up on it as a kid so I'm not gonna change for anybody," he said. "I just enjoy it. I enjoy the storyline. I like the magic. It's a great movie, a great series and a great book series, as well."