Miguel Cabrera To Ink Record-Breaking $292 Million Deal With Tigers, Source Says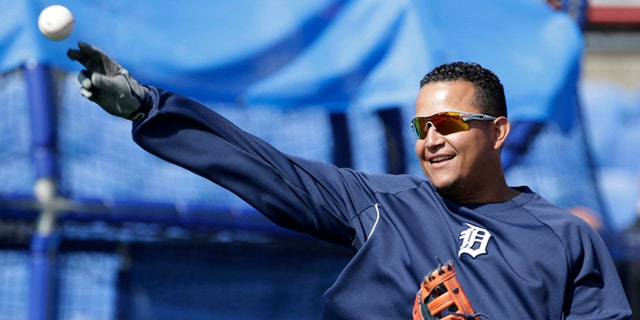 DETROIT (AP) – The Detroit Tigers are doubling down on Triple Crown winner Miguel Cabrera.
The team has agreed to pay Cabrera a baseball-record $292 million over the next 10 years, according to a person with knowledge of the deal.
The person, who said the contract is subject to a physical, spoke Thursday night to The Associated Press on condition of anonymity because the agreement had not been announced.
Cabrera is due $44 million over the final two years of his $152.3 million, eight-year contract that runs through 2015, and the person says the slugger will make $248 million over eight seasons in the new deal.
Depending on whether Cabrera's deal is structured as one 10-year contract or an eight-year deal starting in 2016, it will either surpass Alex Rodriguez's $275 million, 10-year agreement with the New York Yankees for the richest contract, or Clayton Kershaw's record for average annual value of $30,714,286 in the $215 million, seven-year deal he signed with the Los Angeles Dodgers in January.
The Tigers and their owner Mike Ilitch, who desperately wants to win a World Series, will close spring training showing their fans they are willing to pay what it takes to keep great players in today's market.
The franchise offered right-hander Max Scherzer $144 million over six years recently, but the AL Cy Young Award winner turned it down, likely setting himself up to become a free agent after the season. Detroit dealt Prince Fielder and his $214 million contract in November to Texas — less than two years after giving it to him — for second baseman Ian Kinsler, sending $30 million to the Rangers as part of the swap.
Clearly, the Tigers want Cabrera to end his career in the Motor City.
Cabrera, who turns 31 next month, has been voted AL MVP in each of the last two seasons. He is the first player to win the award in consecutive seasons since Frank Thomas did it two decades ago.
The Venezuelan slugger won the Triple Crown in 2012 — becoming the first player to lead either league in batting average, homers and RBIs since 1967, when Boston's Carl Yastrzemski pulled off the rare feat.
Cabrera followed up that startling accomplishment with another strong season at the plate despite struggling to stay healthy. He led the majors with a .348 batting average last year, and his 44 homers and 137 RBIs were both second to Baltimore's Chris Davis.
Cabrera was limited to 148 games last season — after playing 161 in each of the previous two years — because of a sore back and left hip flexor, a strained lower abdomen, shin trouble and a groin tear that led to an offseason surgery.
The eight-time All-Star has appeared to be healthy during spring training.
Injuries seem to be the only thing that can stop Cabrera.
He has a .321 career batting average with 365 homers and 1,260 RBIs, numbers that rank him with the greatest sluggers in the history of the game. He has played six seasons in Detroit after spending his first five with the Marlins.
"He's got an unbelievable stroke," Hall of Famer Al Kaline, who works in the Tigers' front office, once said. "It's so effortless the way he gets through the zone so easily."
The Tigers have won three straight AL Central titles in part because Cabrera has led the league with batting averages of .348, .330 and .344. He has led the league in homers and RBIs twice.
As a 20-year-old rookie in 2003, Cabrera helped the Marlins win the World Series. The cash-strapped franchise traded him to Detroit in an eight-player deal after the 2007 season because it couldn't afford to pay him $20-plus million over the following two seasons, or even more when he was to become a free agent after the 2009 season.
Detroit kept Cabrera off the free-agent market once before, when they gave him that $152.3 million deal in 2008.
The Tigers have moved Cabrera back to first base to replace Fielder after he played third base the previous two seasons. Former manager Jim Leyland has said Cabrera is talented enough to become a complete player.
"Hopefully someday when he goes to Cooperstown, people won't just say he was one hell of a hitter," Leyland once said.
The Tigers appear to be confident that Cabrera's off-the-field problems are behind him.
Cabrera pleaded no contest to drunken driving after being arrested in February 2011 in Florida. Charges of resisting an officer without violence and having an open container in a vehicle were dropped.
Near the end of the 2009 season, when Detroit was trying to win its first division title in more than two decades, Cabrera got into a fight with his wife that became public knowledge. He had a bruised and cut face along with a 0.26 blood-alcohol reading the following morning when Tigers general manager Dave Dombrowski picked him up at a police station.
Follow us on twitter.com/foxnewslatino
Like us at facebook.com/foxnewslatino