Miguel Cabrera Wins Back-To-Back Most Valuable Player Awards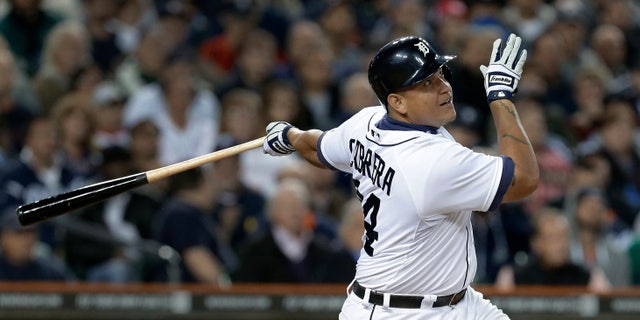 New York (AP) – Despite being hobbled by all sorts of ailments, Detroit Tigers Miguel Cabrera slugger won his second straight American League Most Valuable Player award Thursday, once again beating Angels outfielder Mike Trout by a comfortable margin.
A season after winning baseball's first Triple Crown in 45 years, Cabrera came back to lead the majors in hitting at .348 and finish second with 44 home runs and 137 RBIs.
"I think this year was tougher because of the injuries," he said on a conference call from the Miami area.
The eight-time All-Star missed several games after the break because of a bad back, a sore left hip flexor, a strained lower abdomen, shin trouble and a groin tear. He recently had surgery to fix the tear and said he'll be ready for spring training.
Still, Cabrera got 23 of 30 first-place votes from members of the Baseball Writers' Association of America. He became the first player to win consecutive St. Louis Cardinals' MVPs since Albert Pujols won in the National in 2008 and 2009. The last AL player to win back-to-back awards was Frank Thomas of the Chicago White Sox in 1993 and 1994.
Pirates center fielder Andrew McCutchen took the NL MVP by a surprisingly wide margin after leading a baseball revival in Pittsburgh.
McCutchen drew 28 of the 30 first-place votes to finish far ahead of Arizona first baseman Paul Goldschmidt and St. Louis catcher Yadier Molina.
Follow us on twitter.com/foxnewslatino
Like us at facebook.com/foxnewslatino