Michigan power running game provides reminder of Bo Schembechler , Lloyd Carr era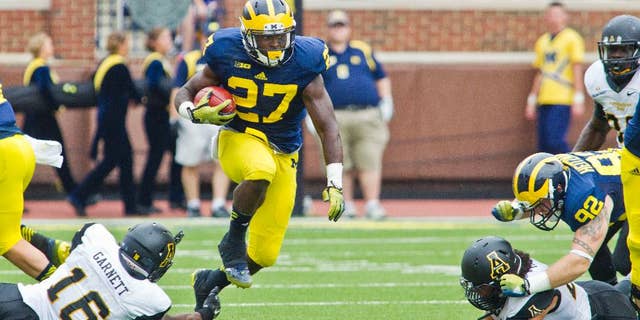 ANN ARBOR, Mich. – It's been a few years, but Michigan might have a running attack again.
One game against isn't enough to make anything official, especially against an Appalachian State team that is a shadow of the 2007 Mountaineers who stunned the Wolverines at the Big House.
Still, there are promising signs that head coach Brady Hoke might have found a tailback combination that is going to give Michigan the sort of power rushing game that was a staple under Bo Schembechler and Lloyd Carr.
Led by Derrick Green and De'Veon Bell, Michigan averaged a school-record 9.7 yards per carry against Appalachian State, putting up 350 yards on 36 attempts. Green (170 yards) and Bell (115) were the first running backs to put up 100 yards in the same game for the Wolverines since 2007. Bell had two of the pair's three touchdowns.
"We had a lot of fun out there," Bell said. "We're going to have a lot of fun all season if the offensive line plays like that. We had huge holes all day, exactly where they were supposed to be."
None of that was a given going into the season, and Saturday's game at Notre Dame will show if things have really turned around.
Michigan's tailbacks struggled last year, often leaving the entire offense on the shoulders (and legs) of Devin Gardner.
Gardner, a mobile quarterback, can turn a scramble into a sizable play, but he's primarily a passer. That meant, unlike the Denard Robinson years, where the quarterback was the rushing game, the lack of production from Michigan's tailbacks badly hurt the offense.
Some of the blame fell to the young backs on the roster — Green and Bell were both freshmen, as was Drake Johnson — but the biggest problem came on the offensive line.
Hoke and former offensive coordinator Al Borges could never find an interior combination that worked and constantly tinkered at the center and guard positions.
The unit never developed chemistry, and it was one of the reasons Borges was replaced by Doug Nussmeier at the end of the season.
Nussmeier faced an enormous task. He inherited his predecessor's interior line problems and lost tackles Taylor Lewan and Michael Schofield to the NFL. A returning starter, center Graham Glasgow, was suspended for the opener after an offseason arrest, and Mason Cole ended up becoming the first true freshman in school history to start a season opener at left tackle.
Still, it worked out Saturday.
"Our guys up front did a really, really nice job," Hoke said. "Yes, there are things they need to fix, but it went well. Mason got pushed back once or twice, but he was very good for a freshman in his first game."
That performance, plus some big downfield blocks from the wide receivers, allowed Green and Bell to consistently drive through Appalachian State's defense.
Their only regret? Both left their biggest plays on the field. Green had a 62-yarder and Bell had a 61-yard run, but neither finished in the end zone.
"We were laughing at each other, because we knew we should have gotten those," Bell said. "We do things differently — Derrick wants to run around the defensive backs, where I'm perfectly happy to run over them — but neither of us got it done."
For one afternoon, at least, it looked like the good old days were back at Michigan Stadium.