Michael Pineda ejected from Yankees-Red Sox game after foreign substance discovered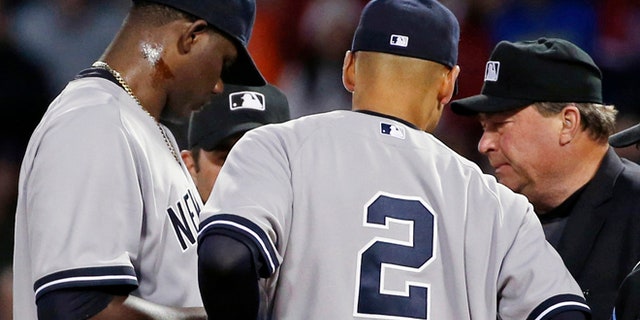 BOSTON – New York Yankees pitcher Michael Pineda was ejected from a game against the Boston Red Sox in the second inning Wednesday night after umpires found a foreign substance on his neck.
Pineda's ejection occurred 13 days after the right-hander had brown goo on the lower part of the palm of his pitching hand during a 4-1 win over Boston at Yankee Stadium.
That sparked a debate about pitchers' use of sticky substances to get a better grip in cool weather. The game time temperature Wednesday was 50 degrees.
Boston manager John Farrell didn't challenge Pineda's use of the substance on April 10.
But with two outs, no runners and a 1-2 count on Grady Sizemore on Wednesday, Farrell left the dugout to talk with plate umpire Gerry Davis, who went to the mound. Davis touched the right side of the pitcher's neck with his index finger then ejected Pineda as other umpires and Yankee infielders stood nearby.
Before the game, Farrell said, "I would expect if it's used, it's more discreet than last time."
Pineda left with the Yankees trailing 2-0 after he allowed two runs and four hits in the first inning. He was replaced by David Phelps.
Rule 8.02(b) says a pitcher shall not "have on his person, or in his possession, any foreign substance. For such infraction of this section the penalty shall be immediate ejection from the game. In addition, the pitcher shall be suspended automatically."
"We will talk to the umpires tomorrow and review their report before taking any action," Major League Baseball spokesman Michael Teevan said.
In his previous start against the Red Sox, television cameras caught Pineda with what appeared like sticky pine tar on his hand on a cool night. Farrell didn't see a photograph of Pineda's hand until the fourth inning; when Pineda came out to warm up for the fifth, his hand was clean.
"In conditions like last night, it's not uncommon for pitchers to try and get a grip in some way," Farrell said later. "We're more focused on what we need to do offensively to kind of get going rather than taking anything away from his abilities."
Joe Torre, MLB's executive vice president of baseball operations, said in a statement April 11 that Pineda would not be suspended for the substance on his hand.
"The umpires did not observe an application of a foreign substance during the game, and the issue was not raised by the Red Sox," Torre said then. "Given those circumstances, there are no plans to issue a suspension, but we intend to talk to the Yankees regarding what occurred."