Michael Pineda Can't Stop Mariners' Skid, Miguel Cabrera on a Tear, and Yunel Escobar Cools Down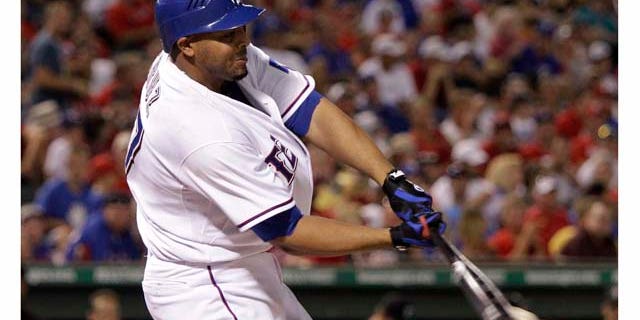 Quinceañeros
Seattle rookie starter Michael Pineda was tagged for eight hits and seven runs in 4 1/3 innings yesterday in Seattle's loss to the Boston Red Sox, its 15th straight, a franchise record. The Mariners broke their record of 14 straight loses, set in 1992. The Red Sox swept the three-game series, clubbing Pineda and the M's other top pitcher, Felix Hernandez.
Getting Ready
Johan Santana joined the Mets on Saturday in Florida and yesterday threw a 45-pitch bullpen session. Chances are Santana could make his first of numerous rehab starts in the minor beginning this week. He underwent shoulder surgery 10 months ago.
They Come in Bunches
Credit the hitting of Miguel Cabrera as one of the reasons why the Detroit Tigers have been able to take over the lead in the American League Central. Since their first game after the All-Star break, the Venezuelan slugger has had four multi-hit games and at least one hit in seven of his last nine games. The Tigers ended the week by taking three out of four from Minnesota. Cabrera is hitting .312 with 20 homer and 64 RBIs.
Texas' Nelson Cruz drove in eight runs with hits in each of his four at-bats Friday night against Toronto. He had just one RBI in his last 11 games. He had a RBI double in the second inning and added a three-run homer in the fourth. In the fifth he had a two-run single and the following inning drove in a pair of runs with a single.
Let Them Handle It
White Sox manager Ozzie Guillén thought a fan went too far, prompting police to talk to fans in the first row behind the team's dugout. One of the fans was escorted from his seat before returning to his seat in Cleveland on Friday night.
"Some guy wanted me to curse and then go out and tell you guys, 'He say this to me.' And then I have to pay MLB a lot of money," said Guillén. "That's OK. Tell it to the police."
Trade Bait
The Colorado Rockies would have to be overwhelmed to trade ace Ubaldo Jiménez, who has struggled at times this year but has looked sharp recently. Jiménez had a personal three game winning streak stopped Sunday at Arizona. The right-handed pitcher last just five innings and gave up five runs and eight hits. The Yankees are rumored to be in the hunt for Jiménez.
Cool Down
Yunel Escobar failed to reach base safely for the first time in 25 games Friday night at Texas. The shortstop has turned things around after the trade that sent him from Atlanta to the Blue Jays a year ago.
During the streak Escobar had drawn a walk in seven straight games. He was back at it on Saturday, picking up two hits in four at-bats as the Blue Jays came up short against the Rangers. Escobar went 3 for 3 with a walk and a run scored on Sunday in Toronto's win over Texas.
Adry Torres, who has covered MLB, NFL, NBA and NCAA basketball games and related events, is a regular contributor to Fox News Latino. He can be reached at elpiloto137@gmail.com or follow him on Twitter: @adrytorresnyc.