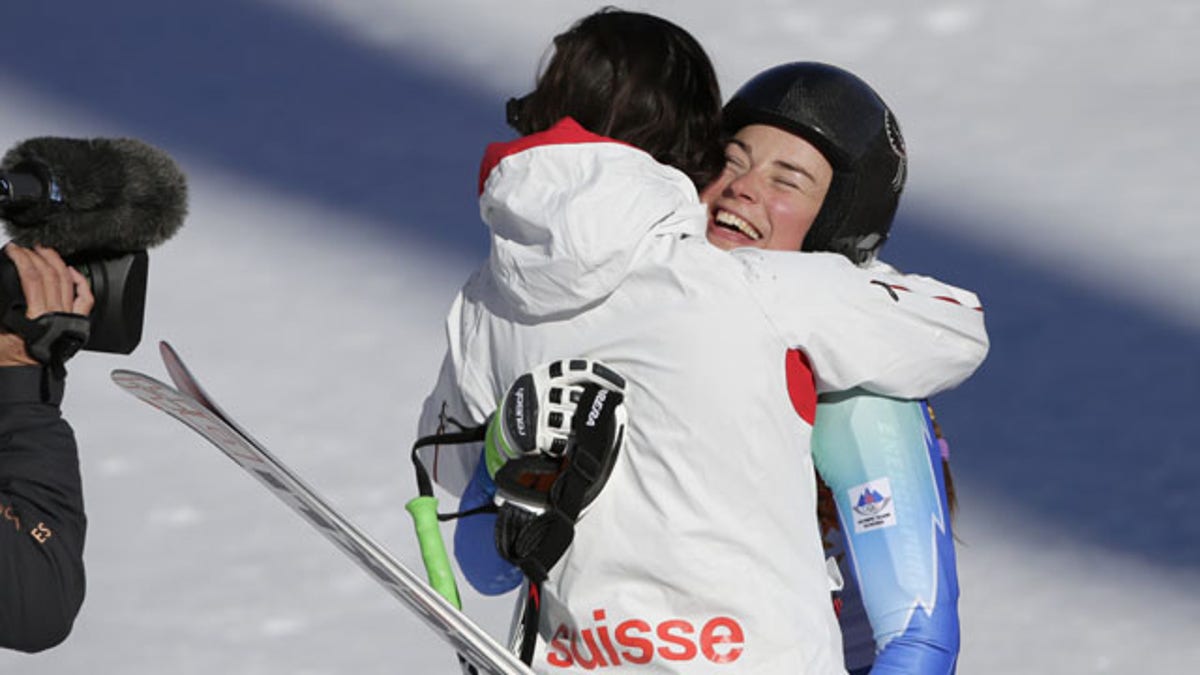 For the first time in Olympic history, two women won gold medals in an Alpine skiing event, as Tina Maze of Slovenia and Dominique Gisin of Switzerland both completed the women's downhill course in 1 minute, 41.57 seconds.
Maze had bib No. 20 and started 30 minutes after No. 8 Gisin as temperatures approached 50 degrees on the Rosa Khutor course.
Maze led Gisin at each time split and speed check but then appeared to be slowed by softening snow on the final slope. Lara Gut of Switzerland was 0.10 seconds behind in third.
Still, Maze stretched both arms overhead and threw her race goggles in the air after seeing she shared the lead. It's the best result in a difficult season for the Slovenian, who has struggled to match her exceptional 2013 campaign.
Gisin, who last won a downhill race in January 2009, came out of the leader's box into the finish area to hug Maze.
Four years ago, Gisin's Olympic downhill ended when she crashed off the final jump and endured a long slide to the finish area where she hit a bank of snow and was tossed into the air.
This time, the 28-year-old Swiss racer was in tears while taking a call on her mobile phone.
The last tie in Olympic skiing happened in men's super-G at the 1998 Nagano Olympics. Didier Cuche of Switzerland and Hans Knauss of Austria both got silver behind winner Hermann Maier.
Twice, two women have tied for second place in Olympic giant slalom races.
At the 1992 Albertville Olympics, Diann Roffe of the United States and Anita Wachter of Austria both took silver behind Pernilla Wiberg of Sweden. At the 1964 Innsbruck Olympics, Christine Goitschel of France and Jean Saubert of the United States were second to gold medalist Marielle Goitschel of France.
Pre-race favorites Maria Hoefl-Riesch of Germany and Julia Mancuso of the United States slipped out of contention, racing after Gisin.
Hoefl-Riesch, who sought a record-equaling fourth Olympic Alpine gold, was 1.17 back in 13th place.
Mancuso, who started No. 12, trailed by 0.99 in eighth place after losing more than a half-second in the lower sections.
In a nasty crash, No. 4 starter Marie Marchand-Arvier of France slid back-first into safety fencing after losing her balance over a jump. She did not appear to be seriously hurt.
The Associated Press contributed to this report.