Mariano Trujillo Finally Scores, Chicharito Continues his Greatness and Carlos Vela Helps Preserve Draw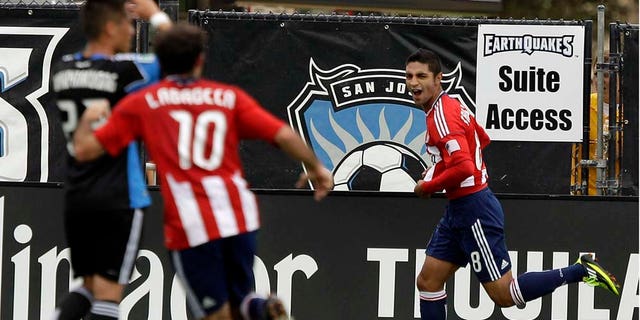 A weekly recap of how Mexican internationals fared over the weekend.
Mariano Trujillo
Trujillo, who replaced Ben Zemanski in the 61st minute, broke a 1-1 deadlock in the 85th minute to boost Chivas USA (1-2-3) to a 2-1 victory over the San Jose Earthquakes in Santa Clara, Calif. on Saturday. Trujillo, 33, converted a rebound of a shot by Justin Braun after a brilliant run past two defenders.
"I got the ball in space," Braun said. "The coaches have told me to kind of run at people when I get in. I did that, I tried to put a shot on frame and keep it low. The save was made but Mariano got the rebound. It was a huge win for us. It's great to get a win. The team is very excited."
Mexican midfielder Francisco Mendoza sat the entire bench for Chivas and did not play.
Javier Hernández
Chicharito moved Manchester United another three points closer to the EPL title on Saturday, heading in the game-winner. The superstar shot an Antonio Valencia cross past goalkeeper Tim Howard in the 84th minute to send United to a 1-0 triumph over Everton.
It was Hernandez's 19th goal this season.
United (73 points) needs seven points in its final three matches to clinch the title. Chelsea (67) is second.
"There was a little bit of frustration, but you need to keep going in the next play, and the next, and the next, because you can't stay there only thinking, 'I missed it,'" Hernández told MUTV. "You need to be ready for the next one. Thankfully the goal came and near the last minute.
"For 90 minutes we kept going and kept going because we wanted the goal, wanted the three points as soon as possible," he added. "We keep going, keep working. It was a difficult day also because it was hotter and that made us a little bit more tired.
"But the history of Manchester United is like this - we can score in the first minute and also the last minute," Chicharito concluded.
Despite his splendid play, Hernández minimized his role.
"Here, the thing always in our mind is that we have to win. We need that three points," he said. "It doesn't matter who scores. We're going into big games now and even defenders can score and we can win – that's the most important thing here.
"We think always that the team is the most important thing," he added. "We don't need to be selfish and think only of scoring."
Next up for Hernández and his teammates is a first-leg away game at Schalke (Germany) in a UEFA Champions League semifinal encounter on Tuesday.
Carlos Vela
The midfielder paid back manager Roy Hodgson's confidence in him by setting up WBA's first goal in its 2-2 EPL road draw at Tottenham on Saturday. Vela's pass set up Peter Odemwingie's fifth-minute goal.
During a counterattack, Vela fed Odemwingie at the edge of the penalty area. The Nigerian fired home a 15-yard shot for a 1-0 lead. The Baggies thought they had a penalty in the 74th minute when a shot from James Morrison, off a Vela feed, appeared to hit the arm of Tottenham defender Michael Dawson.
Carlos Salcido
The defender helped Fulham to a 1-1 EPL away draw at Wolverhampton on Saturday. He took a 25-yard shot in the third minute, which was parried away by goalkeeper Wayne Hennessey. Fulham hosts Bolton on Tuesday.
Dos Santos was replaced by Iván Bolado in the 77th minute of Racing Santander's 2-1 setback to Malaga in Spain's La Liga on Sunday. Dos Santos, on loan from Tottenham Hotspur, had two shots at goal, one that was deflected, the other saved by the goalkeeper. Racing hosts RCD Mallorca on Sunday.
Hector Moreno
The central defender incurred a red card in the 87th minute of Alkmaar Zaanstreek's 2-1 loss to Willem II on Sunday. AZ manager Gertjan Verbeek called Moreno's conduct "unacceptable."
Verbeek said the red card had consequences and that the team would not appeal the card. AZ takes on FC Groningen on Sunday.
Jonathan dos Santos
Dos Santos started and was replaced by Carmona in the 67th minute of Barcelona B's 3-0 home loss to Real Betis in the Spanish Second Division on Saturday. The defeat broke Barca's nine-game unbeaten streak. Barcelona visits Valladolid on Friday.
Andrés Guardado
Guardado, the creative hero of Deportivo Coruña's 2-0 win over Racing last week, endured a frustrating Sunday in a 1-0 loss to Hercules.
His effectiveness at right midfield was limited because he had to take on more defensive responsibilities in the middle. He almost had a role in a possible equalizing goal as his cross was almost put into the Hercules net by Noe Pamarot for an own goal in the 88th minute.
A minute into stoppage time, Guardado sent a corner kick that Juan Dominguez fired from the edge of the penalty area. The shot hit a defender and was saved by goalkeeper Juan Calatayud while he was lying on the ground.
Deportivo plays at home against Atletic Madrid on Saturday.
Pablo Barrera
Barrera did not dress for West Ham United in its 3-0 EPL loss to Chelsea on Saturday. West Ham plays at Manchester City on Sunday.
Francisco Javier Rodríguez
Rodríguez sat the bench in PSV Eindhoven's 3-1 defeat to Feyenoord on Sunday. PSV (65 points), dropped to third place, trail FC Twente (68) and Ajax (67) and has only two games remaining this season.
The club hosts Vitesse on Sunday.
Efraín Juárez
The midfielder did not dress for Celtic in its 0-0 tie with Rangers in its Glasgow derby in the Scottish Premier League on Sunday. Celtic hosts Dundee United on Sunday.
As a central defender, Márquez helped the Red Bulls to their second consecutive shutout and fourth of the season in their 4-0 romp at D.C. United on Thursday. The Red Bulls gave up few scoring opportunities in the game.
They host Sporting Kansas City at Red Bull Arena in Harrison, N.J. on Saturday.
Omar Bravo
Bravo, a forward, did not play for Sporting Kansas City in its 3-2 defeat to the New England Revolution. He is sidelined four to six weeks with a sports hernia.
Michael Lewis, who has covered international soccer for three decades, is a frequent contributor to Fox News Latino. He can be reached at soccerwriter516@aol.com.