Maria Burns Ortiz: Pacquiao-Marquez III Lacks Juice Needed to Help Boxing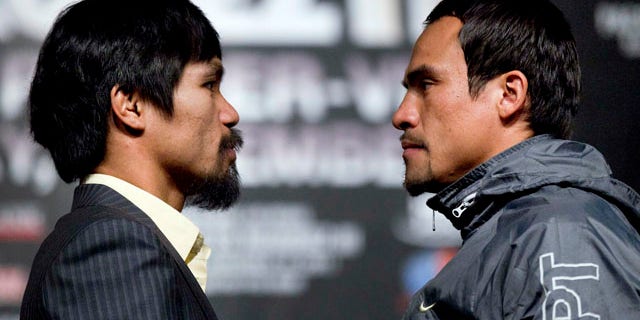 Manny Pacquiao has promised that Saturday's bout against Juan Manuel Márquez will be exciting. He's also promised a victory. With 9-1 odds in Pacquiao's favor, fans can all but count on the latter.
As for excitement, boxing could certainly use a boost. The question is whether Pacquiao-Márquez III will be able to deliver the much-needed lift.
Boxing's last big spectacle between Floyd Mayweather Jr. and Victor Ortiz left many fight fans unsatisfied and wondering if their pay-per-view money could have been better spent.
The third part of the Pacquiao-Márquez trilogy needs to promise big returns to get viewers to tune in. But even three episodes of "24/7," HBO's reality-show-cum-promotional-vehicle, has done little to hype Saturday's main event.
There's no debate that the first two fights between these boxing stars were compelling. Their first meeting in 2004 ended in a draw, while the rematch, four years later, saw Pacquiao come away with a split-decision win.
Márquez always has contested that he should have won both fights, but such statements from the losing corner are hardly anything new in boxing.
For his part, Pacquiao says he took this bout to silence Márquez once and for all. (The inability to reach an agreement for a fight with Mayweather also had to play into this decision.)
Though Pacquaio-Márquez I and II were great fights, things have changed in the last three-and-a-half years.
At 32, Pacquaio is in his prime. He holds an advantage in both size and speed. Even with commitments as a congressman in his native Philippines, Pacquiao has dominated in both fights – unanimous decisions over Antonio Margarito and Shane Mosley – since taking office last year.
Pacquiao's last loss, one of just three in his career, came more than six years ago to Erik Morales. Since then, the boxing icon has gone 14-0. More impressive, he has won every one of those fights – save for the split decision against Márquez – by knockout or unanimous decision.
Over that same span, Márquez has racked up three of his five career defeats, going 9-3. That record includes his 2008 loss to Pacquiao and a loss to Mayweather in September 2009.
The truth is, Márquez is 38 and certainly nearing the end of his career. Another loss to Pacquaio could send the Mexican fighter into retirement. Certainly anything is possible, but as the betting line shows, a Márquez win clearly is a long shot.
That fact raises this question: Will people want to watch? Sure, Pacquaio's title as pound-for-pound best is at risk every time he steps into the ring, but at the peak of his career and with the odds so heavily in his favor, will the average fan see any value in purchasing the pay-per-view?
Especially on a night where Fox is airing its first UFC broadcast featuring Cain Velázquez and Junior Dos Santos on network television.
Boxing unquestionably needs a surge to generate some excitement. Unfortunately, a third iteration of Pacquaio-Márquez doesn't seem to be it.
Maria Burns Ortiz is a freelance sports journalist, chair of the National Association of Hispanic Journalists' Sports Task Force, and a regular contributor to Fox News Latino. Follow her on Twitter: @BurnsOrtiz
Follow us on twitter.com/foxnewslatino
Like us at facebook.com/foxnewslatino