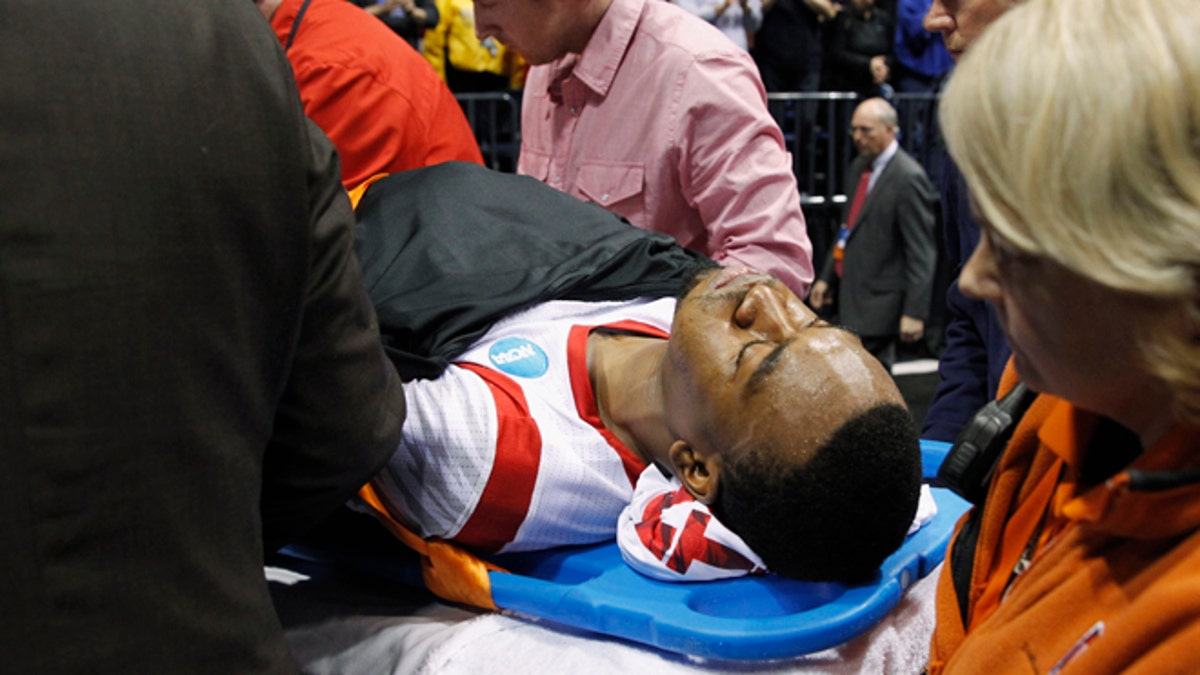 Kevin Ware was back on Louisville's campus Tuesday afternoon after he had been released from an Indianapolis hospital, two days after breaking his right leg during the Cardinals' Final Four-clinching victory.
The sophomore guard returned to the Cardinals' practice facility just after 2 p.m., entering through a back door.
Ware had been at Methodist Hospital since sustaining the horrific injury Sunday during in the first half of Louisville's 85-63 win over Duke in the Midwest Regional. He underwent surgery to repair compound fractures of the tibia in the leg and is expected to be out a year.
He tweeted Tuesday as he prepared to leave the hospital on crutches, "Back to my brothers I go."
Louisville coach Rick Pitino has said he would like Ware to travel with the team to Atlanta. Athletic department spokesman Kenny Klein said Wednesday that doctor's wouldn't likely sign off on Ware traveling until Wednesday.
Ware broke his leg after going up to block a shot and landing awkwardly. The injury devastated Pitino and Ware's Louisville teammates, many of whom were seen crying after seeing the severity of the break.
With encouraging words from Ware, who told the team, "just go win the game," the top-seeded Cardinals regrouped to win and earn their second consecutive Final Four berth.
Pitino and his son, Richard, spent Monday at the hospital with Ware, who was pictured holding the championship trophy in his bed. Ware later posted a comment on Facebook saying, "the first step is always the hardest one to take" along with a photo of him on crutches.
On Monday, university President James Ramsey described the injury as "heartbreaking" and said Ware will get the best medical care and rehabilitation the university can offer.
Social media has exploded with discussion of Ware's injury, resulting in words of support from around the country. Former NFL quarterback Joe Theismann, who also suffered a horrific leg injury on Monday Night Football in 1985 that ended his career, and Miami Heat stars LeBron James and Dwyane Wade were among those tweeting encouraging words.
On campus, a makeshift tribute was taped to a window in the Student Activities Center, and students filed by and lined up one by one to sign the 3-by-5 foot poster that said, `We Stand Behind You, Kevin! Get Well (hash)5!
Ware appreciated the support and said it boosted his mood. In an interview with the Louisville Courier-Journal, he said, "It really brought my spirits up. ... And it's kind of hard to keep your spirits up in a situation like this."
Ware also told the Courier-Journal that he remembered teammate Luke Hancock comforting him, and being surrounded by other Cardinals immediately after he suffered the injury. During that time Ware said he went into "Kevin mode," telling his team to win the game.
"When they took me off the court," Ware told the paper, "I heard so many cheers, and I'm like `When I'm out of surgery, there's gonna be some good news.' "
Ware's recollection was not as clear when he woke on Monday morning full of medication, though he said his memory returned upon seeing the championship trophy in his hospital room.