Lochte, Phelps advance in 200 free at US trials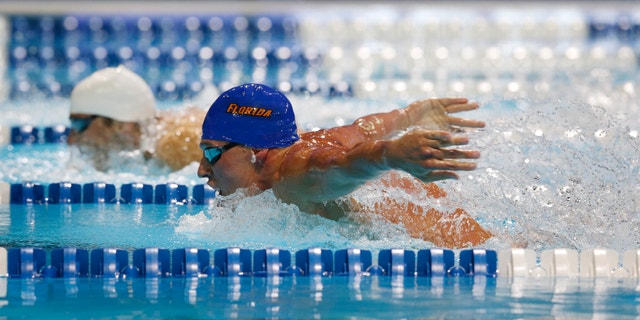 OMAHA, Neb. – Ryan Lochte and Michael Phelps stayed on course for their second showdown at the U.S. Olympic swimming trials on Tuesday.
Lochte qualified fastest in the 200-meter freestyle preliminaries, exploding off the final turn to take the lead and cruise into the wall at 1 minute, 48.14 seconds. He's the world champion in the event, having beaten Phelps for the title last year in Shanghai.
Charlie Houchin, a 24-year-old from Raleigh, N.C., who was 77th in the 200 free at the 2008 trials, was second-fastest at 1:48.15. Swimming in the heat before Lochte, Phelps qualified third at 1:48.31. He is the Olympic champion and world record holder.
Lochte got the better of Phelps in their first final at trials when he won the 400 individual medley on Monday. Phelps finished second, and they both secured spots for London.
Also moving into the 16-man evening semifinals were Conor Dwyer (fifth) and Peter Vanderkaay (sixth). They already earned berths on the U.S. team in the 400 freestyle on Monday night.
Davis Tarwater, who narrowly missed making the 2008 Olympics when he was third in the 200 butterfly, was eighth. Ricky Berens, bidding for his second straight Olympic spot, was ninth.
2008 Olympian Garrett Weber-Gale didn't advance, finishing 24th. Austin Surhoff, the son of former major league baseball player B.J. Surhoff, tied for 66th.
Budding star Missy Franklin and two-time Olympic champion Natalie Coughlin advanced in the 100 backstroke prelims.
Swimming her first event of the eight-day meet, Franklin was the top qualifier in 59.54 seconds, easily moving the 17-year-old from Colorado into the evening semifinals.
I had some first-race jitters," she said. "But I'm super, super happy with my time. It felt awesome."
Franklin saw the sign under the massive scoreboard above the pool as she stroked to the opposite end of the pool.
"It was U.S. Olympic Team. Talk about motivation. That helped me get my tempo up the last 25," she said. "I was nervous for my first race. But right now, I feel good."
Franklin led a quartet of teenagers who represent the U.S. future in the event. Rachel Bootsma, an 18-year-old from Minnesota, was second at 59.69, making her and Franklin the only women to go under 1 minute.
Elizabeth Pelton, an 18-year-old from Connecticut, was third at 1:00.55. Olivia Smoliga, a 17-year-old from suburban Chicago, was fourth-quickest at 1:00.66.
Coughlin advanced in fifth at 1:00.71. She was the first woman to break 1 minute in the event and formerly held the world record.
The top 16 in the semifinals move on to Wednesday's final, where only the top two earn berths for next month's Olympics.