Lightning lose Ben Bishop, Tyler Johnson in first period of Game 1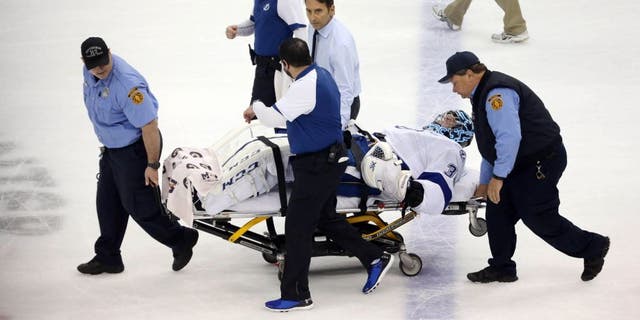 PITTSBURGH (AP) -- Tampa Bay Lightning goalie Ben Bishop left Game 1 of the Eastern Conference finals Friday night in the first period with an apparent injury to his left leg.
Bishop was scrambling to get back in the crease when his left leg appeared to get caught. The Vezina Trophy finalist clutched the leg while being tended to by trainers and was taken off the Consol Energy Center ice on a stretcher. He was replaced by backup Andrei Vasilevskiy.
Bishop began the series 8-2 during the postseason with a 1.89 goals-against average.
The Lightning lost center Tyler Johnson with a lower-body injury late in the first period when Johnson collided with Pittsburgh's Chris Kunitz. Johnson remained in the training room when the Lightning came out for the second period.
The Penguins had early injury concerns of their own. Pittsburgh defenseman Kris Letang left briefly after getting hit illegally from behind by Tampa Bay's Ryan Callahan. Letang, who has dealt with concussions during his career, laid motionless for several seconds but did skate off under his own power. He missed about 10 minutes of game time before returning.
Callahan earned a 5-minute major penalty but did not receive a game misconduct.