LeBron James storms out after questions about JR Smith blunder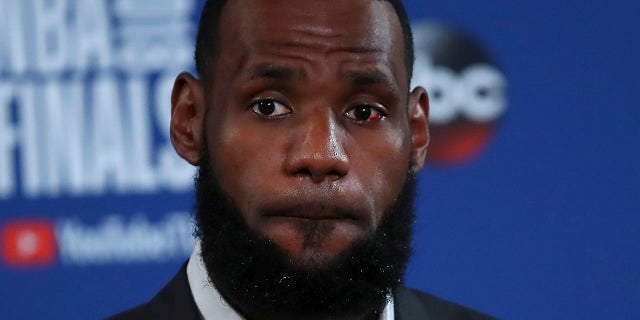 LeBron James, clearly frustrated with the Cleveland Cavaliers' 124-114 overtime loss to the Golden State Warriors on Thursday night, abruptly ended his time with the media over questions about teammate J.R. Smith.
Following Game 1 of the NBA Finals in Oakland, Calif., ESPN reporter Mark Schwarz tried to get James to talk more about Smith's blunder at the end of the game's fourth quarter -- when Smith, with the score tied, dribbled the ball after a rebound instead of trying to put a shot up and potentially give Cleveland the lead.
James gave the reporter a few non-answers, but quickly grew tired of hearing the same type of questions. So he walked out of the press conference, telling the media "be better tomorrow."
The Cavs star scored 51 points, grabbed eight rebounds and recorded eight assists in the loss. He's the first player to score 50 points in a Finals game and lose, according to ESPN Stats & Info. James also tied Chicago Bulls legend Michael Jordan for the most 30-point games in playoff history, according to the stat account.
James is averaging 34.9 points, 9.2 rebounds and 8.7 assists per game in now 19 playoff games this year. In a year where there has been a ton of questions as to whether the Cavaliers were going to make it past the second round of the playoffs, he's carried the team with seven striaght games of 25 or more points and pushed through roadblocks in two separate Game 7s.
The only questions now are how long can James carry the team for and who is going to step up and give the Cavaliers what they need to steal a win from Golden State. Only two other players were in double figures Thursday night -- Kevin Love who scored 21 points in his return from a concussion and Smith who scored 10.
The Cavaliers and Warriors will do battle in Game 2 on Sunday night.