Lamar Miller will need strong 2015 campaign to earn big pay day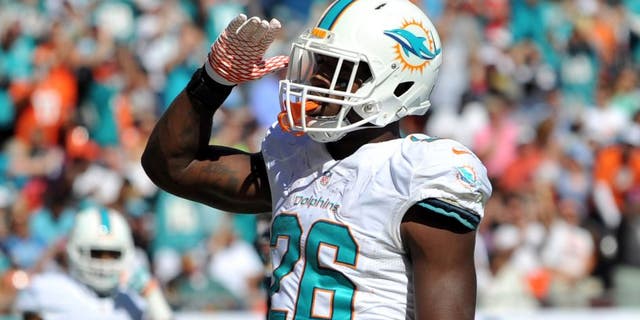 Lamar Miller of the Miami Dolphins is entering a contract year this season in which he'll look to prove his worth -- whether it's to the Dolphins or another running back-needy franchise. In 2014, Miller began to show just how talented he is, racking up 1,099 yards on just 216 carries, which gave him a 5.1 yard-per-carry average for the season.
Shockingly, Miller never topped 20 carries in a game last season, tallying 19 in the final two games of the season. In his career, he's only done it once. That doesn't mean he can't handle the workload. If anything, it shows the Dolphins' lack of desire to make him the bell cow at running back. That might not bode well for Miller come time to negotiate a contract.
Miller can't control how often he gets handed the ball this season, but he can make the most of his opportunities when they arise. With rookie Jay Ajayi likely Miller's primary backup, Miller could get even fewer carries than he did in 2014. Ajayi has long-term health concerns with his knee, but in the short term, he's good to go.
"This kind of talent -- to be there where he was -- is a perfect fit in terms of what we want to add and in terms of adding an element of additional power to our running game," Dolphins assistant general manager Eric Stokes said of Ajayi following the draft. "It really was an easy move to turn that card in, and we're very happy to have him."
By the way Stokes was talking, they seem excited to have Ajayi on the team, yet another reason to pass on extending Miller long term. The way the NFL works nowadays, a running back by committee is gaining popularity, as teams shy away from handing out big contracts to running backs.
So what will it take for Miller to get a big time pay day? Well, if he has a breakout season and rushes for 2,000 yards, he may just become too expensive for Miami to keep. That's not to say another team won't pay him what he deserves, but it may not be the Dolphins with Ajayi on the roster and plenty of backs in the 2016 NFL Draft.
If he eclipses his mark of 1,099 yards from last season with say, 1,500 yards, it will show his consistency and reliability -- and he may be inexpensive enough to stay in Miami.
In the end, however, it comes down to Miller making the most of his opportunities. He won't get 300 carries like he probably wants, but if he can average 5-plus yards per carry once again, he'll prove his worth. Needless to say, 2015 is the biggest year of Miller's young career.
Photo Credit: Steve Mitchell/USA Today Sports