La. Tech forced to play with only four players after brawl against UAB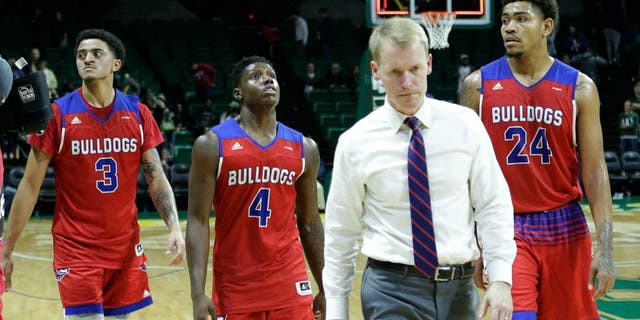 Things got a bit ridiculous at the end of Thursday night's game between the UAB Blazers and the Louisiana Tech Bulldogs.
After a foul call with 6:03 remaining, UAB's Hakeem Baxter and Louisiana Tech's Jacobi Boykins got into it during the free throw and sparked a brawl that, following a string of ejections, left Tech with just 4 players the rest of the way.
Both players were assessed Flagrant-2 technical fouls and ejected. All of the Bulldogs bench was ejected for coming onto the court during the skirmish. UAB assistants managed to stop two bench players from hitting the floor, meaning the Blazers had 6 players left.
Here's where it gets goofy. The Blazers led 63-50 at the time and got to play 5-on-4 for the final six minutes of the game ... and managed to get outscored 20-16 the rest of the way.
Yes, they held on to win 79-70, but how do you get outscored with the man advantage in basketball?
Clearly, both teams need to work on controlling their temper -- and UAB might want to work on finding the open man.