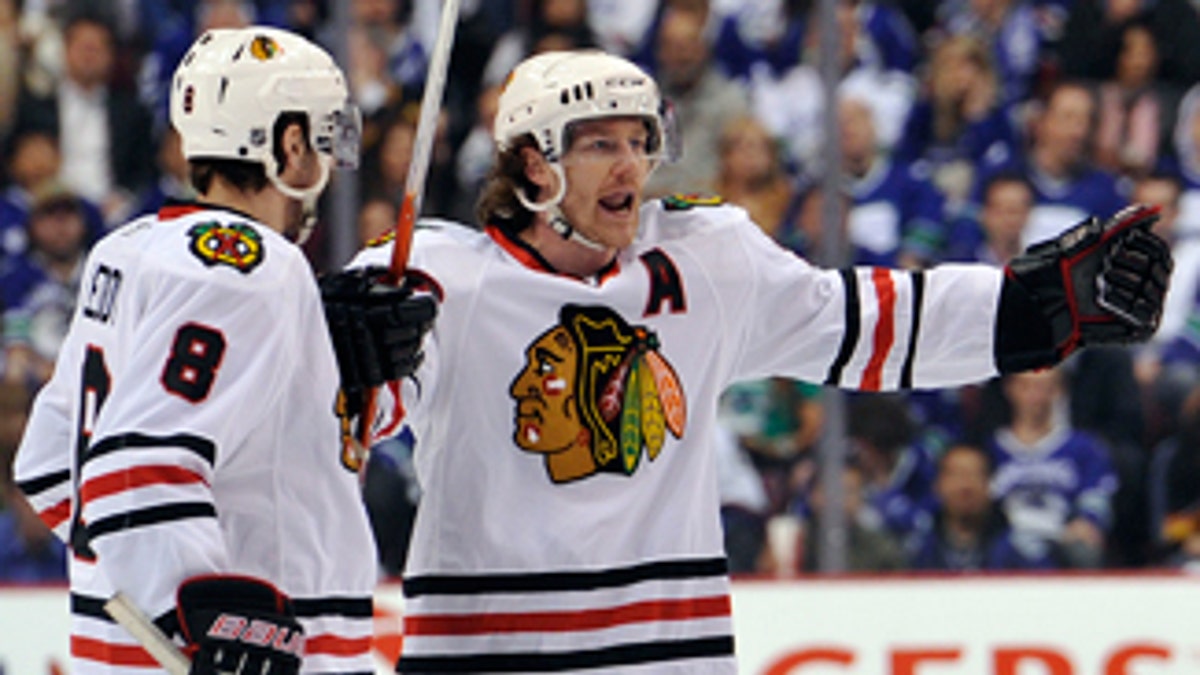 VANCOUVER, B.C. – Duncan Keith had a 4-point night and barely broke a sweat.
The floppy dark hair pouring out from underneath his ball cap looked as if it had been freshly blow-dried when he spoke with the media inside the victorious Blackhawks' dressing room Thursday night. Keith's forehead was similarly lacking in moisture, zero beads of sweat.
The guy looked like he just played Yahtzee, not more than 23 minutes of hockey. He looked like he could play two, and the way he's going right now he probably wouldn't mind it.
But the Vancouver Canucks most definitely would.
Keith scored two more goals Thursday and dished out a pair of assists to help the Blackhawks beat the Canucks 5-0, forcing a Game 6 at the United Center on Sunday. Keith also had a goal in Chicago's 7-2 rout on Tuesday in Game 4 as well as a goal in Game 3, giving him a team-high 4 goals and 6 points in the series.
He has registered five of those points since his defense partner, Brent Seabrook, was forced out of the lineup with what the team is calling an upper-body injury, but is more likely a concussion.
"Duncs, right now he's hot," said Marian Hossa, who got himself going Thursday with a pair of goals and an assist. "He's shooting the puck really well. He's making the right choices, the right plays. He's dominant."
His four points came in 18:53 of playing time, the fastest four points by a defenseman in a playoff game since Chicago's Eric Weinrich against Calgary on April 21, 1996.
Keith couldn't have timed his resurgence any better. As soon as the Blackhawks hit the brink of elimination after falling down 3-0 in the series, Keith seemed to find a new gear, a fresh reserve of energy.
He hardly looked like the reigning Norris Trophy winner in the first three games of this series, and that was coming on the heels of an up-and-down regular season. Keith was not as slick and confident as he usually is with the puck earlier in this series. He was turning it over, generally making poor decisions that raised eyebrows and led to scoring chances for the Canucks.
All that has changed since Seabrook left the lineup.
Coincidence? Yes, there is: Keith is playing for his buddy now.
"They've got a good rapport, a good relationship and Duncs is a competitive guy," Chicago coach Joel Quenneville said. "I thought he had his best game all year. He had a very good night. He's taking charge. We like the leadership. He's got a real purpose."
Keith is too soft-spoken, too humble to brag about his huge effort of late.
The Blackhawks have no troubles speaking for him.
"Duncs is stepping up," captain Jonathan Toews said. "He's been a force verbally in the locker room, on the bench and on the ice both ways. He's killing (penalties), scoring big goals on the power play -- he's doing everything. You saw him in the last game, he's getting in their face and not afraid to get into it after the whistle. At the same time there is nothing that is going to take him off his game right now. Every guy in this room could definitely take a page out of his book right now."
Keith is re-energized for a reason. After playing in 111 games during the 2009-10 season -- regular season, postseason and Olympics included -- he spent a lot of time this season battling fatigue.
Just when you'd think he'd be running on fumes, Keith has kicked it up a notch because he senses the desperation of his team.
"You play a long season last year, and I played 115-odd games (exhibitions included), and a lot of ice time in those games," Keith said. "Then you come back two months later and you're playing exhibition games and it's not the same feeling. I'm excited to play in these types of games in this type of atmosphere. It's a good feeling."
One he'd like to keep going for a while.
Win or lose, the Blackhawks can pretty much guarantee they're going to get Keith's best from here on out.
"Confidence is such a big thing and he's got that," defenseman Brian Campbell said. "As long as he feels good and keeps shooting the puck, it'll find ways to go in."
Follow Dan Rosen on Twitter at: @drosennhl