Jumping on faith: The rise of 5-foot-5 pro dunking sensation Porter Maberry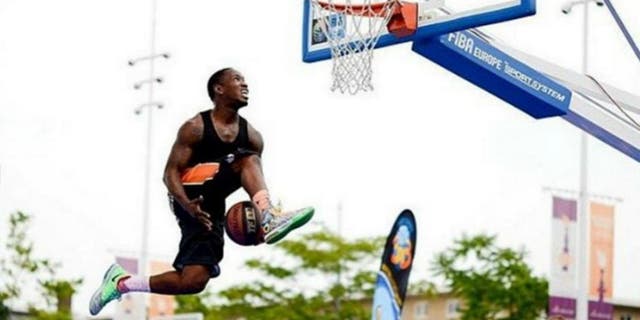 LOS ANGELES, Calif. -- Porter Maberry just keeps going up.
The crowd at K-Mart's Rise Challenge event in downtown Los Angeles is fixated on him -- this tiny human who, with a few short steps, launched his 5-foot-5, 145-pound frame high into the air, possibly for good.
Physics would now argue that Maberry should be falling back to earth soon.
Instead, he continues rising, clearing a man and a child and throwing a one-handed jam into the cylinder. Maberry lands in a slinky crouch under the basket, mugging for the camera.
Are you not entertained?
They are entertained, because they've just witnessed Porter Maberry do what Porter Maberry does, which is rise up and Crane Kick the law of gravity on a daily basis.
This is his day job, and he and fellow dunkers Chris Staples, Guy Dupuy and Jonathan Clark, put on a clinic for the packed Risewear bleachers outside the Staples Center.
All four men are savants in their own right, but Maberry is the only one whose dunking career began thanks to a wayward take to the rim.
"A guy missed a layup," Maberry says, describing the accident that led to him throwing down his first dunk. "And I caught a tip dunk and put it in."
He was 19 years old, and some friends were playing pickup at a local park in his hometown of Grand Rapids, Michigan. Maberry joined in, and soon brought things to a screeching halt with his unexpected rim-rocking. Naturally shy, he tried to act like nothing had happened.
"I couldn't stop smiling," Maberry says. "I tried to play it off but everybody got hyped, and I just started smiling."
And that was that -- the first of thousands of dunks, and a moment a half decade in the making.
When I was 14, I could jump up and grab the rim. I was probably like 5-2 Porter Maberry
"When I was 14, I could jump up and grab the rim," Maberry says. "I was probably like 5-2. It was a shock to people. They were like 'Just dunk! Just dunk!' But I could never get it in. My whole four years of high school, I could never dunk."
The oldest of five, Maberry was shy growing up. He loved the game of basketball, but in lieu of trash talk, he let his game speak for him.
"If it wasn't basketball, I didn't like doing it" Maberry says. "I didn't want to be in front of people or talk about certain things."
So he stayed quiet and practiced, hoping one day his work would land him in the NBA -- a gig that could get him out of Grand Rapids and set his family up for life.
But high school came and went without a significant growth spurt, and when the scholarships didn't roll in for Ottawa Hills' bouncy, 5-foot-5 guard, Maberry found himself running on dead air. And with the birth of his first daughter on the way, he shelved his hoop dreams and took a job lifting office furniture onto pallets while attending community college classes on the side.
"I was just trying to find myself," Maberry says. "I really didn't know what to do."
But the work was unfulfilling and the classes bored him, and when the coach of the Grand Rapids Community College basketball team invited him to try out for the team, he quit his job and sprang at the opportunity. Maberry made the roster and, finally, figured he had a chance get noticed and begin a path to professional ball.
But as quickly as it formed, the dream turned to sand in his hands.
"They fired the coach," Maberry says. "And they brought in a new guy with new recruits."

Maberry walked away from the team and from basketball as a whole.
I stopped going to school. I stopped playing basketball. I was like, 'I'm just gonna go work and see what happens. I'm done with basketball.' Porter Maberry
"I stopped going to school. I stopped playing basketball. Everything," Maberry says. "I was like, 'I'm just gonna go work and see what happens. I'm done with basketball.'"
He went back to work -- different company, same gig -- and tried not to think about basketball, feeding and clothing a child on desk-lifting money, or being a 20-year-old whose ship had already sailed.
Eventually, the pain dulled enough that Maberry could play pick-up again. He hadn't played in months, and his ball-handling and shooting were rusty. His legs, however, felt ... different.
"Lifting all that furniture might've kicked in the men legs," Maberry laughs. "I don't know what it was, but the rim started looking closer to me."
I don't know what it was, but the rim started looking closer to me. Porter Maberry
And with his new "men legs" Maberry began dunking consistently, and with some badgering from friends, entered a dunk contest at a three-on-three tournament in Mount Pleasant, Michigan, in 2011.
"They're like, 'Come on, man. Just do it. Just do it and see what happens."
So Maberry did it. And he destroyed everyone.
"I went out and made every dunk, and I won," Maberry says.
He walked away with $1,000 in cash, and a few days later, received an email from Team Flight Brothers, a collective of traveling professional dunkers. Someone had sent them video of Maberry dunking at the contest, and they liked what they saw.
After confirming Maberry's shortness ("No one ever believes I'm 5-5"), Team Flight Brothers began inviting him to events. He'll never forget the looks he got the first time he stepped onto a court with real, professional dunkers in 2012.
"They couldn't believe it," Maberry says. "They were like, 'There's no way you can dunk.'"
"I was in sweatpants, and I threw down a dunk. And they were like, 'Yeahhhh riiiiiight.'"
And just like that, Maberry got "through it and to it" with some of the best dunkers in the country. He quit his job again, this time for good, and threw himself in to the vortex of the professional dunk circuit -- a life of hotels, airplanes and money droughts that tend to keep dunkers in perpetual motion.
For Maberry, this the hardest part of the grind. He's dunked for audiences in 65 countries in the last two years alone, and the long stretches without seeing his daughters, 5-year-old Destinee, and 6-month-old Khali, pain him.
"That's the hardest part in the world," Maberry says. "Just being gone ... if it wasn't for FaceTime, I wouldn't know what to do. I feel like I'm missing out on a lot...but I do it for them. I use it as motivation."
And it's this motivation that's spurred Maberry's most difficult decision to date: leaving Grand Rapids for the city of Los Angeles.
It's a move he's fought for years, but after winning TNT's Dunk King in May and a national tour with Rise on the way, staying in Michigan is no longer an option.
"I love my city," Maberry says. "But I've outgrown it...I have two little girls...I'm trying to put myself in a position so they don't have to worry about anything."
And by not taking a chance in a new place with new opportunities, Maberry says he'd be abandoning the very principles that brought him this far.
"I jump for a living, and I just had the faith that I would make it."
Dan is on Twitter. Jumpers gotta jump.