Jimmie Johnson's greatness solidified with or without historic seventh title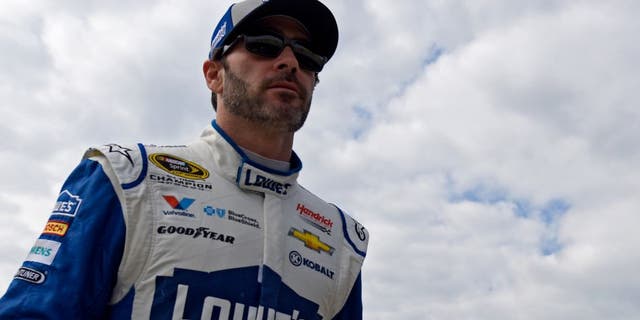 There are a lot of ways to measure greatness in an athlete, and one of the best is to compare one athlete's stats to those of his peers.
In the case of Jimmie Johnson, the numbers suggest he not only is the best racer of his generation, he's the best by a huge margin.
On Sunday at Homestead-Miami Speedway, Johnson will try to tie one of NASCAR's most sacrosanct records by winning a seventh NASCAR Premier Series title. If successful, Johnson would tie Richard Petty and the late Dale Earnhardt for the most championships.
But if you look at Johnson's numbers and those of his contemporaries, it's clear that a seventh title, if it happens, would merely be icing on the cake.
Consider Johnson's stats since he became a full-time NASCAR Sprint Cup Series driver with Hendrick Motorsports in 2002.
From 2002 through 35 races of the 2016 season, Johnson has six championships. Only one other driver, Tony Stewart, has more than one in that period, and Stewart has three.
Johnson leads active Sprint Cup drivers with 79 race victories; Stewart is second with 49.
And here's an eye-opening number: From 1993-2001, driving for Hendrick Motorsports, Jeff Gordon won four championships and 58 races.
From 2002, when Johnson joined Hendrick, through 2016, Gordon won no championships and just 35 races.
Before Johnson drove for Hendrick, Gordon won 19.8 percent of his Cup starts. After Johnson joined Hendrick, Gordon won 6.84 percent of his Cup starts for the remainder of his career.
More: Kyle Busch, the reigning Sprint Cup champ has won 8.94 percent of the Cup starts in his career. Kevin Harvick, the 2014 titleholder's winning percentage is 6.10 percent. Johnson's career winning percentage is 14.57 percent.
In the Chase for the NASCAR Sprint Cup, which began in 2004, Johnson has won 28 races. His closest competitors, Harvick and Kurt Busch, have each won 11. And Johnson is the only racer to make the Chase in every season and every format.
And still, he is underappreciated in some circles.
"I still say that Jimmie is going to get more credit when he's done than he'll get when he's driving, but to look at what he's accomplished, it's pretty remarkable what he has done," said team owner Rick Hendrick.
Hendrick's peers are well aware of how good Johnson is.
"I've watched Jimmie for a number of years, and he's certainly connected in partnership with Rick, but he is the ultimate driver when you think about people in the garage area," said Team Penske founder and owner Roger Penske.
In fact, Johnson is exactly the kind of clean-cut buttoned-down driver that Penske became famous for hiring when he was building his IndyCar empire.
"I don't think he has an enemy out there, when you talk about driver to driver, crew chief to crew chief. Johnson is at the very top of the game, and you have to respect that," said Penske. "We certainly do from a Team Penske perspective."
And Hendrick bristles at the criticism that Johnson is boring or lacks personality.
"He may come across at the track that way because he's so focused and driven," said Hendrick. "And he thinks like a computer when he's in the car if you listen to him give feedback or break it down, or in a debrief he's just so -- the way he eats, the way he exercises, everything is about physical and mental fitness for the race car.
"But when you see him in a charity event with a bunch of his friends, he's one of the most fun-loving guys," said Hendrick. "I've been around him in lots of events with friends, and he's bubbly, and I see a lot of 48 shirts and fans in the garage area now."
For his part, Johnson is certainly aware of what a seventh title would mean. He's got images of Petty and Earnhardt on his helmet, after all. But he insists his focus is on winning the race, not where his place in history is.
"I've been so caught up in notes and videos and talking setups and pouring through data and all of that stuff that the seven (championships) is there, I'm happy to talk about it," said Johnson. "I don't know what else to add to it, and I am just all in race winning -- trying to win the race, in that mindset."
Knaus said Johnson has immersed himself in getting ready for the title run.
"He's done a lot of diligence in watching films, getting prepared, understanding the race cars, what we're doing with the cars, and that's something that hasn't just happened over the course of the last four weeks," said Knaus of Johnson. "It's something that started weeks and weeks ago."
That, in turn, has helped both driver and team.
"He sees the work," Knaus said. "He sees what's changed in our race cars, how we've developed the speed. That's given him confidence knowing that when he shows up at the race track that he's going to have a fast race car, and that's where that confidence comes from. It's just preparedness."
And if nothing else in this pressure-packed week, Johnson has kept his sense of humor.
Friday he ran 10 miles and biked 30 more and after Happy Hour on Saturday, he told Chevrolet public relations representative that he was going to run again.
Asked how long he'd run this time, Johnson said, "It's got to be seven (miles). I've just got something with that number."