Jimi Manuwa not happy Jon Jones ultimately decides who fights Daniel Cormier at UFC 214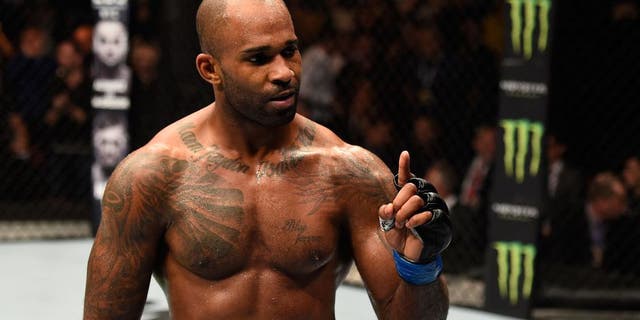 Jimi Manuwa is looking for a fight with light heavyweight champion Daniel Cormier, but he remains in a holding pattern on whether or not he's going to get the matchup.
Fresh off a knockout over Corey Anderson earlier this year, Manuwa has been champing at the bit for an opportunity to face Cormier, but his chance to compete for the title in July ultimately lies with former champion Jon Jones.
UFC president Dana White revealed just recently that Cormier would fight at UFC 214 on July 29 but the promotion was waiting to find out if Jones wanted the matchup or if he preferred to get a tune-up fight after sitting out of action for more than a year.
If Jones turned down the fight, Manuwa would then receive the opportunity face Cormier.
Rumors have been swirling for the past day that Jones has decided to take the fight with Cormier at UFC 214, but Manuwa never understood why he was granted that power in the first place.
"I don't see why it should be up to Jon Jones whether he's ready or not," Manuwa told FOX Sports this week. "I think if Cormier is ready and I'm ready, why wait for Jon Jones?
"I think Alex [Gustafsson] is going to beat [Glover] Teixeira and then put Jones against Alex. Let Alex have Jon Jones, I'll fight Cormier."
Zuffa LLC via Getty Images/Josh Hedges/Zuffa LLC
Of course, Jones versus Cormier is a more marketable fight on paper considering the long-standing rivalry between the two light heavyweight competitors. Jones defeated Cormier in their previous meeting in 2015, but he then faced a lengthy suspension due to a hit-and-run accident.
Jones was then suspended for a year after testing positive for a banned substance that forced him out of his last scheduled bout against Cormier at UFC 200 in July 2016. The suspension expires on July 6, which means Jones would be eligible to fight Cormier again on the UFC 214 card.
Still, Manuwa is hoping that he'll ultimately get the shot with Cormier because he knows he is ready to shock the world by becoming the first fighter to knockout the light heavyweight champion once they step into the Octagon together.
"I finish him every time. A striker knows what's what. I finish him every time. Right now, there's no doubt. I don't have any doubts, I will knock him out," Manuwa said about Cormier.
"I used to like this little chubby guy, who was picking up everybody and slamming them. Now he's in my division and he's got the belt. I want the belt. That's why I started this sport. It's nothing personal, it's just business and business is cut throat. One more thing he won't make it out of round two."
For now, Manuwa remains in limbo as he awaits official word from the UFC whether or not he'll get the opportunity to face Cormier or move forward with a different matchup if Jones ultimately takes the fight at UFC 214 in Anaheim, Calif.
Zuffa LLC via Getty Images | Jeff Bottari/Zuffa LLC