Jets' - now Jaguars' - Chris Ivory is a fantasy football red zone stud inside the five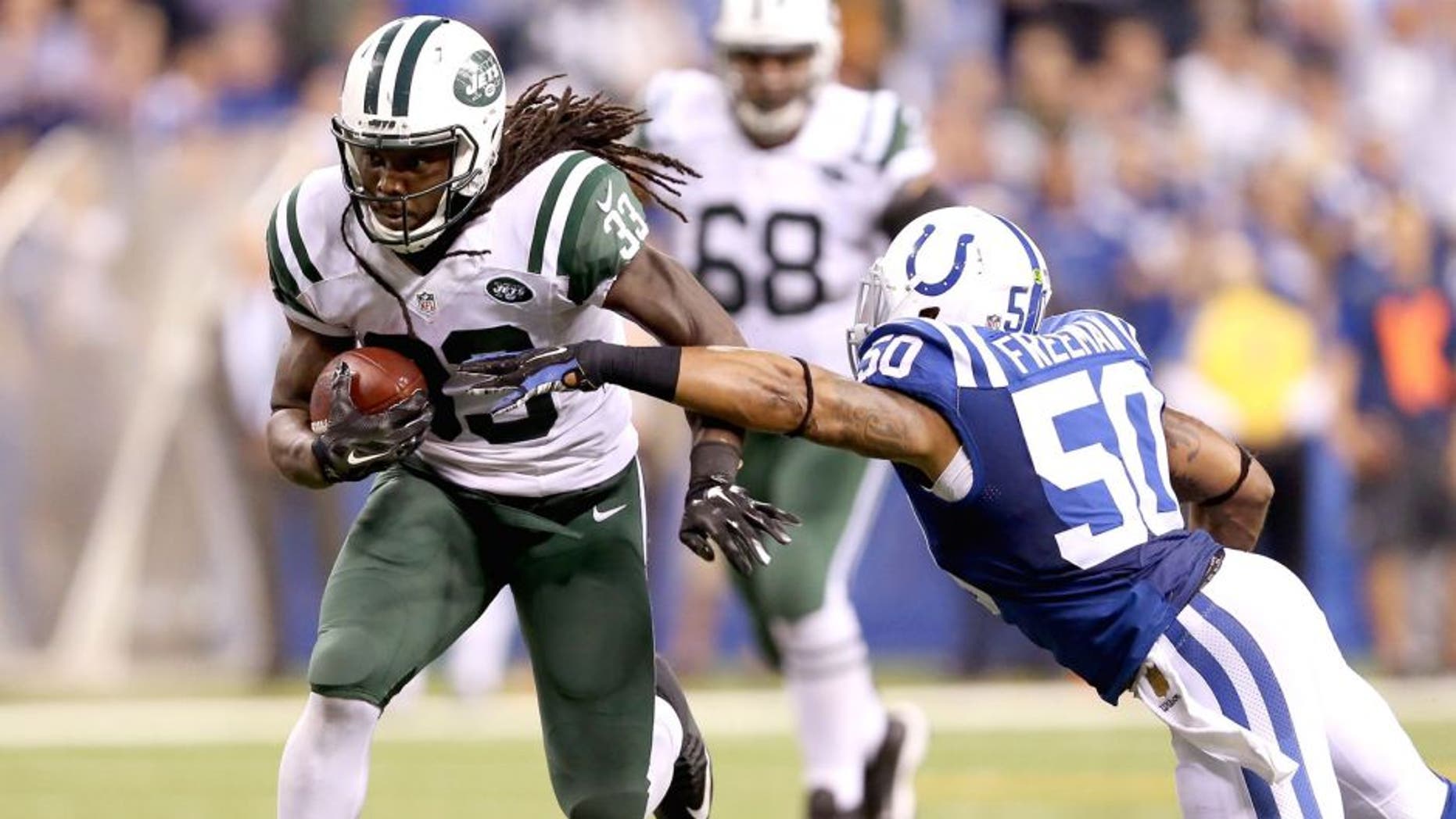 Despite the perception that at least one part of his six-foot, 220-pound frame was always in agony, fantasy football bulldozer, Chris Ivory, has only missed two games over the past three seasons. His durability 2013-2015 was quite the script flip compared to his three-year stint with the New Orleans Saints. After some impressive "Hello, NFL" moments during his rookie campaign in 2010, injuries bit Ivory hard including a nasty Lisfranc wound limiting him to 12 games 2011-2012.
Now 28-years-old with 883 rushing attempts behind him, Ivory's role with the Jaguars could be quite unique depending how the team wants to rotate between him and T.J. Yeldon. As I mentioned in my previous red zone analysis feature, the Jags shied away from their rookie running back when on the goal line. Jacksonville ranked 28th in red zone rushing percentage. However, Ivory's proof is in the pudding in the table below. The Jets worked hard to get Ivory touches inside the red zone. In 2015, he ranked first in the NFL with 17 carries inside the opponent's five yard line. He ranked fourth with 13 inside-the-five touches and scored five times on those carries during the 2014 campaign. Ivory is shaping up to be a great bet in standard scoring / TD-only leagues. The Jaguars went out of their way to sign a specialty rusher.
2015 Red Zone RB Leaders (Inside 20)
Player
Games
Att. In20
Att. In10
Att. In5
%TM
Devonta Freeman
15
49
24
11
71.0
Adrian Peterson
16
47
24
14
63.5
DeAngelo Williams
16
47
28
16
72.3
Jonathan Stewart
13
47
18
9
43.1
Doug Martin
16
41
19
8
61.2
Jeremy Hill
16
40
24
13
48.8
Chris Ivory
15
39
21
17
37.9
Frank Gore
16
36
15
8
66.7
Latavius Murray
16
34
21
8
70.8
Chris Johnson
11
33
15
9
51.6
For those owners hesitant to draft Le'Veon Bell, DeAngelo Williams' 2015 red zone stats could nudge them back to the other side of the fence. Granted, owners' hesitation to select Bell is more about health concerns (knee rehab), but I have heard production consistency concerns, too. At his best, Bell -- a double-threat, PPR-friendly option -- will top Williams' 2015 production.
Devonta Freeman's out-of-this-world early-season production was muted somewhat down the stretch, but it was nearly impossible to match the 100+ rush yards, multiple touchdown performances we saw in September and October. What detractors are missing is that Freeman averaged 20+ rush attempts the final three games of the season. The departure of Roddy White and addition of Mohamed Sanu doesn't truly move the needle in favor of Matt Ryan airing it out in the red zone any more often than he did in 2015 (49 percent of the time).
2015 Red Zone RB-TD Leaders (Sorted Inside 5)
Player
Att. In10
TD
%Rush
Att. In5
TD
%Rush
DeAngelo Williams
28
11
68.3%
16
10
64.0%
Jeremy Hill
26
11
54.2%
15
9
78.9%
Jonathan Stewart
26
8
45.6%
13
7
40.6%
David Johnson
14
6
40.0%
10
6
47.6%
Devonta Freeman
24
9
64.9%
11
5
55.0%
Chris Ivory
21
5
75.0%
17
5
85.0%
Todd Gurley
14
7
63.6%
8
5
66.7%
Jeremy Langford
12
6
36.4%
6
5
31.6%
Spencer Ware
12
6
35.3%
8
5
42.1%
Adrian Peterson
26
7
68.4%
14
4
73.7%
Doug Martin
19
5
67.9%
8
4
53.3%
Latavius Murray
21
5
84.00%
8
4
80.00%
Jeremy Hill may have ranked third in red zone carries inside the five last season, but standard league fantasy owners aren't embracing him this summer. He's currently ranked RB-23 on FantasyFootballCalculator in standard scoring leagues. Hill averaged 16 carries per game with six touchdowns the final seven regular season games of last season. He will need to continue to work on no fumble-football (three lost last season) in order to keep Marvin Lewis happy.
The Bills, Vikings and Panthers led the NFL in red zone rush percentage last season. So, it will be fascinating to see how Buffalo splits carries between LeSean McCoy and Karlos Williams in 2016. Odds are McCoy falls victim to the injury bug sooner rather than later opening the door for Williams to be a steal. This is not to mention Tyrod Taylor calling his own number. The mobile quarterback scenario also present in Carolina is probably why Jonathan Stewart's standard-scoring ADP is RB-22 currently despite 47 carries inside the 20 yard line last year. If you're working on a case against Adrian Peterson in 2016, only four of 14 carries inside the five led to six points for the veteran back. The reigning NFL rushing leader could slide to the back-end of the first round this summer as his age, mileage and zero-running back strategy become more popular in passing leagues.
2015 Red Zone RB-Targets Leaders (Inside 20)
Player
Games
In20 Targets
In10 Targets
In5 Targets
%Tm
Danny Woodhead
16
17
8
1
23.6
Devonta Freeman
15
14
4
1
22.2
Theo Riddick
16
14
4
1
18.2
Shane Vereen
16
12
5
3
23.1
Matt Forte
13
10
7
2
10.6
Just a friendly reminder to remember Theo Riddick on draft day. With the Lions now living in 2016-AC (after Calvin), Matthew Stafford we once knew will be forced to evolve and that could mean some touches for the explosive Riddick inside the 20.
Be sure to also check out our fantasy football wide receiver red zone analysis.