Jazz center Rudy Gobert ruled out of Game 1 after knee injury on first play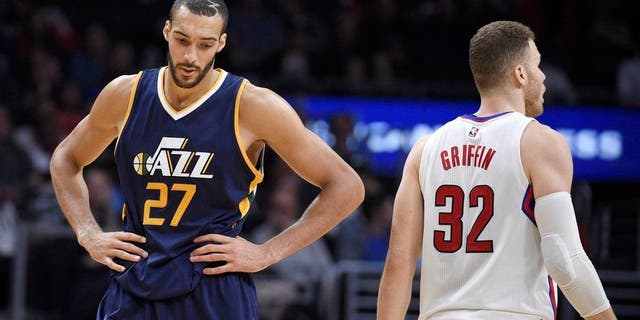 NEWYou can now listen to Fox News articles!
The Utah Jazz and Los Angeles Clippers seemed poised to put on a show in the first round, but an earlyinjury changed everything.
Jazz center Rudy Gobert had to be carried off the court after he banged knees with Clippers wing Luc Mbah a Moute on the first play of the game. According to the Jazz, he suffered a left knee sprain and was ruled out for the remainder of the game.
The Defensive Player of the Year candidate was the one Utah player to stay healthy this season, averaging 14.0 points, 12.8 rebounds and 2.6 blocks in 33.9 minutes per game. The Jazz were nearly 10 points better per 100 possessions with Gobert on the court than when he was on the bench. He led the NBA in blocks (2.6 pg) and was second in field goal percentage (66.3 percent), trailing only the Clippers' DeAndre Jordan (71.4 percent).
Game 1 was the first playoff game of Gobert's four-year NBA career. Game 2 is Tuesday in Los Angeles.