Isaiah Thomas complains about the refs after Celtics blowout loss in Game 4 to Wizards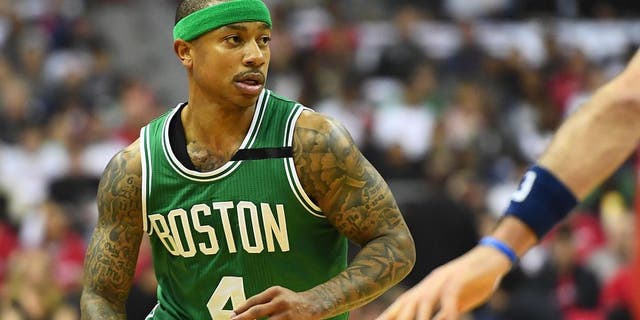 The Boston Celtics had a chance to take a commanding 3-1 series lead over the Washington Wizards on Sunday, but all that vanished in the third quarter. During that 12-minute span the Celtics were outscored 42-20, almost solely thanks to a game-breaking 26-0 run in the quarter, in Bostons 121-102 loss Sunday in Game 4.
The series is now knotted at 2-2 and heading back to Boston, where Celtics star Isaiah Thomas wants to see the refs alter the way they call the game. Thomas scored 17 of his 19 points in the first half and took exception to the fact that he didnt get to the free-throw line in the game.
They were very physical, Thomas told reporters. The refs were allowing them to hold and grab and do all those things. I think especially, in that third quarter, I might have hit the ground five or six straight times. Im not the one that likes hitting the ground. So I think its gotta be called differently.
Not saying thats the reason that we lost, Thomas continued. They went on a 26-0 run, and we cant have that on the road but I cant allowed to be held and grabbed every pin-down, every screen and I dont even shoot one free throw. I play the same way each and every night. So I think that has to change.
After scoring a combined 86 points in the first two games of the series in Boston, Thomas was held to just 32 total points in the Celtics two losses in D.C. Will Thomas revert to his All-Star form when the series returns to Boston for the critical Game 5 on Wednesday?