In My Own Words: Why I play for the name on the back of my jersey | By Eric Young Jr.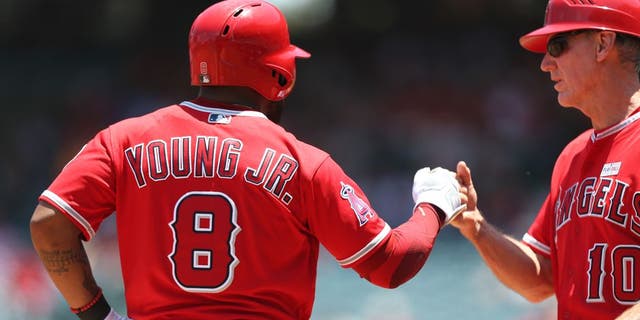 NEWYou can now listen to Fox News articles!
Once the last out was made, I was pretty sure they were going to ask me.
My home run in the eighth inning against the Braves ended up being the game-winner. Doing the postgame interview in front of all the home fans in the stadium comes with the territory. What I didn't know is what I was going to say, and that the emotions were going to come out of me.
But I'm getting ahead of myself. I should rewind.
At an early age, there was pressure being my dad's son. But by seven-years-old, I knew I wanted to play sports at the professional level. I didn't know which sport, just that I wanted to be a pro athlete.
I can still remember the goosebumps when I walked into the locker room before my Major League Baseball debut and I saw 'Young' on the back of my jersey that day. I still get goosebumps even now.
I was with the Colorado Rockies then. My dad was one of the original Rockies back when they debuted in 1993. He just so happened to not be working at the time and rushed to the ballpark to watch me. Having him there was a blessing in disguise because I know he loves the game and wants to be working. He wants to be on the field.
I got the first hit of my career that day, and in hindsight, it was huge having him there.
After four years with the Rockies, I bounced around a bit. To the Mets then the Braves, then back to the Mets again. Not necessarily knowing where you are going to be, how to prepare for a season or where you are going to live can be tough on you and your family. But we enjoyed each place and were grateful for every opportunity.
In 2016, I was in AAA as a part of the Milwaukee Brewers organization when I got the call I'd been traded to the New York Yankees. We were in Baltimore when I got the call back to the big leagues, and just two days later my wife Victoria found out she was pregnant. We'd been talking the past couple of months about starting our family and we celebrated both bits of good news with dinner in Baltimore.
That offseason I was on the move again; I left for Mexico to play winter ball. My wife stayed home because we didn't want her to travel while pregnant.
Being away from her at that time was tough. During that month and a half, I learned that FaceTime was one of our greatest modern inventions. Every doctor's appointment she had, I was there watching and hearing every word even from Mexico. But when the team asked me to stay another month, I had to decline because I couldn't be away any longer.
On New Year's Eve, we found out we were having a boy. And from the jump, we knew he'd be Eric Young III and we'd call him 'Trey' for short. My wife actually came to me with the decision, her father was a fourth and her brother a fifth in the family, so that made it easy.
I called my dad and he was pumped. Knowing the pressures I faced as a kid, he wasn't sure if I would continue the legacy. Having a father and then son play in the MLB with the same name, he was proud it would continue on.
From the start our pregnancy went well. My wife didn't really have any morning sickness throughout. The baby was growing in line with the doctor's anticipations and there were no complications. On paper, everything was going great right up until the morning she delivered.
That morning, my wife woke up with stomach pain. She didn't know if she was hungry or it was something else. When she got to the point the pain was unbearable' we went to the doctor.
At that particular time, everything was still going well. The baby's heartbeat was great at the doctor's office but the nurse noticed pre-labor contractions, which were rare at this time because we were 11 weeks to soon for a normal delivery. As a precaution, we went to the hospital.
Once at the hospital, we were still of the mindset everything would be fine. They would slow down the contractions and my wife would just have to be on bedrest for the remainder of the pregnancy.
Then her water broke.
Once we knew the water broke, we knew Trey was coming and it was too soon. During the delivery, he was breached and he came out bottom first. He got choked up trying to come out and it cut off his oxygen. Right there, that combination of being 11 weeks too soon and not having any oxygen for an amount of time, we knew it wasn't looking good for him. Once we got him delivered, we had to put him in the Neonatal Intensive Care Unit (NICU) right away. They had him in the NICU for about 5 hours and that's when the doctor came to tell us it was kind of going downhill.
They took Trey out of the NICU and we spent the rest of the night holding him until he passed about an hour or so later.
Two days before my son passed, I signed with the Angels. It was January and with spring training getting closer, I was just looking for an opportunity. The Angels have a great organization and wanted to add some depth. Since they spent spring not too far from my house in Arizona, it was the perfect situation for myself and my pregnant wife at the time.
I don't think anybody could prepare for what happened. The emotions were all over the place that week.
I'm a firm believer in everything happens for a reason. I'm big in my faith. I don't think it's a coincidence that the week I signed with the Angels, I received an angel looking over me. I say it's a bad situation for anyone to go through but I don't think God makes any mistakes, there was a reason behind it.
In spring training, baseball ended up being therapeutic for me. I was able to let some of my aggression out on the baseball in the batting cage. But my main focus was making sure I was there for my wife.
A few people on the team already knew what had happened and approached me, but the guys who didn't know were like 'wait, what are they talking about?'" So I wanted to address the team because I didn't want anyone tip toeing around me. I brought everyone together and got it out there. That way it's known, and they don't have to worry about me going into a corner and not saying anything. I was still going to be myself, still work hard and still bring the same energy.
To start the season, I joined the Salt Lake Bees in AAA and my wife came with me.
When Mike Trout got hurt, I had an idea it could be me coming up. But I didn't want to get my hopes up until I knew for sure.
After the manager told me I was going to join the big club, I called my wife and told her to pick me up. She wondered why she had to come get me before the game -- we only had one car in Salt Lake -- and I told her I got the call. In the stadium parking lot, we embraced and shed tears of joy. It was one of those times we needed great news.
It's funny because coming into that eighth inning I was leading off and everyone was probably thinking, 'alright, just get on base, probably steal a base and try to score.' I don't think anyone expected me to hit a home run -- myself included.
When I hit it, I knew it was gone.
I knew my family, my wife, dad, stepmom and little brother, were up there in the stands at The Big A. Rounding second base and heading for third, I looked in the home dugout to see my teammates going crazy. Even Albert Pujols, who had 599 home runs at the time and has done everything in this game, was at the top step cheering for me. It was something I will never forget.
As I touched home plate, I held up three fingers to the sky. That was for Trey.
So there I am, being interviewed postgame and I cant hold back my tears. Again, they were tears of joy. After all the adversity my family and I had been through not only losing my son but the passing of my dad's mother about a month prior, there was just a lot going on off the field. To have some kind of success on the field and put smiles on their faces as well as mine, it was need just from a personal standpoint.
Then the dunk came.
I knew the team liked to give guys a special postgame shower on the field after a big win. I'd watched a few of them on TV when I was in Salt Lake and I wanted to be a part of one. I just didn't think it would happen in my first week with the team.
Having my good buddy Andrelton Simmons do the dunking made it even more special. We were teammates in Atlanta and even when our careers went different ways, we always stayed in touch.
After leaving the clubhouse that night, I saw my family and we embraced with a few more tears shed.
As athletes in a team sport, a lot is said about playing for the name on the front of the jersey not the back. But for me, playing for the name on the back of the jersey means a lot, too.
It's knowing where my father came from growing up wasn't easy. It's the pressure I had playing behind him and being the son of Eric Young but still creating my own name. It's the legacy of my son and him looking down on us from heaven. It's making sure people say, 'those Youngs, they're great men and we love being around them' more than them saying we're great baseball players.
And if anybody is going through anything, don't hold it in. Make sure you are talking to somebody because you never know what somebody is going through. Through sharing my story, I've had a lot of strangers come up to me and express some grief they've been going through before telling me I'm an inspiration to them.
I cherish those stories because they help me keep going, too.