Hundreds of Denorfia bobbleheads inexplicably left outside SD residence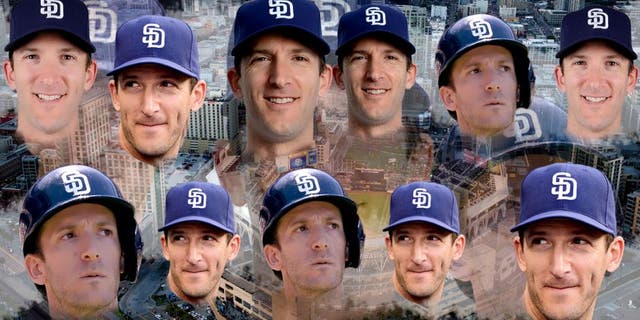 Chris Denorfia played for the San Diego Padres from 2010-14. Getty Images
Although he no longer plays for the Padres, Chris Denorfia is now the talk of the town in San Diego.
That is, for no reasons that are directly related to the 35-year-old outfielder, but rather for his Padres bobblehead, hundreds of which were recently mysteriously dropped off just outside of a residence in University City, San Diego.
According to NBC San Diego, roommates Philip Jia and Jalena Lau heard a crash in the street outside their condo complex at night only to discover an estimated 600 Denorfia bobbleheads piled up on the pavement.
Thinking the bobbleheads might have been stolen, the roommates called the police to report the strange influx, but were advised to simply help clean up the mess.
"We opened them up expecting to find something a little more nefarious," Jia told NBC San Diego of when they first opened the boxes.
Denorfia, who is currently a member of the Chicaco Cubs, played for the Padres from 2010 to 2014 before being traded to the Seattle Mariners at the 2014 trade deadline.
It's unclear whether the Padres hosted a Denorfia bobblehead night and had many left over from the giveaway promotion, whether they had Denorfia bobbleheads produced and canceled the giveaway, or whether some other occurrence led to an individual having a large supply of Denorfia bobbleheads.
Whatever the case, Jia and Lau now have heaps of Chris Denorfia bobbleheads, which they have been handing out like Halloween candy, gifting to co-workers and friends.
"I'm now a huge Chris Denorfia fan," Jia said.
MORE MLB: Want stories delivered to you? Sign up for our MLB newsletters.