Hispanic Hockey Event Featuring Dora the Explorer, Mascot with Sombrero, Draws Fire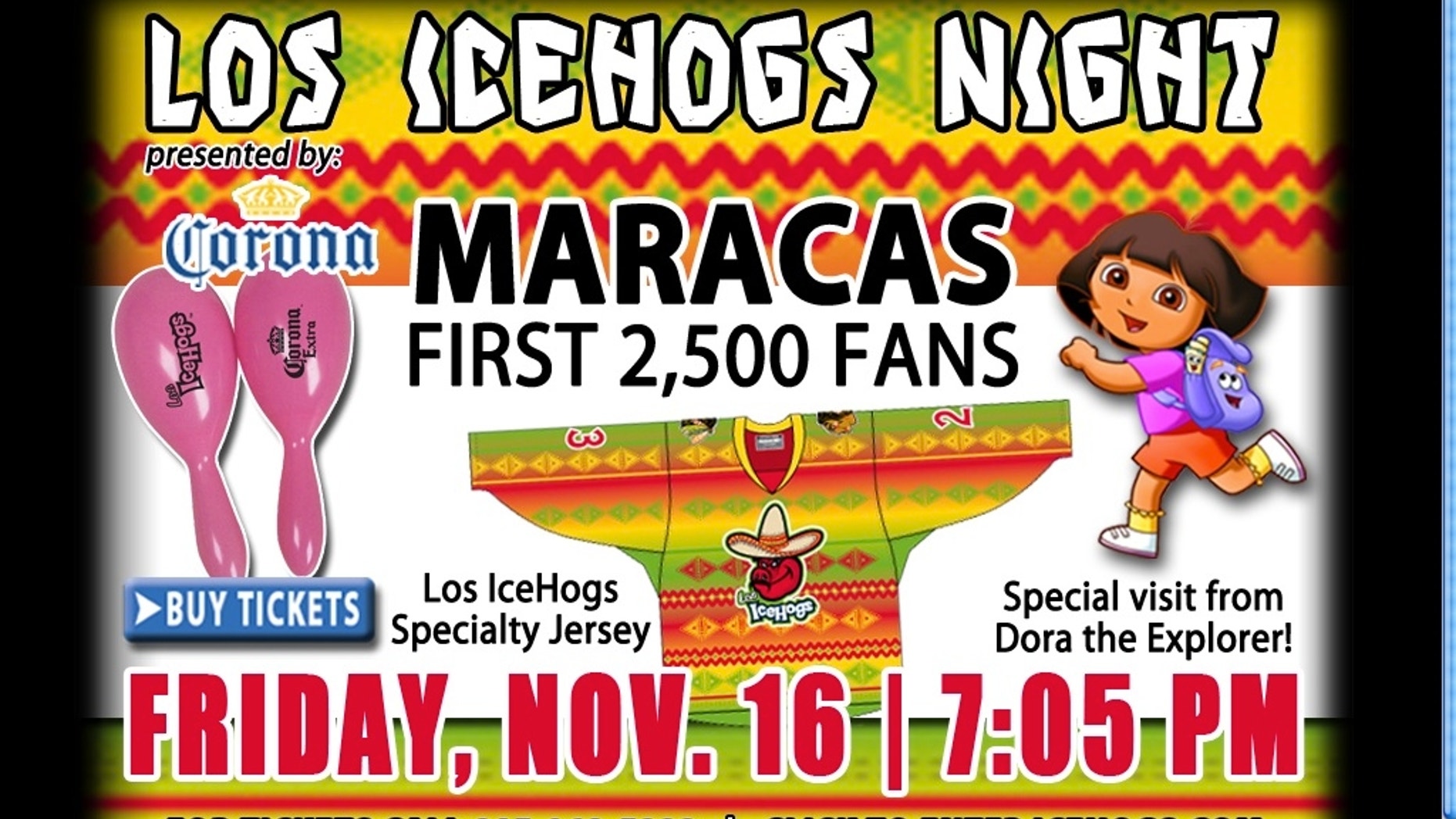 The NHL lockout has dominated hockey headlines, but that changed this week when the AHL-affiliate Rockford, Ill. IceHogs' Hispanic heritage night promotion took the web by storm.
The Corona-sponsored event – scheduled for Friday night – promises maracas, special ethnic-inspired jerseys featuring the team's mascot with a black mustache and sombrero and a special visit from Dora the Explorer. The festivities were met with a collective groan across the blogosphere, drawing ire for everything from perpetuating racist stereotypes to serving as an example of cultural insensitivity.
The controversy has overshadowed, at least on the national level, a promotion that was intended to attract a Hispanic fan base with which hockey has struggled to connect.
"From our end, we're just trying to bridge the gap between two different communities," IceHogs director of communications Mike Peck said.
Many national critics have said the team failed. But on the local level, the truth is the team appears to be accomplishing its goal.
When the subject is hockey and Latinos –demographics that don't traditionally overlap– jumping to conclusions is easy.
But Los IceHogs Night was not born out of a bunch of white guys with thick Canadian and/or Midwest accents sitting around an ice rink and saying one day, "You know these Hispanic Heritage nights are getting trendy. Why don't we have one of those?" Followed by lots of nodding and "You betchas." (See, stereotypes can go both ways)
There was no discussion of  "What kind of things do Latinos like?" Followed by a brainstorming session that included "Maracas? Yes, we've got to have maracas. … And sombreros, lets incorporate those – and little mustaches, you know the ones. … And that girl, what's her name? You know the one with the backpack and the monkey friend. She's Hispanic. Let's see if we can get her too."
Amusing as such a scenario might be to visualize, it stands in stark contrast to reality. The IceHogs' Hispanic heritage event is a collaboration between the Chicago Blackhawks' AHL team and its community's Hispanic advocacy group in an effort to make hockey more accessible to Rockford's growing Latino community. The groundwork for the event dates back to the spring.
In Rockford, like in towns across America, the significance of the Hispanic market is clear. Rockford has seen its Hispanic population increase by 50 percent over the last decade, from 10.8 percent to 15.8 percent. Figuring out the best approach for appealing to these consumers and fans is still a work in progress.
Peck said other hockey teams might have done some Hispanic outreach, but he wasn't aware of any specific efforts within the sport from which his team could have drawn. The NHL, for which the AHL serves as a developmental league, has virtually no history of targeted Hispanic outreach efforts.
The IceHogs did, however, seek input from representatives within the community. The team's front office worked with the Coalition of Latino Leaders (CLL), who played an instrumental role in the event planning. The CLL is comprised of leaders from 22 Hispanic groups and works to foster "communication, collaboration and sharing of resources between the Rock Valley region Latino organizations, government and other public/private institutions." CLL member Rudy Valdez consulted on numerous aspects and is both proud of and excited about Friday's endeavor.
Valdez sees the sombrero-topped jersey numbers and Los IceHogs maracas grabbing headlines, but notes that positive news has not been covered. For example, regional Hispanic groups will be set up in the mezzanine to provide information on programs and services. Latino veterans will be recognized at the event. And several game-worn uniforms will be auctioned off with part of the proceeds benefiting local nonprofit La Voz Latina.
According to Valdez and supported by a segment on Rockford's evening news broadcast, the local Latino community doesn't understand what all the fuss is about. The event was promoted within the area without issue for weeks before the national media picked up the story late last week.
"The team keeps asking me, 'Did we do something wrong?" Valedez said of the backlash. "I tell them, 'No. Not at all. People locally aren't upset. The [Latino] community here is looking forward to the event.'"
As for the accusations of racial stereotyping, Valdez understands how someone might interpret the promotional campaign that way, but he disagreed with such an assessment. The imagery used as part of the IceHogs' event, Valdez explained, is a legitimate part of Latino culture. Moreover, he argued, the event is about entertainment.
"I don't see how it could be offensive," one member of the Rockford Latino community told the local television station when asked about the Hispanicized Hammy, the mascot. "It's a pig, not a person."
Some critics have questioned whether the event sends the wrong message to those outside of the Hispanic community by reinforcing a Latino caricature.
Valdez brushed aside that criticism as well, saying, "For people who are going to believe [those stereotypes], they're not going to have their minds changed either way because of a hockey game."
Besides, Los IceHogs Night isn't about those folks anyway. The event is about Latinos and finding a way to bring them into a sport that has made minimal efforts to reach their market. Rockford's approach looks to be working.
More than 500 group tickets have been requested by local Hispanic organizations, according to Valdez. That figure does not take into account individually purchased tickets, and Valdez expects to see an even bigger turnout than first anticipated.
After all, considering the amount of attention the event has gotten, if Los IceHogs Night wasn't on the radar of Rockford's Latinos, it is now.