Giants Beat Phillies, 3-2, in Game 6 to Reach World Series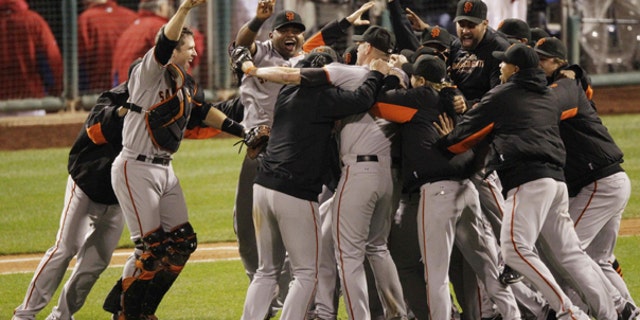 PHILADELPHIA -- Juan Uribe hit a tiebreaking homer off Ryan Madson with two outs in the eighth inning as the San Francisco Giants beat the Philadelphia Phillies 3-2 Saturday to reach the World Series for the first time since 2002.
Surprise star Cody Ross and the pitching-rich Giants will host the Texas Rangers in Game 1 on Wednesday night. The Giants have never won the championship since moving to San Francisco in 1958.
"I'm speechless, just breathless," Giants general manager Brian Sabean said. "It's a great opportunity to see what we can do on a bigger stage."
Slumping Phillies slugger Ryan Howard looked at a called third strike with runners on first and second to end it and give the Giants the decisive win in Game 6 of the National League championship series. San Francisco closer Brian Wilson got the final five outs, finishing off the Phillies' bid to become the first NL team in 66 years to win three straight pennants.
"Right now it's heaven, but it was torture for that final strike," Giants first baseman Aubrey Huff said.
Giants pitcher Tim Lincecum struggled in the eighth inning, pitching in relief on one day of rest after losing Game 5. But Wilson took over and got Carlos Ruiz to lineout to Huff for an inning-ending double play in the eighth.
Benches cleared in the third inning after Giants starter Jonathan Sanchez hit Chase Utley with a pitch and then yelled at the All-Star second baseman for tossing the ball back toward the mound on his way to first base.
No punches were thrown and nobody was ejected, though Sanchez was pulled. San Francisco used six pitchers, including four lefties.
"We fought, we scratched and clawed," said Giants left fielder Pat Burrell, who won a championship ring with the Phillies in 2008. "I don't know how we did it but we did it."
The Giants are seeking their first World Series title since 1954 when they were still in New York. Led by Barry Bonds, they came within six outs of winning it in Game 6 against the wild-card Angels in 2002 only to lose in the deciding seventh game.
It's been quite a wait for a franchise that moved West in 1958. Even with Hall of Famers Willie Mays, Orlando Cepeda, Willie McCovey, Juan Marichal and Gaylord Perry, the Giants couldn't bring a title to the Bay Area.
"We had such a diversity of contributions from everybody," Giants manager Bruce Bochy said. "Not bad for a bunch of castoffs and misfits."
The Giants overcame a 2-0 first-inning deficit, tied it in the third and went ahead when Uribe hit an opposite-field drive that barely cleared the right-field wall.
Uribe hit a game-ending sacrifice fly off Roy Oswalt to give the Giants a 3-1 series lead in Game 4.
Roy Halladay outdueled Lincecum in Game 5 to send the series back to Philadelphia, where a frenetic, towel-waving crowd -- the 136th straight sellout at Citizens Bank Park -- wasn't ready for "Red October III" to end.
But the Phillies are going home early after leading the majors in wins for the first time in franchise history.
"We've got a bright future," Phillies manager Charlie Manuel said. "They've got a better offense than people think and they're scrappy."
Wilson came in after Lincecum allowed consecutive, one-out singles. He got Ruiz on a liner to escape the inning.
Wilson had to bat in the ninth after Brad Lidge intentionally walked Buster Posey to load the bases. He took three pitches before bouncing out to first base.
"You can't say enough about Wilson coming in, doing what he's been doing all year," Burrell said.
Oswalt pitched six effective innings, masterfully working out of trouble throughout the game because he allowed nine hits and hit a batter. Oswalt gave up two runs -- one earned -- three days after losing Game 4 in relief. The three-time All-Star right-handery -- the 2005 NLCS most valuable player with Houston -- threw eight superb innings to earn the win in Game 2.
Sanchez lasted just two-plus innings, allowing two runs and three hits. Sanchez, the Game 2 loser, had dominated the Phillies before this series, not allowing more than four hits in his five previous starts against them.
Rookie Madison Bumgarner, a 21-year-old lefty who started Game 4 and pitched the NLDS clincher Oct. 11 at Atlanta, pitched two scoreless innings in relief on two days' rest.
Bumgarner pitched out of a bases-loaded jam in the fifth, retiring Shane Victorino on a bouncer to the mound to end the inning. He escaped trouble in the sixth after Raul Ibanez doubled and was sacrificed to third. Bumgarner struck out pinch-hitter Ben Francisco looking and retired Jimmy Rollins on a fly to center.