Gators' Kelvin Taylor has Atlanta on his mind after big game vs. Georgia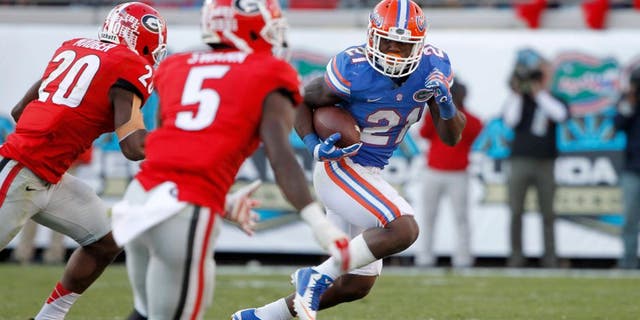 GAINESVILLE, Fla. -- Kelvin Taylor spoke last week about having a big chip on his shoulder as the Gators prepared to face Georgia.
He should keep it there.
Taylor's season-high 125 yards in a 27-3 victory over the Bulldogs helped the Gators move within a victory of clinching their first SEC East title since 2009. The Gators can punch their ticket to Atlanta with a homecoming victory over Vanderbilt on Saturday.
The 5-foot-10, 205-pound Taylor ran with physical abandon and hit holes when they were there Saturday in Jacksonville. The offensive line, after some empty drives early in the game, began to assert itself in the second half.
Gators coach Jim McElwain said Monday the running game, which produced a season-high 258 yards, was on point after a sluggish outing at LSU two weeks earlier.
"We really challenged our guys up front and we challenged our running guys to match their footwork with the O-line in the run game," McElwain said. "We have not done a good job of that. We have been too fast to the hole at times, too slow to the hole at times. That's all about matching up what they do up front."
SECCountry.com took a more in-depth look at Taylor's performance by reviewing film.
Taylor arrived at UF in 2013 with a lot of hype as the state's all-time prep rushing leader and as the son of former Gators standout Fred Taylor. He now has bragging rights on dad when it comes to facing Georgia.
In three career games against the Bulldogs, Kelvin has gained 398 yards on 70 carries (5.7 yards per attempt) and four touchdowns. Fred faced Georgia four times in his college career, rushing for 218 yards on 49 carries (4.4 ypa) and one touchdown.
Taylor expected a much better performance than his 15-carry, 25-yard effort in the 35-28 loss at LSU.
"Those guys [offensive line] did a great job for me. We practiced well all week running the ball and it paid off for us in the game," he said. "I just made my reads and pretty much it was up to those guys. I just kept telling those guys, 'look, we've got to have a great game and just give me a little crease and after that I'll do the rest.' Those guys did that."
Taylor scored on runs of 3 and 16 yards. His 10 rushing touchdowns are the most by a Florida running back since Mike Gillislee had 10 in 2012. Taylor has eight rushing scores in conference play, the most by a UF back since his dad had nine 18 years ago.
"Every time I get close to that goal line I've got to get the ball in," he said. "That's one thing my dad always preached."
In the wake of Saturday's performance Taylor is now ranked 10th in the SEC in rushing with 584 yards through eight games, an average of 73 per game. Taylor has a shot at joining his dad in Florida's 1,000-yard rushing club should he maintain that average in the final four regular-season games, the SEC title game and a bowl game.
But first the Gators must knock off Vanderbilt on Saturday.
"It will definitely mean a whole lot for us to get back to Atlanta," Taylor said. "That's our goal. That's definitely our goal."