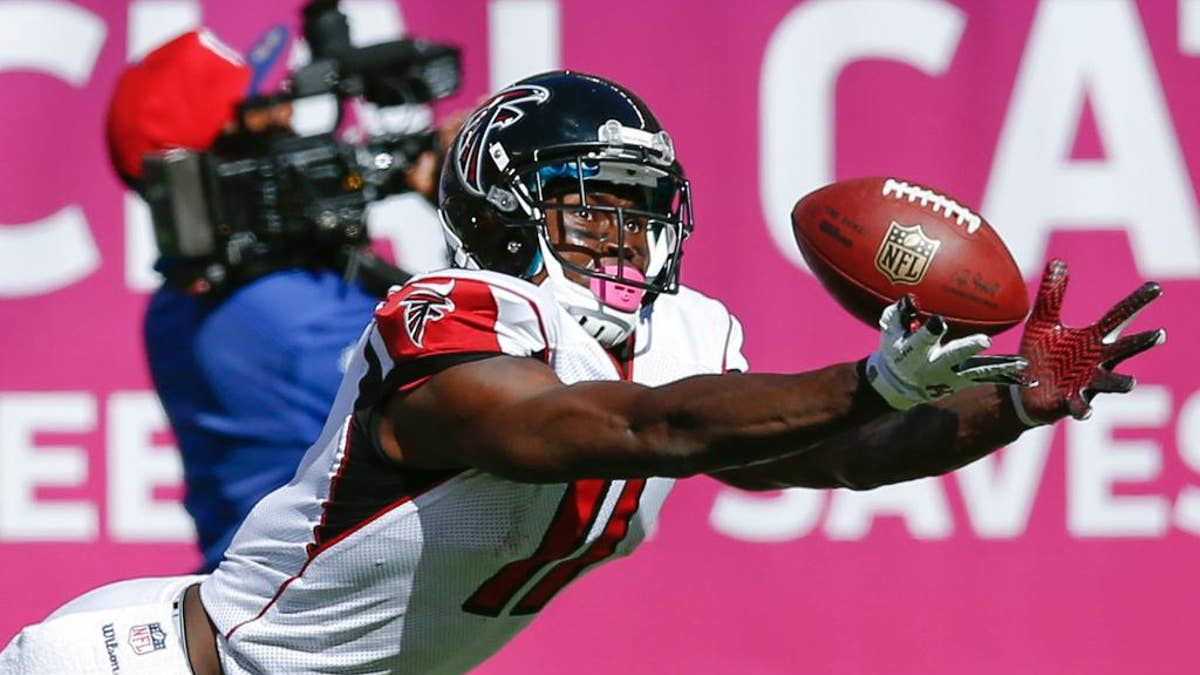 FLOWERY BRANCH, Ga. – The Atlanta Falcons are back in familiar surroundings for Sunday's game against the Chicago Bears.
Better not get used to it.
It will be nearly Thanksgiving before the Falcons play another game at the Georgia Dome, a stretch that will likely determine if they're a playoff contender or headed toward another dismal season.
With that daunting run looming, Atlanta (2-3) definitely can't afford to slip up at home against the Bears (2-3).
"We take a lot of pride in defending the Dome," tight end Levine Toilolo said Wednesday. "I guess you could say this has a little more urgency behind it."
After Sunday, the Falcons will begin the longest period in franchise history without a home game during the season — a total of 42 days. Their next appearance at the Georgia Dome is Nov. 23 against Cleveland, four days before the holiday turkey is served.
Such a schedule would be imposing for any team, but especially a banged-up Atlanta squad that has lost 10 of its last 11 road games. The next four games are all being played in outdoor stadiums, which have proven to be a particular challenge in recent seasons. The Falcons have lost nine straight without a roof over their heads, the last win coming nearly two years ago at Tampa Bay.
With Atlanta coming off back-to-back losses on the road, the Bears represent the only true home game in a stretch of 66 days. The other designated "home" contest during that period will actually be longest road trip of all: an Oct. 26 game against Detroit at London's Wembley Stadium.
"We definitely love playing at home," Toilolo said. "So we've got to take advantage of it."
Indeed, the Falcons have been a totally different team at the Georgia Dome, averaging 46.5 points and 528 yards in victories over New Orleans and Tampa Bay. That compares with averages of 19.3 points and 372 yards in road losses to Cincinnati, Minnesota and the New York Giants.
Quarterback Matt Ryan mirrors that trend, completing 52 of 67 (77.6 percent) for 734 yards at the Georgia Dome, with six touchdowns and no interceptions. On the road, he is 78 of 130 (60 percent) for 845 yards, with five touchdowns and six interceptions.
"I wish we could figure it out to be more consistent week to week," Ryan said. "When you're at home, obviously, it's a little bit easier from a communications standpoint. It's not quite as loud (when the offense has the ball). That helps us to a certain extent. But across the board, home or away, we need to be more consistent."
Coach Mike Smith always preaches the goal of winning every game at home and going .500 on the road. So far, the Falcons have only figured out the first part of that strategy, even though Smith made it a point of emphasis in the preseason — going so far as to schedule a joint practice session in Houston with the Texans so his team could get some extra time tinkering with its routine away from Atlanta.
After the Bears, the Falcons will face the Ravens (3-2) in Baltimore, then head straight to London for a week on the other side of the Atlantic leading up to the Oct. 26 game against the Lions (3-2). That will be followed by a bye week, then two more road trips to Tampa Bay (1-4) and Carolina (3-2).
In all likelihood, the Falcons need to be no worse than 5-5 when they get to the end of that challenging run to have any hope of making the playoffs. That's why this game against Chicago is essentially a much-win scenario, even with so much of the season remaining.
"It's big," cornerback Desmond Trufant said. "Everybody in the locker room knows we need to win this game."
Notes: Right guard Justin Blalock did limited work in practice Wednesday, boosting his hopes of playing against the Bears. The Falcons have lost three starting linemen to season-ending injuries, and Blalock wasn't able to play in last week's loss to the Giants because of an injured back. ... WRs Harry Douglas (foot) and Devin Hester (hamstring) did not practice. Smith indicated that Hester should be ready for go against his former team. ... WR Freddie Martino went through his first practice as a member of the 53-man roster after spending the first five weeks on the practice squad. "Freddie has worked very hard," Smith said. "You get what you earn."
___
AP NFL website: www.pro32.ap.org and www.twitter.com/AP_NFL
___
Follow Paul Newberry on Twitter at www.twitter.com/pnewberry1963