Donald Trump wants Dana White to speak at Republican convention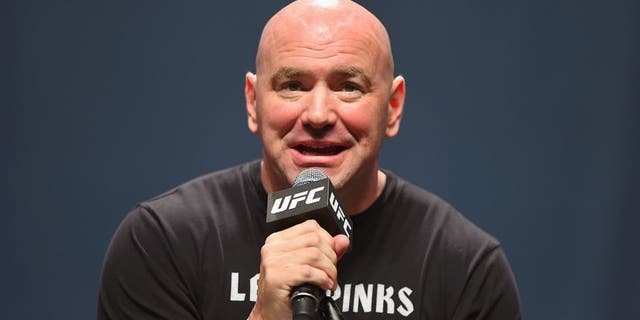 NEWYou can now listen to Fox News articles!
Donald Trump's run at the presidency has been anything but conventional and now the presumptive Republican nominee for the highest office in the land is turning to the sports world to hopefully fire up his voting base.
Trump spoke at a rally in Virginia on Friday and, according to the New York Times, he noted that he would like UFC president Dana White to stand up and speak for him when the Republican National Convention comes around in July.
The idea laid out by Trump was turning the convention on its head, and instead of having a long line of politicians speak, he prefers luminaries from sports who are supporting him.
One of those names was White, who has spoken out in support of Trump after he announced his candidacy for president.
"Dana White, you know Dana White?" Trump shouted at the crowd. "UFC -- guy's a champion. These are champions."
Trump also mentioned former Indiana basketball coach Bobby Knight, who has supported the candidate already during the primary season, as well as New England Patriots quarterback Tom Brady and Pittsburgh Steelers quarterback Ben Roethlisberger.
Trump sounded hopeful they could speak to the convention as a group of "winners" rather than politicians "who are going to get up and speak and speak and speak."
"Our country needs to see winners," Trump said. "We don't see winners anymore."
As it just so happens, the UFC will land in Chicago for a FOX UFC Fight Night card on July 23 just two days after the Republican National Convention ends in Cleveland, which is an hour away by plane.
Whether or not White accepts the invitation to speak on behalf of Trump remains to be seen.