Dodgers' Adrian Gonzalez refused to stay at Donald Trump's Chicago hotel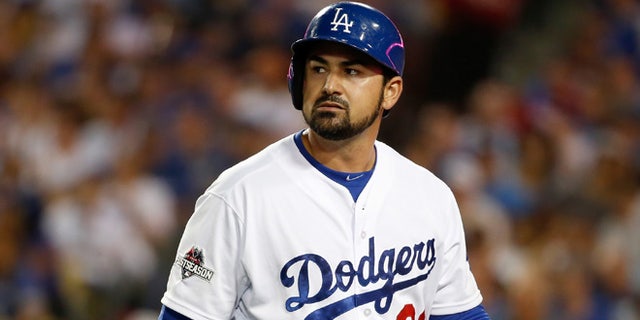 When the Los Angeles Dodgers rolled into Chicago back in late May for a regular season meeting with the Cubs, most of the team stayed at the Trump International Hotel and Tower.
And by most of the team, it was actually the entire team with the exception of one player: The clean-up hitter Adrian Gonzalez.
"I didn't stay there," Gonzalez told the Los Angeles Daily News. "I had my reasons."
While there are a host of reasons why Major League Baseball players will request different accommodations from the team's hotel – everything from room service preference to family obligations – Gonzalez's choice to not stay at the Trump hotel very well could have been political.
Born in San Diego, Gonzalez grew up across the border in Mexico, where his where his father owned an air-conditioning business.
Since becoming a major leaguer, he has not forgotten his Mexican roots as he has represented Mexico at the World Baseball Classic (a team his brother manages). He donates time and money to Mexican charities and paid it forward by helping refurbish the sports complex in Tijuana where he played when he was younger.
Earlier this summer, the Dodgers' slugger stepped up to help a youth baseball team from Mexico that was stranded in Los Angeles when its sponsor backed out of its commitment.
So while Gonzalez has not said that Trump's candidacy was the reason he made other accommodations in Chicago, the ballplayer's heritage paired with the Republican presidential nominee's harsh rhetoric toward immigration, and Mexican immigrants in particular, could well be the reason.
On the team's last trip to Chicago to face the Cubs in the National League Championship Series, not one of the Dodgers stayed at the Trump hotel. Not out of solidarity with Gonzalez but more of a fiscal move.
The Trump hotel requires a non-refundable deposit in order to hold a block of rooms for the team, but because their division series with the Washington Nationals went the full five games, the team wasn't even sure they would need rooms. So instead the Dodgers' staff made arrangements at a different hotel.
Gonzalez, whose solo home run helped the Dodgers top the Cubs Sunday night 1-0 to tie the series at one game apiece, remained steadfast about not talking about his hotel choice when questioned by reporters.
"We're here to play baseball, not talk politics," a smiling Gonzalez said, according to the Orange County Register.
Like us on Facebook
Follow us on Twitter & Instagram