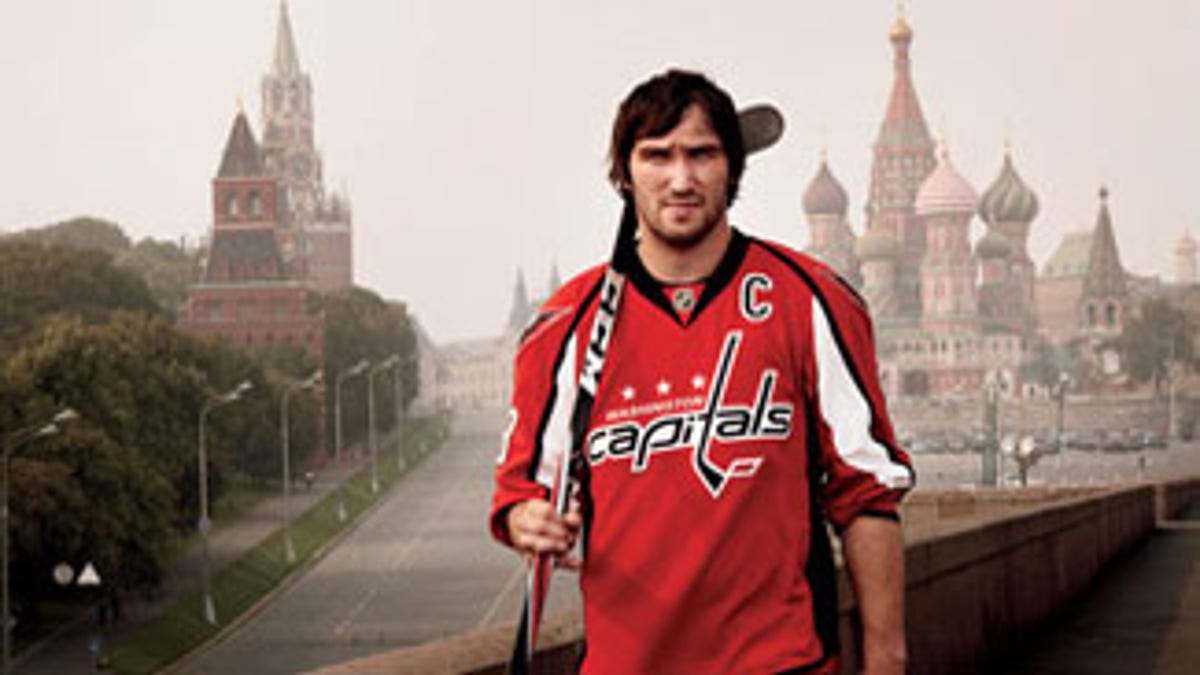 NEW YORK -- Russia is rooting for a Stanley Cup visit this summer. If it happens to be Alex Ovechkin who brings the trophy home, well that might just be the sweetest gift yet.
"I'm going to tell you, all of Russia is rooting for Alex," Hockey Hall of Famer and two-time Stanley Cup champion Slava Fetisov told NHL.com on Thursday. "The popularity when Alex Ovechkin comes to Moscow is pretty big."
Fetisov spoke to NHL.com from inside the League's main headquarters in midtown Manhattan. He was here accompanying 18 Russian youth hockey players, nine boys and nine girls, as well as some Russian coaches and representatives from the U.S. Department of State's Bureau of Educational and Cultural Affairs.
The group was here as part of the first Russian-American youth hockey exchange. It is the fourth sports exchange conducted under the U.S.-Russia Bilateral Presidential Commission's Education, Culture, Sports and Media Working Group.
They met with NHL Commissioner Gary Bettman and held an impromptu Q&A session with him in a conference room. They also visited the NHL Store powered by Reebok.
The visit to New York was the final leg in a 14-day trip to North America that included seeing a Washington Capitals practice at Kettler Capitals Iceplex, a game against the Buffalo Sabres at Verizon Center and Wednesday's game between the New Jersey Devils and Toronto Maple Leafs at Prudential Center.
The kids spoke at length with Capitals goalie Semyon Varlamov and had a long visit with Ilya Kovalchuk in the Devils' main offices at Prudential Center on Wednesday.
"This is going to be an unforgettable trip," Daniel Akinshen, 16, who is from Voronezh, Russia, told NHL.com through an interpreter. "This is a one-time chance and I will never forget this trip. My parents thought this was a great idea and this was a wonderful, wonderful experience. I'm very grateful to everyone who organized this and gave me this opportunity, and I will never forget this."
Fetisov said American youth players will soon visit Russia to see its culture and take part in hockey clinics run by former NHL players.
"I still remember my first international experience and how it inspired me and gave you a different view of what was going on around the world," he said. "I know if our kids can become their friends we've got nothing to lose. These kids will never forget this experience. Of course we're going to do everything possible to make hockey players from the United States feel comfortable in Russia when they come to our country. We'll introduce them to the history of our development. I think it's going to be lots of fun."
Just as it would be for Akinshen and his buddies to celebrate the Stanley Cup with a Russian player this summer.
Fetisov was among the first NHL players to bring the Cup home to Russia in 1997. He was joined in the celebration by Red Wings' teammates Slava Kozlov and Igor Larionov.
In the 13 years since the Cup has returned to Russia several times, with Pittsburgh star Evgeni Malkin being the latest to bring it to his home in Magnitogorsk in 2009. Akinshen wants it to happen again this summer. He said Ovechkin is clearly the most popular player in Russia, but it doesn't have to be him that brings it home.
"I think everyone will be very proud and very happy to see a Russian bring the Stanley Cup back to Russia," he said. "I honestly believe that if a Russian brings the Cup it doesn't matter if it's Ovechkin, Pavel Datsyuk, Malkin or any other player. It will be just wonderful to know a Russian did it."
Fetisov said the Capitals have quickly become Russia's favorite team with the popularity of not only Ovechkin, but also Varlamov and Alexander Semin growing back home.
"They probably take some good example from the Detroit Red Wings in the '90s," he said with a laugh. "Of course, the Russian Five was a big part of the long awaited success for the Detroit fans and for me and my friends it was an unforgettable experience to be part of the great history of the Red Wings.
"The Washington Capitals are still building their history and Alex Ovechkin, Alex Semin are a big part of it and how popular they are. The success of any Russian players, especially a big name like Ovechkin, would bring a lot of attention to the Stanley Cup and hockey itself."
Follow Dan Rosen on Twitter at: @drosennhl