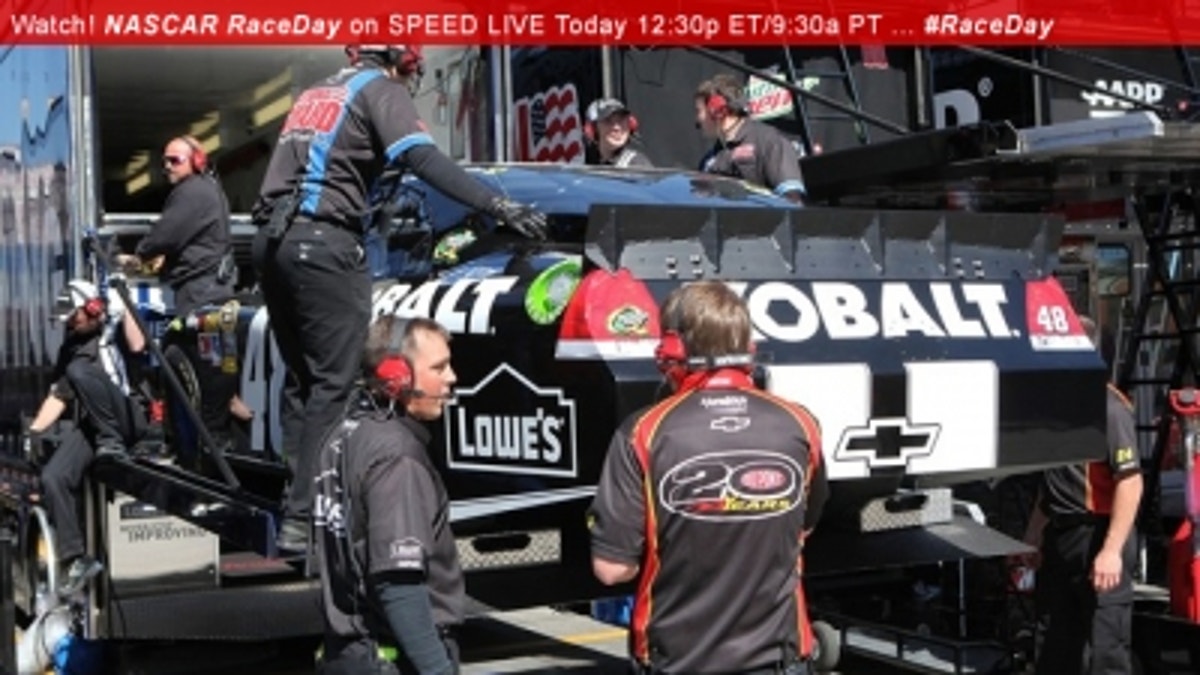 NASCAR stars Kyle Busch and Jimmie Johnson both slapped the wall during practice on Saturday and were forced to pull out backup cars.
Busch experienced problems in Turn 4, 46 laps into the first morning practice. Busch's contact with the wall bent the frame on his primary car, which originally had qualified second.
"I just got loose and lost it," Busch said.
Between practices, the No. 18 team prepared the spare car, and Busch was able to run 38 laps in final practice. Following Happy Hour, the team placed a backup engine in the car.
Happy Hour was anything but for Johnson after his No. 48 Chevrolet slid into the Turn 2 wall and mangled the right side.
"I had to chase it up the track," said Johnson, who has four wins at Las Vegas Motor Speedway.
"Once I got into the gray — the dirty stuff — it was over from there. ... I was just trying to get all that I could, and trying to see what the limits of the car were, and unfortunately I found them in practice — I guess better in practice than in the race. But I know we've got a real fast setup to put on this (backup) racecar."
The crew worked so efficiently that Johnson was afforded 20 laps to shake down the car. Johnson, who originally qualified sixth, will have to start from the back of the field for Sunday's Kobalt Tools 400, along with Busch and Juan Pablo Montoya, who wrecked on Friday.
Busch, who earned the pole in 2009 but dropped to the rear of the field in that race due to an engine change, fought back to win in front of his hometown crowd.
HELP WANTED
Ford Racing was not shy regarding the addition of teams into the fold.
However, Penske Racing offers the Blue Oval assets that other organizations could not — including an engine department if the both parties agree to move in that direction.
Currently, all of the Ford Racing Sprint Cup teams have engines supplied by Roush Yates Engines. But that hasn't always been the case. Roush Racing and Yates Racing consolidated their engine programs in 2004.
"There are different models," said Ford Racing boss Jamie Allison. "We ourselves have been through multiple models when we had (Jack) Roush and (Robert) Yates and (Roger) Penske and others. We did have multiple engine-builders at one time.
"We're going to draw back on what we learned during those times. We see what's happening today, when we have a single engine shop reaching out to all of the Fords. And we're going to listen and look around and see what (are) the advantages."
Penske Racing currently employs 70 workers in its engine shop. The organization last built Ford engines in 2002.
Allison said the ultimate decision of which engines to run will be made between Roush Yates and Penske.
"This will come down to Jack, Doug (Yates) and Roger agreeing to what is best for their operation, obviously with our involvement as the exploration concludes," Allison said.
"But they are the team owners. They are the owners of those engine shops, and they know their ultimate goal is to go out there and be as competitive as they can be.
"Whichever option yields the greatest opportunity to go out and compete successfully over the long haul will be the answer we support and want to do."
LUGNUTS
• Ricky Stenhouse Jr. became the first series regular to win an LVMS Nationwide Series race with his victory on Saturday.
• Furniture Row Racing will start from the rear of Sunday's Kobalt Tools 400 after a transmission change on the No. 78 Chevrolet.
• Kale Uphoff returns to the rear-tire changer position on the No. 99 Ford for Sunday. Uphoff underwent wrist surgery in the offseason. Mike Lingerfelt will remain as the front-tire changer.
• BK Racing has added Dr. Pepper and Heinz as associate sponsors.
SAY WHAT?
Dale Earnhardt Jr. on collecting the remains of Juan Pablo Montoya's Daytona 500 car that plowed into the jet dryer — for his Earnhardt's farm:
"Yeah, the Sunshine man (Chris Heroy, No. 42 crew chief), he's a buddy of mine and he gave it to me. I got about 50 or 60 cars out there and I didn't buy any of them. He calls me and I get my property manager, Sonny, to go over there and load it up and bring it over. We get a forklift or a tractor with a forklift or frontend loader and just carry it into the woods and just set it out there somewhere."
On the possibility of Earnhardt Jr. adding the aforementioned jet dryer, too:
"I'd like to have it, but I don't know where it is. Probably somewhere in Daytona, or NASCAR might be studying it somewhere, who knows? We don't have anything — I think we'll just stick to race cars out there."