CUP: Logano Tames Tricky Triangle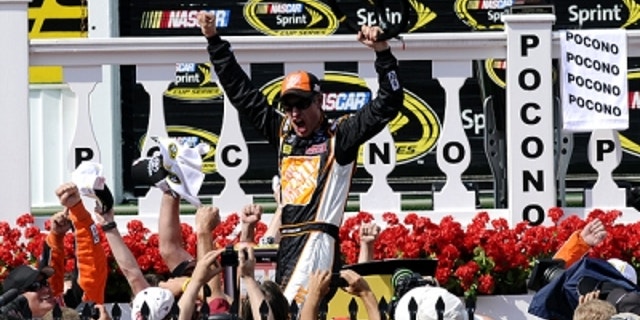 Joey Logano used a combination of a fast car, perfect fuel strategy and the class bump-and-run move to win Sunday's Pocono 400, just his second NASCAR Sprint Cup race victory in 125 career starts.
Logano nerfed leader Mark Martin out of the way with four laps to go at Pocono Raceway to score a triumphant victory in his No. 20 Joe Gibbs Racing. It was his first NASCAR Sprint Cup win since winning a rain-shortened race at New Hampshire in 2009.
Martin hung on for second over Tony Stewart, Jimmie Johnson and Logano's teammate, Denny Hamlin.
"I didn't want to get into the back of Mark there but, I just kind of run into it at speed and he was getting free, and I just kind of stayed right there," said Logano. "Man, it's awesome to finally get to victory lane the right way. ... You don't know how much this means."
"We were racing hard," said second-place Martin. "I wanted to win it so bad."
The victory was especially timely given that Logano is in the final year of his contract with JGR and the subject of many rumors about his future. "I hope it shuts 'em all up is what I hope," Logano said. "I'll tell you what, it means a lot for this whole team."
Indeed it did, as it was crew chief Jason Ratcliff's first Sprint Cup win, as well, making for a big day.
Logano started from the pole, with all three JGR Toyotas qualifying in the top five. But the race got off to a sketchy start.
There were two wrecks on the opening lap, with Hamlin getting loose in Turn 1 and making contact with Carl Edwards, while Landon Cassill triggered a multi-car crash in Turn 3 that brought out a caution.
But the early story of the race was a rash of pit-road speeding penalties that nailed top drivers like Johnson (twice), Kevin Harvick, Brad Keselowski, Kyle Busch and Jeff Gordon, among others. All told, there were 16 pit-road speeding penalties handed out by Lap 50, compared with a total of eight speeding penalties in the entire 500 miles last year.
Those 16 penalties were two more than the all-time record in NASCAR history, set in Kansas in 2006.
Even more suspect, all the penalties occurred in the 10th and final timing section on pit road. Johnson's two penalties dropped him off the lead lap, and Hamlin went a lap down when he ran out of fuel at around Lap 60.
Shortly before halfway, Greg Biffle took the lead, but it was his Roush Fenway Racing teammate Matt Kenseth who ran him down to take the lead on Lap 92. Four laps later, Dale Earnhardt Jr. passed Biffle for second.
On Lap 102, Kenseth and Earnhardt both pitted, with the Ford driver getting four fresh Goodyears to two for Earnhardt. Once the stops cycled through, that put the No. 88 Hendrick Chevy atop the field.
A debris caution on Lap 125 sent the field down pit road. This time, it was Logano who got off first, followed by Martin, Earnhardt and Kenseth. Biffle, meanwhile, lost a cylinder and fell out of contention.
When the race restarted, the Toyotas of Logano and Martin led, with Earnhardt third. But everyone was at the edge of their fuel windows, not likely to be able to make it the full distance.
But a caution for Kasey Kahne's Chevy brought out yet another yellow, and under caution, Earnhardt and Gordon pitted for fuel only and came out 16th and 17th, respectively, while the leading Toyotas stayed out.
Logano held the lead from Martin and Stewart on the restart, with Earnhardt up to ninth by Lap 146.
A debris caution on Lap 149 set up a sprint to the finish, but it meant Logano and Martin had enough gas to get to the end of the race.
On the restart, Martin took the lead, with Logano right on his bumper. But Logano moved Martin with four laps to go to take a lead he would not surrender.
"I said, 'Oh, man, I screwed up,'" said Logano about being passed by Martin. "I was going to be on suicide watch if I gave it away like that."
Tom Jensen is the Editor in Chief of SPEED.com, Senior NASCAR Editor at RACER and a contributing Editor for TruckSeries.com. You can follow him online at twitter.com/tomjensen100.