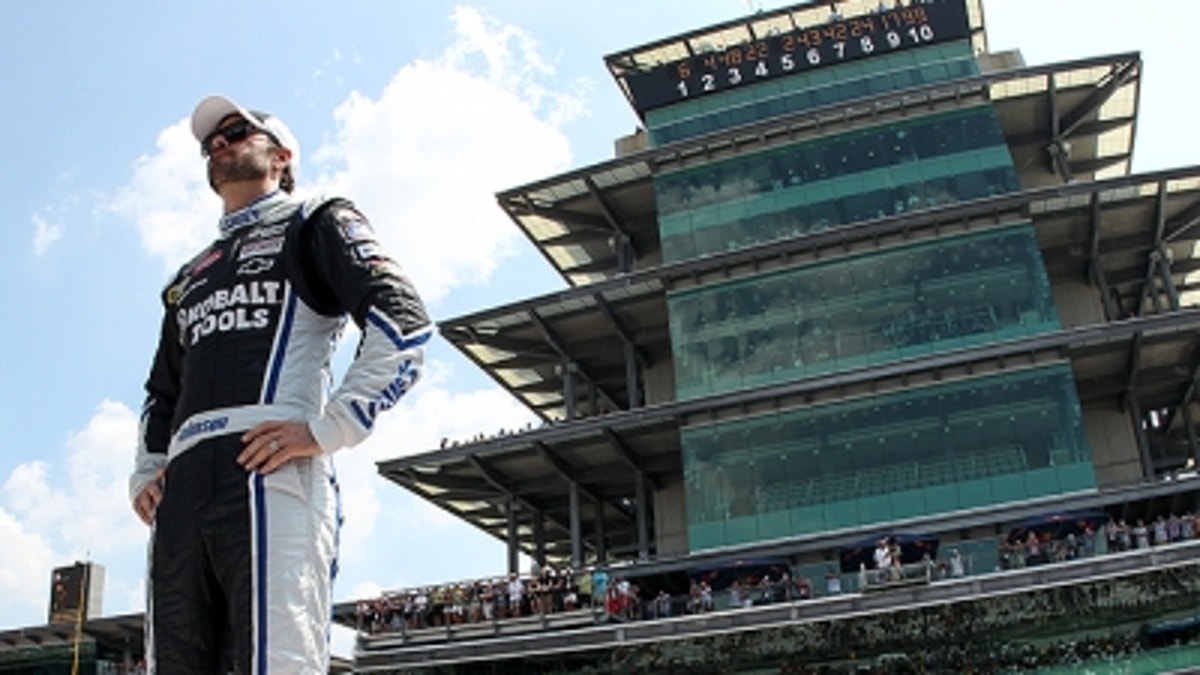 Although its popularity with fans has slipped in recent years, for NASCAR Sprint Cup drivers, Sunday's Crown Royal 400 at the Brickyard remains the second-biggest race on the schedule behind only the Daytona 500.
Built in 1909, Indianapolis Motor Speedway is the most historically significant race track in the world, a place that has hosted the Indy 500 since 1911, NASCAR since 1994, Moto GP and for a time, even the Formula 1 world championship.
Simply put, there isn't any track in the world that has the heritage and history of IMS, and that makes it special for the drivers even today. In fact, some actually rank it with Daytona in terms of importance.
"Daytona and Indy are both huge," said Carl Edwards, who is looking for his first Brickyard victory. "I don't think there is any bigger race than those two. For me, I have yet to win there and know what it is like but that still would be a career accomplishment and I think each driver would feel that way. If you watch the past winners and seeing Paul (Menard) and Jamie (McMurray) and the emotion of that win and how important it was to their teams. I think the guys that haven't won it dream of being standing there on those bricks. It would be very cool."
Five-time NASCAR Sprint Cup champion Jimmie Johnson won the Brickyard 400 three times in four years from 2006-09. He also puts the Brickyard on par with the Daytona 500.
"For me, it's kind of a draw between the two," said Johnson. "I grew up in an IndyCar household and didn't know much about stock-car racing and always dreamed of racing in the Indy 500. (Now) I'm a stock-car guy and our sport was founded on the beaches of Daytona, so that kind of heads back to center and balances out."
Johnson said he does like the fact that the driver controls more of his own fate at the Brickyard.
"From a driver's standpoint, a driver is a lot more responsible for the results and the performance at Indy than you are at Daytona," said Johnson. "When you're in the draft and restrictor-plate racing, sure you're responsible for the decisions you make, but you need a draft and you need a push and certain circumstances have to work around you to have you surge to the front at the right point in time. So, there is a little bit more; I don't want to use (the word) luck because there is a lot of skill required to win the Daytona 500, but it's just a different type of racing, plate racing versus normal racing."
Jeff Gordon, a teammate to Johnson at Hendrick Motorsports, grew up in Indiana and is the only four-time winner of the Brickyard 400.
"I think it is such an amazing event to be a part of," said Gordon of the Indy race. " … From a spectacle, and just hype and excitement and energy to be a part of, I think it's a huge event. Still, for the drivers, it still holds just as much prestige as it ever did."
With just seven previous Brickyard winners in this year's field, there are plenty of drivers looking for their first opportunity to kiss the bricks after winning.
"Brickyard's a great race," said Kyle Busch, pilot of the No. 18 Joe Gibbs Racing Toyota. "It's been a pretty cool race track — just I think cause of all the history and everything that's built around that race track and the 100 years that it's been going. I think that's kind of what makes it so exciting, too."
Tom Jensen is the Editor in Chief of SPEED.com, Senior NASCAR Editor at RACER and a contributing Editor for TruckSeries.com. You can follow him online at twitter.com/tomjensen100.