Controversy aside, Oklahoma St's Marcus Smart looks to end college career on positive note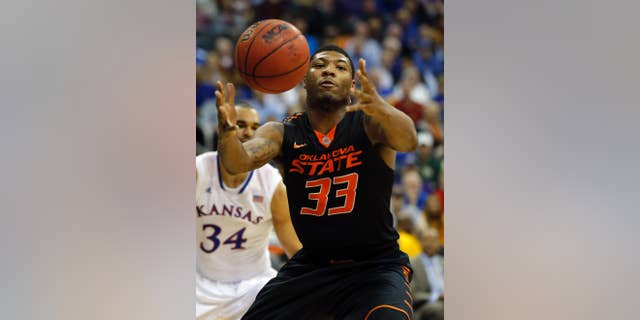 STILLWATER, Okla. – Marcus Smart is quite the villain in some circles of the college basketball world.
The Oklahoma State star, already disliked for the perception that he is a flopper, received a far greater level of scorn when he shoved a Texas Tech fan and was suspended for three games.
His antics, combined with his status as a likely lottery pick in this year's NBA draft, make him an easy target for fans away from home. A TCU student brought a sign that read "Free Shoves" with the outline of a pair of hands, and another wore boxing gloves. Iowa State's student section pulled off choreographed mass flops several times during the regular-season finale in Ames.
"It just comes with the territory," Smart said. "It's always going to go that way. You can't really focus on that. You can't let that determine how you play and let it distract you."
Oklahoma State (21-12), the No. 9 seed in the West Region, will play No. 8 seed Gonzaga (28-6) Friday in San Diego in its NCAA tournament opener. How far the Cowboys go will depend largely on the play of their talented guard.
Smart will leave school after this season — he was introduced on Senior Night, even though he is only in his second year of college. Teammate Markel Brown says Smart should play along with the bad-guy role in his final games in college.
"It's college basketball," Brown said. "It's a fun atmosphere. Everyone's gunning for him. I think he should embrace the fact that he's being looked at in that type of way."
The beginning of the season was fun for Oklahoma State. The Cowboys were ranked in the top 10 at one point, but a seven-game losing streak, including three losses during Smart's suspension, threatened Oklahoma State's NCAA tournament hopes. A 5-2 finish that included dazzling all-around play by Smart propelled the Cowboys into the tournament.
The tournament offers Smart a last chance to change the script that, to this point, has been a mixture of promise and disappointment. Smart said he's not worried about how his college career will be remembered.
"I'm just focused on this team right now," he said. "We've got Gonzaga Friday, so that's really our main focus. I'm pretty sure — I feel like I've made a pretty good mark on Oklahoma State, but that's not really my main focus."
He was projected to be a high draft pick last year, but he chose to return to school. He scored a career-high 39 points against Memphis on Nov. 19 and followed that with 25 points against South Florida and 30 more against Purdue.
Oklahoma State entered 2014 with a 12-1 record, but things fell apart from there. Rim protector Michael Cobbins was lost for the season to a torn left Achilles tendon and Stevie Clark was kicked off the team following two arrests.
Smart began pressing as his poor shooting games and the losses began to pile up.
Finally, Smart snapped. Late in a Feb. 8 game at Texas Tech, Smart tumbled out of bounds behind the basket after trying to block a shot. Texas Tech fan Jeff Orr said something to him, and Smart turned around, walked back to Orr, exchanged words with him and shoved him with both hands.
Since his return, he has played arguably his best basketball in his two years in Stillwater. He has averaged 18.7 points, 6.0 assists, 5.7 rebounds and 4.3 steals in seven games. His assist numbers are up, and his efficiency, highlighted by a nearly 3-1 assist-to-turnover ratio, has been a catalyst for Oklahoma State's improvement.
"I think he's just trying to be that leader that he was at the beginning of the year," guard Phil Forte said. "He's just trying to enjoy the process. It's coming for an end here shortly, and I think he's just trying to enjoy it all, soak it all in. He's not going to know when his last game is, so I think he's trying to just go out there, have fun and enjoy being a college basketball player for a little longer."
The Cowboys won four straight, including a victory over No. 5 Kansas, after Smart's return. Oklahoma State closed the season with an overtime loss to Iowa State, a win over Texas Tech and an overtime loss to Kansas in the Big 12 tournament. Smart said the close losses haven't stopped the team's momentum.
"This team has suffered a lot of ups and downs — a lot of downs for us," Smart said. "We're just trying to focus on positive notes and everything we've got going for ourselves. Right now, we're playing pretty good basketball."
The strong finishes for Smart and his team have a lot of folks picking Oklahoma State as a sleeper in the field. He calls the chatter "fool's gold" until the Cowboys go out and back it up.
Smart has learned not to look ahead. He remembers his emotions following Oklahoma State's loss to Oregon in its NCAA tournament opener a year ago.
"I didn't like that feeling at all," he said. "That's one of the reasons I came back. I'm going to do everything in my ability to make sure that doesn't happen again."