Conor McGregor takes another shot at WWE after he 'stole' Vince McMahon's strut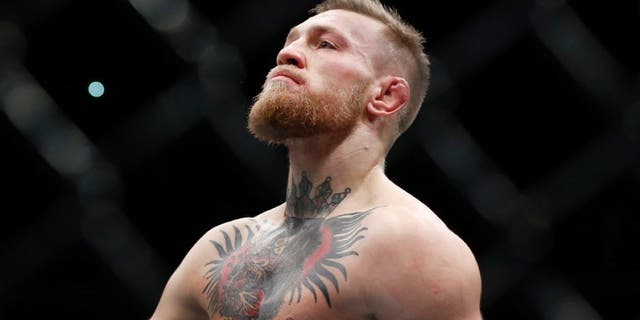 Days after Conor McGregor dealt Eddie Alvarez a devastating second round TKO at UFC 205, the new lightweight champion saw some of his famous moves being imitated by other athletes around the world.
It wasn't McGregor putting his hands behind his back, daring Alvarez to hit him and it wasn't the slick boxing combinations he put together to win the championship.
Instead, basketball players like Marc Gasol and football players such as Kiko Alonso were imitating McGregor's infamous strut that he used during his entrance ahead of winning his second world title in the UFC.
Of course, McGregor's "billionaire strut" was actually originated by WWE CEO Vince McMahon, which is why the Irishman had to laugh when he saw so many sports superstars paying credit to him for adding a little bit of swagger to his celebration.
"I'm thinking Vince McMahon must be pissed," McGregor said with a smile when asked about all the famous athletes paying homage with his strut during a Q&A in England over the weekend.
While McMahon may have been the first one to do it, McGregor's signature strut has become part of pop culture history these days and that's why he's taking credit for the idea in the first place.
And McGregor challenges McMahon or any of his WWE superstars to try and do something about it.
"I don't give a (expletive) about Vince McMahon. I stole that walk and that walk is now mine," McGregor said. "Not Vince or any of those (expletive) over in the WWE will do anything about it.
"That's my walk. I created that walk. I made that walk."
Perhaps someone from the WWE will have the chance to answer McGregor's challenge considering the Irishman has been linked to rumors that he may appear at WrestleMania 33 in Orlando in April.
Even McGregor claimed 'never say never' when asked about the possibility, which would only serve to raise profile even higher while giving the WWE yet another superstar to boast at their annual event.