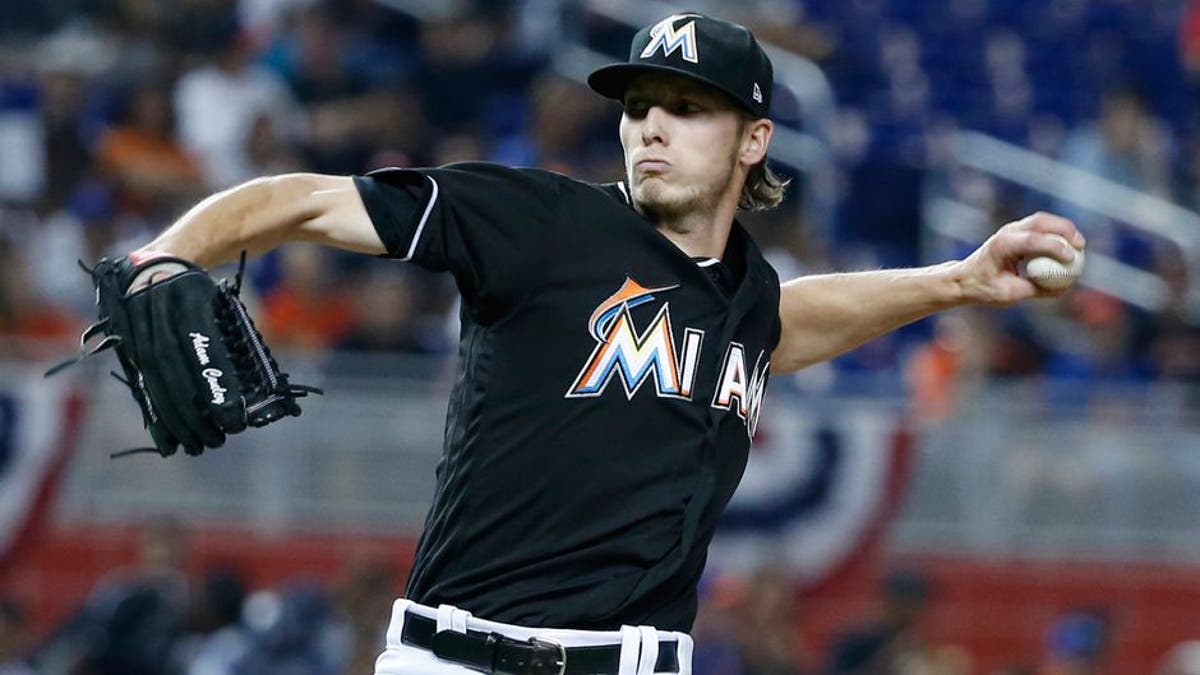 MIAMI (AP) -- Christian Yelich and Giancarlo Stanton hit back-to-back homers to cap a three-run eighth inning, and the Miami Marlins rallied past the New York Mets 5-4 Saturday night.
Justin Bour and Marcell Ozuna hit consecutive homers for Miami in the second inning.
The long balls spoiled a fine outing by the Mets' Jacob deGrom, who tied a career high with 13 strikeouts in seven innings and allowed two runs, both homers. He remained without a decision in three starts despite an ERA of 1.89.
Miami trailed 4-2 when Miguel Rojas walked with two out in the eighth against Fernando Salas (0-1). Yelich followed with his second homer of the year on a 3-1 pitch, and Stanton's homer into the center field hedge came on a 3-2 delivery.
Curtis Granderson hit an RBI triple off Adam Conley and came home on a sacrifice fly as the Mets scored twice in the seventh.
Asdrubal Cabrera hit a solo homer in the eighth against Junichi Tazawa (1-0) to put the Mets ahead 4-2. The Mets have homered in 11 consecutive games and came into the game leading the majors with 21 home runs.
A.J. Ramos pitched a perfect ninth for his second save. It was the third consecutive one-run game in the series, with the Marlins winning the past two after losing in 16 innings.
Bour hit his first homer leading off the second, and three pitches later, Ozuna hit his fifth. Ozuna came into the game leading the majors with 16 RBIs.
Four of the Marlins' six hits were homers.
Miami's Adam Conley retired 15 in a row but allowed three runs in six-plus innings. He also pitched in emergency relief in the 16th inning of Thursday's marathon and took the loss.
With the Mets trailing 2-1 in the seventh, Neil Walker became their first baserunner since the second when he reached on a leadoff bunt single. Granderson followed with a triple that glanced off the glove of center fielder Yelich as he tried to make a diving catch on the warning track.
GEM
Marlins right fielder Stanton made a leaping catch on the warning track to rob Juan Lagares of an extra-base hit in the fourth.
DOWN ON THE FARM
Mets All-Star closer Jeurys Familia, suspended for the first 15 games of the season, threw eight pitches in a perfect seventh for Class A St. Lucie. Familia was suspended under Major League Baseball's domestic violence policy stemming from an altercation involving his wife last October.
TRAINER'S ROOM
Marlins: C J.T. Realmuto, who had a walk-off double Friday, sat out because he wasn't feeling well. The Marlins suspected a bout of food poisoning.
Mets: MLB home run leader Yoenis Cespedes was back in the lineup after missing one start because of the flu. He went 0 for 4 with two strikeouts.
UP NEXT
Mets RHP Matt Harvey (2-0, 2.92), who left his most recent start in the sixth inning because of tightness in his left hamstring, is scheduled to pitch in Sunday's series finale against RHP Dan Straily (1-1, 7.56).