Chiefs get their first look at Patrick Mahomes on the practice field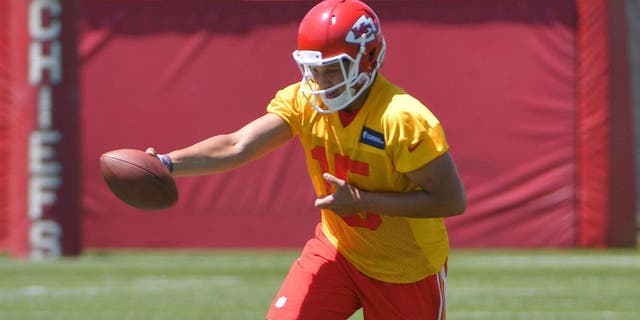 One of the reasons the Kansas City Chiefs felt comfortable trading up 17 spots to draft a quarterback with a raw skill set at No. 10 overall is because they have one of the best QB gurus in the game in head coach Andy Reid.
On Saturday, Reid and the rest of the Chiefs organization got the first chance to see Pat Mahomes on the field as the teams rookies had their first minicamp practice.
Reid talked about the quarterback the Chiefs hope will eventually replace Alex Smith before Mahomes took the field for the first time and said the rookies learning curve will be mental more than physical.
We know he can throw the football, Reid told the Kansas City Star. Its a matter of getting in, getting the verbiage down and the formations, making sure hes comfortable with that. Its a good period to learn. There will be a lot of that going on.
Theres no easy way. Youve got to get in the playbook, then you have to stand in front of a mirror and call this stuff. You have no chance to repeat when youre out here. So if youre having to repeat in the mirror, youre probably going to have a problem when you get out here.
That said, Chiefs fans probably are more eager to hear how he looked throwing the ball Saturday than what plays hes memorized, and the Star says it was a mix of nice throws particularly on deeper passes and questionable passes into coverage. That has been the book on Mahomes at Texas Tech that hell both make great plays and riskydecisions.
Gail Burton/AP
One thing is for certain Reid wont be narrowing the playbook to help him, particularly because there wont be a rush to get him on the field as long as Smith is around.
Thats not the way we roll. Hes got to learn. Theres only one way to learn. Were going to give it to you … learn it.