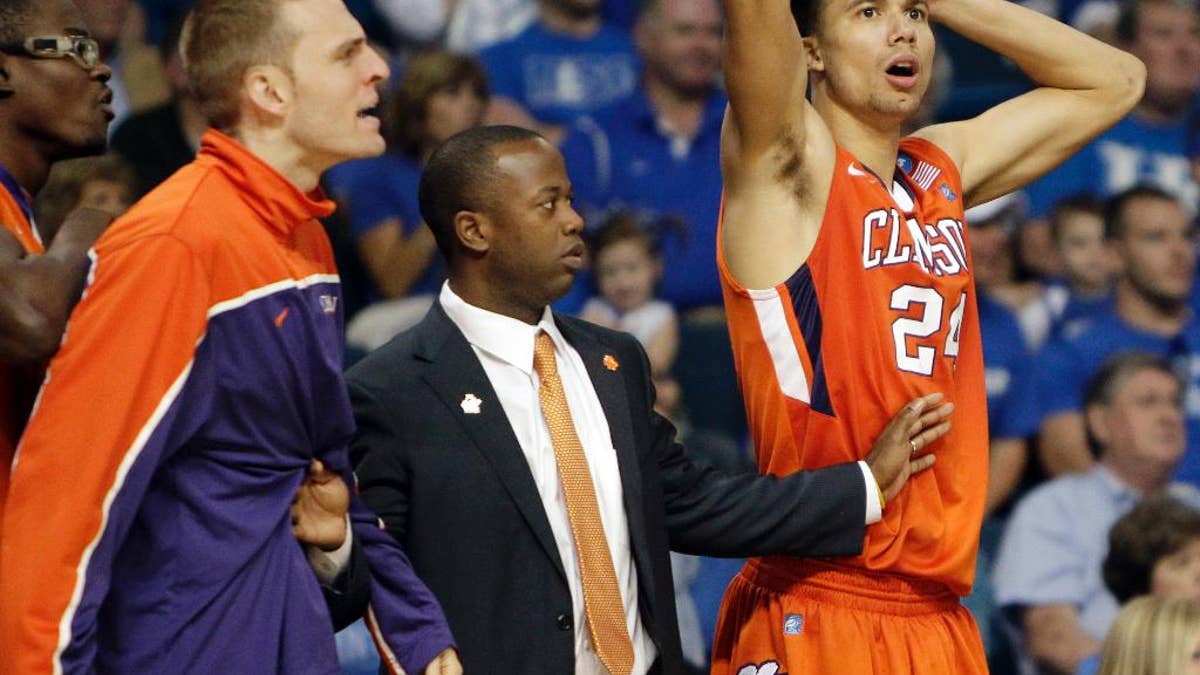 CHARLESTON, S.C. – College of Charleston President Glenn McConnell said he and school officials did the right thing by taking deliberate steps before firing men's basketball coach Doug Wojcik, and then employing a careful approach to finding his replacement.
The latest step came Friday, with McConnell introducing Earl Grant to replace Wojcik. The announcement came more than two months after McConnell took over leadership and was hit with complaints from players and athletic staffers who said that Wojcik was verbally abusive.
McConnell said the team came to him his first day on the job. He said he would conduct a thorough investigation, then on Aug. 5 he fired Wojcik and formed a search committee to begin looking for a replacement.
The president would not say if he thought Wojcik would sue for the remaining $1.2 million on his contract.
"We had a hard road when I arrived," said McConnell, whose presidential term began July 1. "The team wanted to see me that day to tell me where they were and how they felt."
Despite the previous administration's investigation which found it was likely Wojcik had used abusive, threatening language, McConnell began his own look into the coach's conduct and fired him five weeks later.
Then came the outside push, McConnell said, that called for a quick, popular hire.
But McConnell again took a more deliberate approach, charging his search committee to fully vet candidates. It didn't help, athletic director Joe Hull said, that the department received inquiries from about 50, well-qualified candidates for the position.
"Of course, we were the only ones" who had a opening for a men's basketball coach, Hull said.
McConnell met with 37-year-old Clemson assistant Earl Grant last Friday, then did a personal background check through calls and emails before finally calling his new basketball coach four days later with the news he was hired.
"I know I get some criticism for taking the time I do," McConnell said. "But I go back and I vet and I look very carefully at each candidate and that's how we got here today."
McConnell would not say if he thought Wojcik would sue the school for the remaining $1.2 million owed him over the final three years of his five-year agreement.
"That card's in his hand," he said. "I'm looking forward."
Several messages from The Associated Press to Wojcik's attorney, Scott Tompsett, were not immediately returned. At the time of his firing, Tompsett said the school did not make a good faith attempt to reach a settlement with Wojcik and invented reasons to fire him.
Now, it's Grant's team and he took several quick steps in winning over players.
He contacted players' parents about his philosophies, coaching style and clearing the air after an uncertain summer.
"I had hoped it would only take about four minutes a call," Grant said. "But it was more like 25 to 30 minutes a call talking to the families. I thought that was very important."
Grant also worried he might find players who had splintered and were looking for a way out. Instead, he said they'd bonded together through the ordeal and were pointed toward a fresh start this season. Grant credited holdover assistant Antonio Reynolds-Dean who was hired by Wojcik in May and named the interim coach by McConnell last month. Grant said Reynolds-Dean would remain part of his staff.
"I don't want to use the word healing with them because when I said it's a bond, it's a unique bond," Grant said.
Grant, who has never been a head coach, had spent the past four years at Clemson. He coaches for six seasons before that under Gregg Marshall, three at Winthrop and three at Wichita State.
Cougars guard Anthony Stitt said he didn't consider leaving because "I had stayed through the tough time" under Wojcik.
"At the beginning of the summer we were in a tough position," Stitt said. "But we stuck it out and became closer as a team. I don't think in anybody's mind transferring was a big issue."
The players as a group issued a statement the day after Wojcik's firing forgiving their coach for his harmful actions. Stitt was also grateful to the college for listening to the players' complaints and taking action.
"We don't hold anything against (Wojcik), we just want to move in another direction," Stitt said. "The college was able to help us out and we appreciate that so much."