Carlos Condit: Winning the title at UFC 195 'would be the pinnacle of my career'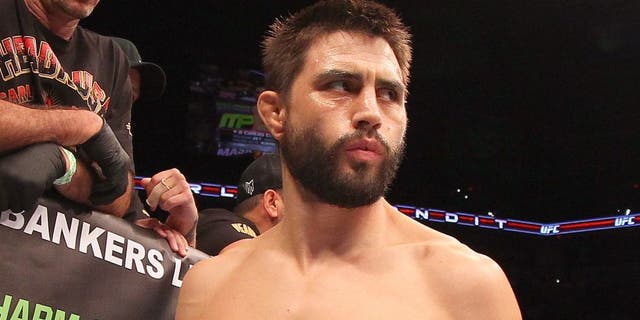 Carlos Condit has been a championship fighter for most of his mixed martial arts career, but no shot at the title has been any bigger than the one he'll have this weekend against Robbie Lawler at UFC 195.
Condit can look back at his 13 years competing in the sport with real honesty as he approaches his third UFC title fight this weekend and through all the wins and losses, title fights and main events, he knows he's never been more prepared for victory than the way he's feeling right now.
Before he was in the UFC, Condit was a welterweight champion in the WEC but despite a dominant run through the 170-pound division at the time, the New Mexico native can look back and see a much different version of himself than the person who will face Lawler on Saturday night in Las Vegas.
"The difference now versus my WEC run was that I am a professional now," Condit told FOX Sports. "I'm a professional athlete now. I live this lifestyle. Whether I'm in camp or out of camp, I am 100 percent dedicated to my profession.
"When I was younger, I was a little less focused and I liked to have a lot of fun. I'd come in and do a five-week camp or maybe a four-week camp and do a five round fight. It worked out for me, but these days I'm more diligent with my training."
A lot has changed for Condit even since his last pair of UFC title fights in 2012 where he defeated Nick Diaz to win the interim belt before falling to Georges St-Pierre in a five round war a few months later.
"As far as the difference now and my title fights in 2012, I've grown up a lot," Condit said. "A lot of stuff was changing in my life at that time and all that stuff is settled in. I'm in a good place physically and psychologically."
As he approaches UFC 195 this weekend, Condit isn't trying to pretend that this fight with Lawler is anything but the most important moment of his career. Condit knows this is his chance to solidify a spot amongst the best fighters in the world while also securing his legacy as possibly one of the best welterweight competitors to ever step foot in an MMA cage.
"It would be the pinnacle of my career," Condit said. "I've had the interim belt before and that little interim specification bothers me. My belt is in my son's room and for me that's not the real belt. If I go out there and I beat Robbie, that would be a legitimate, undisputed UFC title belt and you can't reach any greater height in the sport."
To understand Condit's mindset ahead of his bout this weekend, you first have to travel back to the start of his career 13-years ago and then follow the rocky path that eventually led to the title fight at UFC 195. There have been plenty of highs and lows since he first started fighting in 2002, but the biggest momentum shift for Condit happened five years ago with the birth of his son Owen.
Condit will be the first to admit he was a bit of a wild child through most of his 20's, but having a son of his own not only forced him to change his perspective on the future -- it also gave him purpose to know that he really was fighting for something much bigger now.
"Becoming a father kind of gave me a renewed sense of focus and new motivation," Condit said. "In my career, my motivation has ebbed and flowed. Sometimes I was all about it, sometimes I felt really burnt out. Since my son's been around, I've just realized that I do what I love to do for a living, I make a good living doing it, I get to spend a lot of time with my family and not a lot of people can say that. It put things in perspective big time."
Nobody becomes a parent with a paradigm shift taking place in their personal life, but Condit says his son has also helped him during the toughest days in the gym when his body is sore, his mind is tired and he's ready to give up.
That's when Condit thinks about his boy and it gives him the necessary push to finish the hard rounds and go that extra mile that will serve him well in a title fight like the one he has this weekend.
"Where that comes into play with me is with my day to day grind," Condit said when talking about parenthood. "When I'm going into the fights, there's a little bit of thought about that but there's enough pressure with the fight -- I'm going to have some dude come across the cage and try and kill me pretty much -- but on the day to day grind it definitely comes into play. When I'm struggling to get up and I'm struggling to get out there and do it, that mindset definitely gives me that little bit to push through."
As much as Condit loves to battle through a grueling session at the gym, part of his recent success after suffering an ACL tear in his knee during a fight with Tyron Woodley in 2014 was learning how to train smarter rather than harder.
Most recently, featherweight champion Conor McGregor has talked at length about his method and approach to training that's more low impact and movement based versus the often damaging rounds some fighters endure through multiple sparring sessions.
Condit has actually employed a similar approach for his upcoming fight with Lawler as he continues to learn and adapt while giving himself the best chance to walk into the Octagon with a body that's hitting all cylinders and feeling as close to 100-percent health as possible.
"Overall I think my athleticism, I'm at a high point. Strength and endurance yes, but I've also been working a lot on more subtle stuff. Movement, balance, stuff that actually really does come into play in martial arts that's overlooked sometimes," Condit explained.
"It's hard to quantify. I feel like physically I'm definitely in my prime. I also train smarter. I've been in the game so long that I've kind of put together a formula for these training camps that kind of works for me and for the most part I can get through the training camp without any major injuries and show up in top shape. I continue to develop as an athlete, but I've been at this a long time -- I don't know how much longer I have in the sport -- but I feel really good where I'm at. I'm fighting for the title against one of the best guys to ever hold the belt. Things have really come together for me."
Condit's admission that he's not sure how much time he has left in the sport might make something he's already contemplating retirement on the eve of the biggest fight of his career.
'The Natural Born Killer' isn't going to concede a time frame for how many years or fights he has left in him because he only likes to think about what is directly in front of him. It might be as simple as the next training session or as complex as breaking down the ways he can defeat Lawler in the Octagon, but Condit's life or career doesn't go any further than the next challenge in front of him on Jan. 2.
"I definitely have less time in front of me than behind. I won't have a 30-year career. I'm focused on right now. For me, I take things in small, incremental steps," Condit said. "Each day, each training session, sometimes each round, sometimes I just need to focus on that. If you focus on those small incremental steps, the bigger picture turns out all right."
Condit has plenty of confidence that he's going to win this weekend and the next goal will be defending the UFC welterweight title for the first time, but he knows even contemplating that right now could cost him with a fighter as dangerous as Lawler still ahead.
Lawler's knockout power and seemingly endless ability to finish a fight whether it's the first round or the last would be intimidating enough, but part of the reason why Condit takes this fight so seriously is that looking at his opponent this weekend is like staring at a mirror in many ways.
"Robbie is a true legitimate born fighter," Condit said about his opponent at UFC 195. "Some guys are athletes and they are kind of fighters. I think Robbie legitimately loves to fight. Trying to dissect that, I think there's some advantages and disadvantages to that. I love trying to not just figure out how to beat an opponent but solving a puzzle."
Condit has already visualized how the fight will play out but he also knows to expect the unexpected. He's not going to predict a war or a first round knockout.
Condit just knows that he's as ready as he's ever been for any fight in his career and he expects Lawler to come in with the same mentality. The result should be a visceral display of violence that will make the most passionate fight fan seethe for just one more round.
"I predict a finish. You never know. It's MMA, anything can happen," Condit said.
"There are a lot of ways it could play out but it's going to be intense. Whether it's a stand up war or a mixed martial arts display, it's going to be intense. We both bring the heat. Whether we're standing up or on the ground, we're both trying to finish. We're both mean, nasty, aggressive fighters. However it plays out it's going to be pretty rowdy."