Carl Hagelin thriving as part of Rangers' resurgence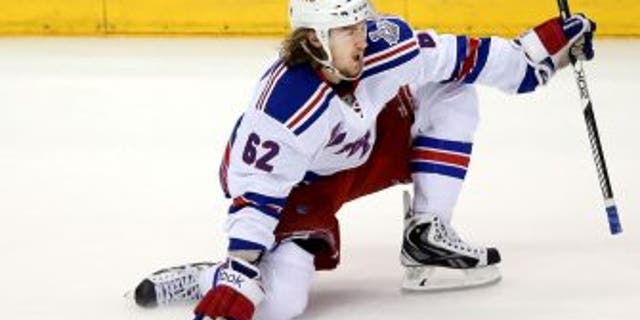 It's one thing for a coach to think his player stinks.
It's another for him to announce it to a gathering of press representing two of the country's largest and most ferocious media markets.
Such was the case in 2013 postseason with the volatile John Tortorella, then the New York Rangers coach, and left wing Carl Hagelin. As the Rangers struggled to score in a second-round series vs. Boston – which New York eventually lost in five games -- Tortorella was asked why he did not use Hagelin more frequently on the power play.
"Because he stinks on the power play," Tortorella infamously said. "He stinks. I don't know why. I wish I could put him on the power play, but every time I put him on, he stinks."
Last year, Tortorella called Hagelin a "jitterbug" and said he "screws up" with the man advantage. Nonetheless, he professed his love for Hagelin as a player and actually used him more on the power play than new Rangers coach Alain Vigneault: Under Tortorella, Hagelin logged 5:26 in 12 playoff games; this year, he's been on the power play a total of 82 seconds in 21 contests.
Still, with the Rangers having reached the Stanley Cup Final in their first year under Vigneault, it's fair to say that Hagelin is perhaps the prime example of a player who has benefited from the change and Vigneault's lighter touch.
A sixth-round round draft pick out of Sweden in 2007, Hagelin netted 17 goals during the regular season, marking a career high in his third year in the league. In the playoffs, his seven goals lead the Rangers and tie for seventh overall.
In Game 1 on Wednesday, Hagelin proved one of the most dangerous and effective players on the ice for either team. That was evident when he used his speed to score a shorthanded goal that put the Rangers up 2-0 at 15:03 of the first period.
Hagelin then had a golden opportunity with 41 seconds left in regulation to win the game for the Rangers. Again playing shorthanded, he used his swift skating ability to burst in alone on Los Angeles goalie Jonathan Quick and ripped a shot from 17 feet that Quick turned aside with a shoulder save. In what unfolded as one of the most exciting sequences of the Stanley Cup Playoffs, Hagelin then raced back 200 feet to try to block a wrap-around attempt by the Kings forward Jeff Carter -- sliding desperately and nearly kicking the puck in.
Hagelin logged 15:18 of time on ice in the series opener, tied for eighth among the Rangers' forwards, and finished plus-1 in his team's 3-2 overtime loss. He also registered a team-high five of the Rangers' 27 shots and had two more attempts blocked.
At 5-foot-11, 186 pounds, the 25-year-old Hagelin personifies one side of the different philosophical approaches espoused by the Rangers and the Kings. The Kings are big and physical up front. The Rangers are, on the whole, smaller and faster.
As the Rangers seek to tie the series at 1-1 in Game 2 on Saturday at the Staples Center, they will have to do a better job of capitalizing on their strengths – or, as Vigneault told reporters on Thursday, have more of their forwards bring their "A game."
"Yeah, I think we obviously got a lot of chances, like (Benoit) Pouliot's breakaway," Hagelin said on Thursday, according to a transcript on the league's media website. "I had a breakaway. I had a 2-on-1. Marty (St. Louis), too. Our speed definitely helped us in terms of creating good chances. We just need to continue doing that throughout the series.
"Like (Ryan McDonagh) was saying, it's hard to beat them. All their (defensemen) are pretty steady defensively. You have to make sure you get behind them and hopefully win races."
The Rangers won their share of those races in Game 1. After, Kings forward Justin Williams, who scored the game-winner with a wrist shot from the slot in overtime, said the Kings will need to do a better job of defending the Rangers in that respect.
"We certainly weren't ready for the speed of their wingers, I don't think," he said.
Asked about Hagelin on Wednesday after the game, Vigneault praised the player's speed while shorthanded but said overall the Rangers need to generate more chances at even strength.
Hagelin realizes the challenge that the Rangers face in the Kings.
"They're a good team," he said. "If you give them time to skate with the puck, time to spend a lot of time in our end, they're going to do a good job.
"They have big bodies. They're never going to give up."​