Cardinals relieved to see a smile back on his 'Smoke's face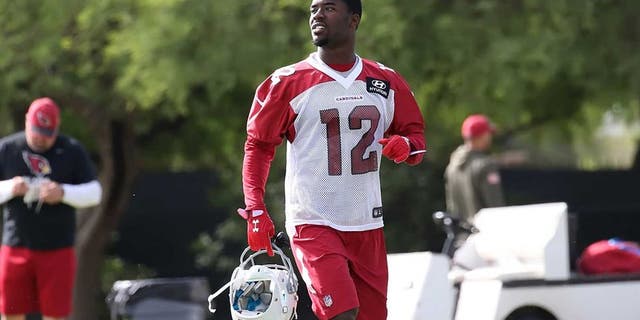 TEMPE, Ariz. -- "Smokey" is smiling again, and that means an awful lot to the Arizona Cardinals.
"Smoke looks like John Brown," coach Bruce Arians said after an OTA session this week. "A couple of those routes he ran, he did not run one route like that last year. Knock on wood it stays that way."
Brown, nicknamed "Smokey," or sometimes just "Smoke," by his teammates for his speed, was rarely a factor on the field last season.
Extreme fatigue, weakness and muscle soreness plagued him. The normally ebullient receiver from Homestead, Florida, had vanished beneath a veil of symptoms that for a time stumped the doctors.
Eventually, they diagnosed him with sickle cell trait, a type of blood disorder that usually is benign but can evolve into symptoms.
He kept trying to work through it to no avail. After topping 1,000 yards receiving in 2015, Brown was able to appear in 15 games last season but was a shadow of his former game-breaking self. He caught 39 passes for 517 yards and two touchdowns. The longest gain was just 30 yards.
"I felt like I hurt the team a lot," he said.
At home, he didn't want to eat and could barely lift his young daughter. His cheerful demeanor disappeared.
Finally, last February, trainers decided to do an X-ray on his back and discovered a cyst near his spine. Doctors drained the cyst and, within 24 hours, Brown said, he was feeling like his old self.
He went home and was able to resume his fatherly duties at full strength.
"I took her to Disney World," Brown said. "I walked around for hours without complaining, so that's when I really knew I was back to normal."
Brown knew all about adversity. He nearly quit football in 2010 when his brother was shot to death outside a Miami night club.
But he instead dedicated his career to his brother and took a circuitous route to tiny Pittsburg State in Kansas, where he helped the Gorillas become an NCAA Division II powerhouse.
Arizona drafted him in the third round in 2014.
Brown is the kind of small, speedy receiver that Arians loves, and he burst onto the scene his rookie season as the chief downfield threat in Arizona's pass-happy offense.
His rookie year, Brown hauled in a 75-yard pass for the game-winning touchdown against Philadelphia.
The next season, as the Cardinals went 13-3 and made it to the NFC championship game, he hauled in 65 passes, the longest going 68 yards. Seven of them went for touchdowns.
Carson Palmer had taken Brown under his wing. The young receiver stayed at Palmer's San Diego home prior to this first season, working out with the veteran quarterback daily.
So Palmer is so happy to see Brown back to normal.
"He doesn't look like he looked last year," Palmer said. "He just has a different energy about him. He's heavier, he's stronger. He looks more explosive than he did last year, with all the health issues he had last year. He's got that smile to him. He's having fun."
Brown acknowledges he was "very aggravated" that it took so long for doctors to find that cyst. He knows there is a chance his problems could return and is carefully following doctor's orders.
"It could come back," he said. "I only can control what I can control right now."
For now, he's working full-tilt on the field.
"My confidence is to the roof," he said. "I'm just ready to get out there and prove to everybody that I'm back."