Cardinals outfielder, star prospect Oscar Taveras dies in car accident in DR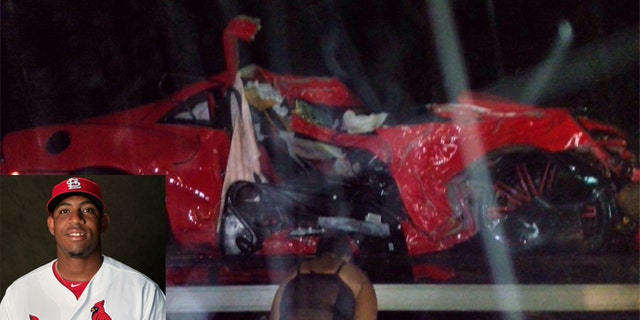 NEWYou can now listen to Fox News articles!
– St. Louis Cardinals outfielder Oscar Taveras died in a car accident in the Dominican Republic on Sunday night, authorities said.
National police spokesman Jacobo Mateo Moquete confirmed Taveras' death on his Twitter account. Taveras' agent and the Cardinals' representative in the Caribbean country also said Sunday that the outfielder had died.
Taveras and his girlfriend were killed instantly, Moquete said. Taveras was driving a 2014 Chevrolet Camaro on a highway between the beaches of Cabarete and Sosúa, in an area known as Puerto Plata.
"Apparently, the ballplayer lost control of his car," Moquete tweeted in Spanish. "According to the Mayor of Sosúa, there was no impact with another vehicle."
The 22-year-old Taveras made his major league debut this year. He was considered a star and mega prospect for the Cardinals. The promising slugger hit .239 with three homers and 22 RBIs in 80 games.
"We are all stunned and deeply saddened by the tragic loss of one of the youngest members of the Cardinals family," Cardinals chairman Bill DeWitt Jr. said according to MLB.com, calling Taveras an amazing talent with a bright future.
Cardinals general manager John Mozeliak was also in shock.
"I first met Oscar when he was 16 years old and will forever remember him as a wonderful young man who was a gifted athlete with an infectious love for life who lived every day to the fullest," he said in a release.
Below players from Dominican baseball teams Licey and Las Aguilas embrace one another on the field when they found out about the fatal accident.
In a statement released Sunday night, Major League Baseball Commissioner Bud Selig extended his deepest condolences to the families and friends of both victims as well as to Taveras' teammates and the Cardinals organization.
"All of us throughout Major League Baseball are in mourning this evening, shocked by the heartbreaking news of the accident involving Cardinals outfielder Oscar Taveras and his girlfriend in the Dominican Republic," wrote Selig. "Oscar, a young member of the Baseball family, was full of promise and at the dawn of a wonderful career in our game, evident in his game-tying home run against the Giants exactly two weeks ago."
In what would be the biggest play of his career, Taveras hit a game-tying, pinch-hit homer in the seventh inning of game 2 of the NL Championship Series. The game was the Cardinals only win in the series.
Your browser does not support iframes.
News of Taveras' death broke during the middle of Game Five of the World Series between the San Francisco Giants and Kansas City Royals.
"With heavy hearts, tonight we play Game Five of the 2014 World Series," said Selig, "in the memory of these two young people."
The Associated Press contributed to this article.