Byron Scott says he benched D'Angelo Russell in the fourth for 'trying to take over'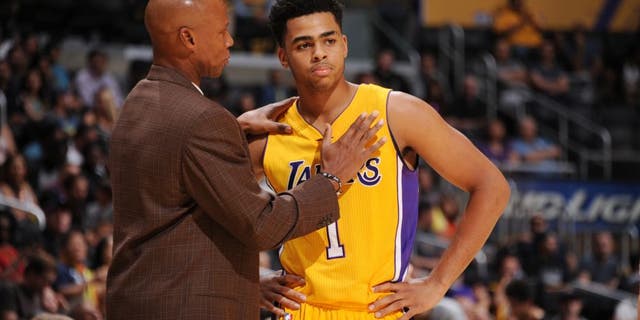 Los Angeles Lakers head coach Byron Scott's adversarial relationship with rookie D'Angelo Russell is well noted at this point. The two have rarely seen eye to eye this season, and Scott has found criticism after criticism -- sometimes even contradicting his reasoning -- to bench Russell in the fourth quarter and late in close games.
Tuesday night's 92-90 loss to the Dallas Mavericks was the latest chapter of Scott and Russell's ongoing disagreement with one another.
Scott benched Russell at the 2:31 mark of the fourth, with the Lakers down by two points, for doing too much and "trying to take over," according to ESPN.com:
This is the exact mindset Scott criticized Russell for not playing with earlier in the season, yet now Russell is too aggressive -- a quality not unlike a Lakers legend who happens to be Russell's teammate (cough, Kobe Bryant, cough).
Russell finished with 12 points (4-of-12 shooting) to go along with two rebounds and no assists in 25 minutes on the night. He defended his play after the game, as he has done several times this season:
That last comment seems like somewhat of a barb towards Scott, as Russell is implying Scott is being too reactive -- judging Russell's makes and misses -- instead of looking at the bigger picture and seeing the vast progress his rookie point guard is making.
Basically, Russell is saying process over results. And we all know Scott's opinion on that ideology.
Scott claims that he indeed enjoys Russell's confidence, but thinks it can borderline on cockiness too much -- again, look at No. 24 -- which can hurt his game:
While Scott certainly has a point of Russell perhaps trying to do too much -- it's inexcusable for Russell to record zero assists in 25 minutes of action -- that type of play should be lauded, not criticized.
The Lakers aren't making the playoffs this season. It's in their best interest to lose. Let Russell run free and spread his wings -- see what his potential, what his strengths. You don't know unless you try. But caging him up and acting like this is a squad with something at stake is misguided at best and possibly destructive at worst.
Following some of the fallout to Scott's explanation, Mark Medina of the Los Angeles Daily News tweeted that he's heard rumblings from in and out of the Lakers' organization -- aside from Scott -- that Russell's cockiness can be an issue at times:
Scott and the rest of the Lakers' staff are obviously around Russell more than than anyone in the media is, so maybe the problem is as bad as they're making it sound. Very few people actually know the truth.
But from the outside looking in, it appears that Scott might be being a little too harsh on their prized rookie, and is looking for anyway to justify his disdain for playing inexperienced players.
Jovan Buha covers the NBA for FOX Sports. Follow him on Twitter at @jovanbuha.