Blues-Predators second-round series begins Wednesday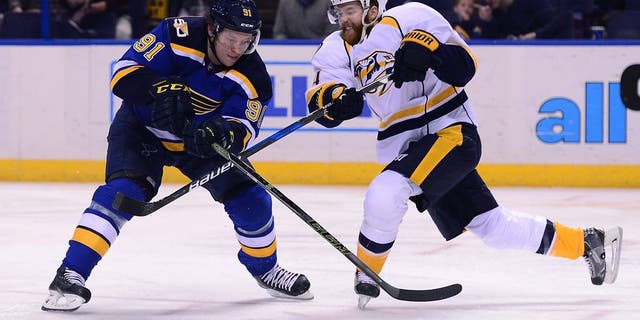 ST. LOUIS -- The St. Louis Blues' quest for the Stanley Cup will continue Wednesday when they host the Nashville Predators in Game 1 of their second-round playoff series.
Game 1 will be played at 7 p.m. at Scottrade Center. Game 2 will be played at the same time and place two days later before the series shifts to Nashville for Game 3 on Sunday afternoon.
The Blues, who defeated the Minnesota Wild in the first round, will face thePredators in the postseason for the first time in franchise history.
The Blues have advanced to the second round of the Stanley Cup Playoffs for the second consecutive season and the 19th time in franchise history.
The schedule for the Blues-Predators series:
Game 1: Wednesday, Apr. 26, at7 p.m., at Scottrade Center (TV: NBCSN, CBC, TVA Sports)
Game 2:Friday, Apr. 28, at 7 p.m., atScottrade Center (TV: NBCSN, CBC, TVA Sports)
Game 3: Sunday, Apr. 30, at 2 p.m., atBridgestone Arena (TV: NBC, Sportsnet, TVA Sports)
Game 4: Tuesday, May 2, at 8:30 p.m., atBridgestone Arena (TV: NBCSN, Sportsnet, TVA Sports)
*Game 5:Friday, May5 (time TBD), at Scottrade Center (TV:TBD)
*Game 6: Sunday, May 7 (time TBD), atBridgestone Arena (TV:TBD)
*Game 7: Tuesday,May 9(time TBD), at Scottrade Center (TV:TBD)
* If necessary
Jasen Vinlove-USA TODAY Sports | Jasen Vinlove